Plotting Islamic Terrorists in New Jersey
in relation to local Islamic Centers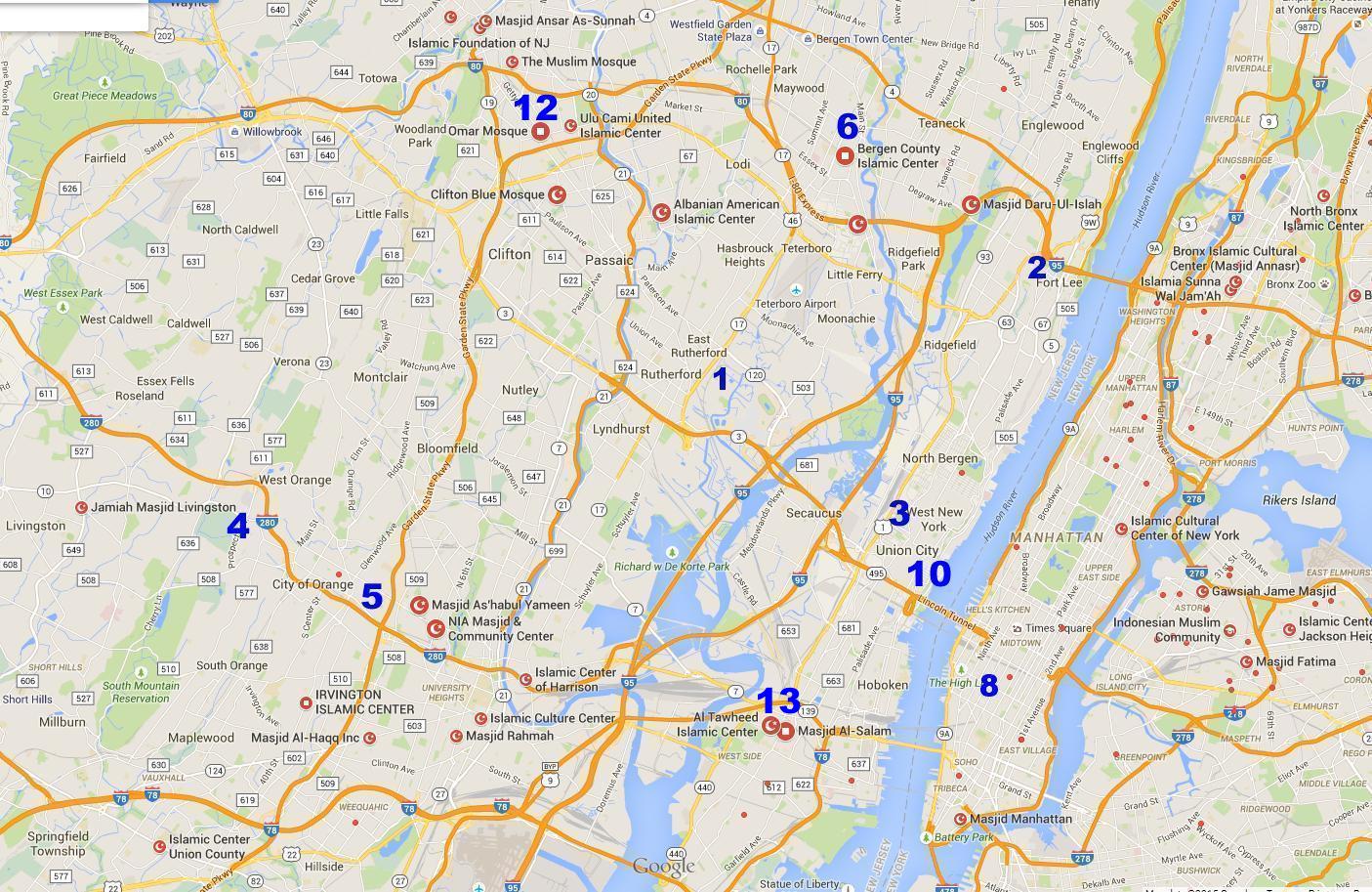 Locations of known or suspected Islamic terrorists in NJ
2. 06/17/15 - Samuel Rahamin Topaz, 21, was arrested in his Fort Lee, NJ, home and charged with one count of conspiring with others in New Jersey and New York to provide services and personnel to the Islamic State of Iraq and the Levant (ISIL), a designated foreign terrorist organization. - 09/09/15 Topaz pleads guilty to charge.
6. 09/23/15 - A 17-year-old Hackensack boy claimed he would be involved in an attack at the 9/11 Memorial in New York City and said his "friends" in the Islamic State group were planning to attack New York. He is also accused of making online threats against President Barack Obama and the White House.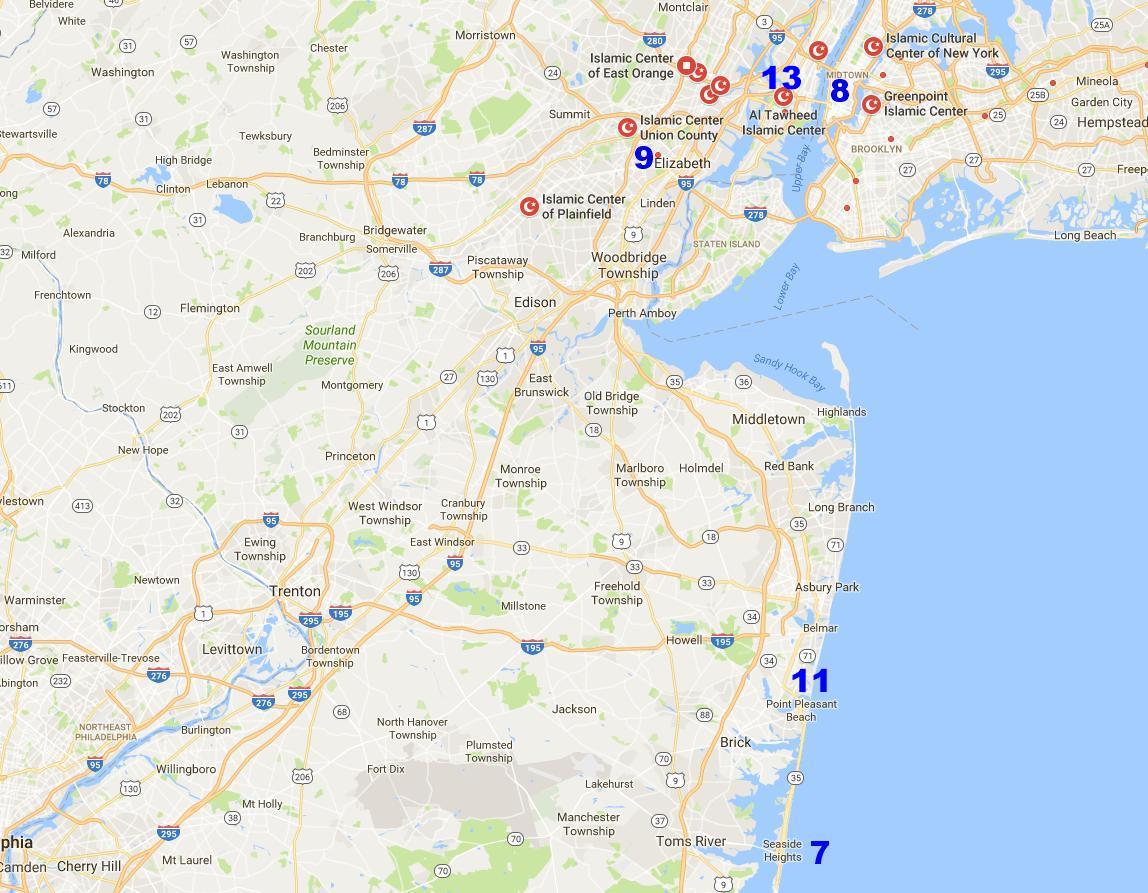 7. 09/17/16 - 9:30 AM - Seaside Park, NJ. A bomb exploded in a garbage can near the start of a Marine Corps charity run. Later, three more pipe-bomb-type devices wired together were found near the boardwalk in Seaside Park, NJ.
8. 09/17/16 - 8:30 PM - A bomb explodes in a dumpster in the Chelsea neighborhood of Manhattan, New York. A second device built from a pressure cooker and containing wires and a mobile phone is discovered a few blocks from the first blast site.
9. 09/18/16 - 8:30 PM - Police respond to reports of a suspicious backpack with wires and pipes in a rubbish near a station in Elizabeth, New Jersey. They discover multiple IEDs, detonating one via a bomb disposal robot. 09/19/16 - NYPD confirm that suspect Ahmad Khan Rahami, 28, a naturalised US citizen born in Afghanistan, has been taken into custody in Linden following a shoot-out with police during which two Linden police officers were injured. Rahami is then linked to all three bombing incidents (#7 - # 8 - #9). Mohammad Rahami (father of Ahmed) and his family attended Dar-Ul-Islam mosque (near the Islamic Center of Union County; see #9) when they first moved to the area. The elder Rahami did charity work and prayed on a near-daily basis at the community center.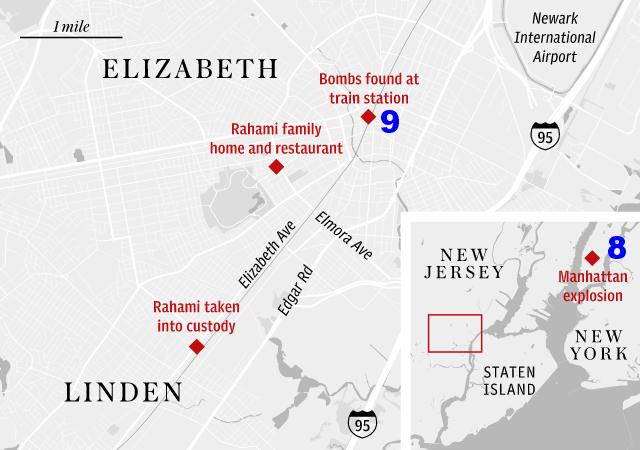 02/13/18 Update: According to prosecuters, Ahmad Khan Rahami, who has been imprisoned at the New York Federal Jail since his capture, has been giving other inmates copies of terrorist propaganda and jihadist materials, including speeches and lectures by al-Qaida founder Osama bin Laden and Anwar al-Awlaki. Our taxpayer dollars are at work helping him to recruit more jihadis within the USA while under Federal custody. Rahimi also allowed some inmates to view materials on his laptop or provided electronic copies as he spread "The Book of Jihad," bomb-making instructions and various issues of a propaganda magazine. We just don't "get it." As Walt Kelly's Pogo said, "We have met the enemy and he is us."
12. 10/31/17 The Masjid Omar Mosque is at 501 Getty Avenue, in Paterson, NJ, around the corner from the apartment where Sayfullo Saipov, lived with his family. The New York Police Department identified the mosque as a target in a surveilance program in a 2006 report, but owing to federal lawsuits, discontinued the surveillance program in 2014.
15. 05/01/18 - Fort Lee (#2 on Top Map) Muslim Terrorists and Wannabees Sentenced to Prison
Near-by Locations - in and around NJ
Past Related News