1907
Trouble at the Ransley Factory
Report found in a 1907 edition of The American Bottler.

Deputy sheriffs are guarding the mineral water works of J. W. Ransley & Son, East Orange, all of the employees having gone out on strike because the firm failed to sign the new agreement of the Mineral Water Bottlers' Union No. 800. The strikers are almost as indignant over the presence of the deputy sheriffs as they are over the refusal of the Ransley firm to accept their demand for an increase in wages.

According to the old agreement, which expired May 21st, the men were receiving $12 a week, and a demand is made for an advance of $2. The firm is willing to grant this increase, but wants to eliminate all commissions. The men had been receiving a small percentage on every box of mineral water sold in addition to their wages.

The drivers declared a strike Tuesday morning, May 21st, and when an attempt was made later to have the mineral water delivered by non-union men a sympathetic strike was declared, and all the union men, including the bottlers, engineers and label pasters, went out. About thirty men are out.
* * *
We are looking for more information about the Ransley firm. In the meantime, here is an advertisement from the same magazine showing what kind of vehicles you would be likely to see coming to and from and around the East Orange plant in 1907.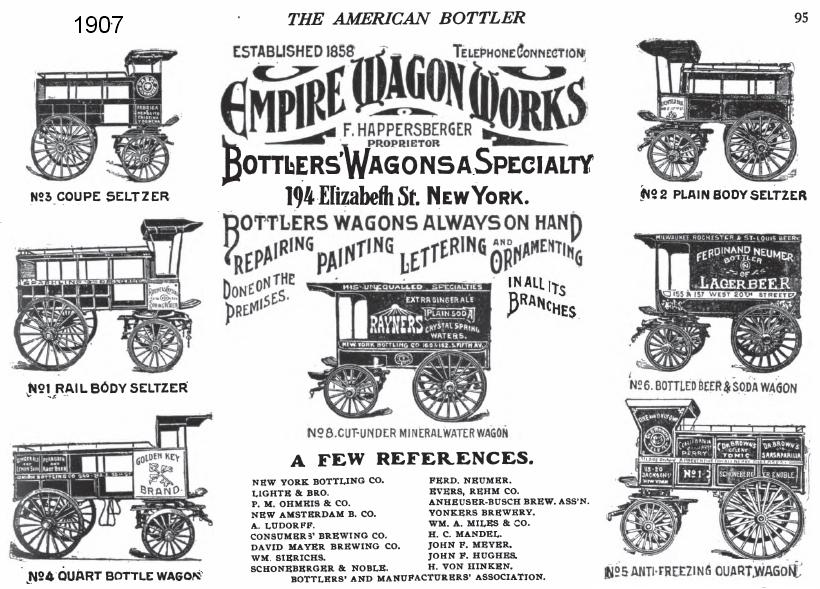 Further Resources of Interest on this subject: