1967
World Events:
Egypt's President Nasser declares his objective is the destruction of Israel. Israel defeats Egypt and other Arab nations in a Six Day War.
The War in Vietnam continues, escalating to include assaults into Cambodia.
China's Chairman Mao Tse-tung encourages a Cultural Revolution.
The first Black government takes power in the Bahamas.
Uganda is proclaimed a Republic. Biafra declares independence from Nigeria.
Surveyor 5 lands softly on moon; sends back photos. Soviet satellites achieve first unmanned docking in space.
National Events: Three astronauts are killed in Apollo 1 accident.
President Lyndon B. Johnson reestablishes draft lottery.
Cassius Clay, who prefers to be called Muhammad Ali, refuses military service in the U.S. Army and is stripped of his world heavyweight championship title.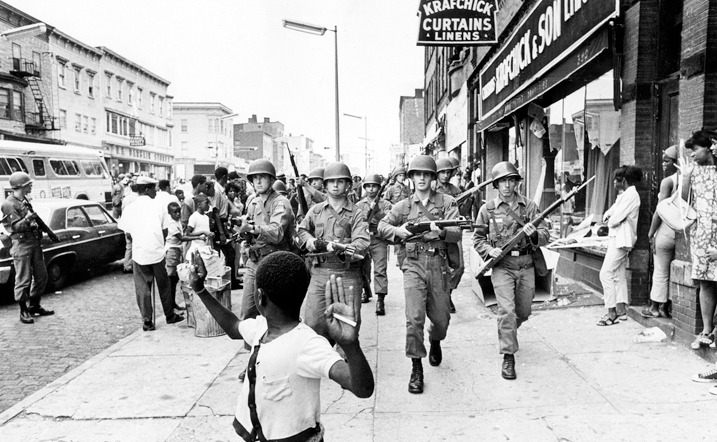 The National Guard comes to Newark. Photo by Don Hogan Charles/The New York Times
Race riots erupt across the U.S.A. during the summer months, including the cities of Newark NJ, Plainfield NJ, Detroit MI, and Chicago IL.
Thurgood Marshall is the first Black appointed to the Supreme Court. The Supreme Court rules unanimously that a Virginia law prohibiting interracial marriage is unconstitutional. This has the effect of nullifying similar laws in 15 other states.
Walter E Washington is appointed (the first Black) mayor of Washington DC by Lyndon Johnson.Other Black mayors elected into office that year include Floyd McCree (Flint MI), Carl B. Stokes (Cleveland OH), Richard B. Hatcher (Gary IN)
Anti-war and Anti-draft protesters demonstrate nation-wide. Reverend Martin Luther King, Jr. urges a boycott of the war in Vietnam.
Local Events: Events in the world and across the nation make little impact on life in East Orange, and are not mentioned in the local newspaper with a few notable exceptions. The following events are all reported on in the East Orange Record issues of 1967.
This was the year the libraries celebrated "Negro History Week" in February.
March 12th was proclaimed Crispus Attucks Day with a parade in downtown Newark, and East Orange Councilman Thomas Cooke, Jr. was a co-chairman of the event.
May 5th was celebrated as Dianne Warwick(sic) day at the alma mater of the famous singer, Lincoln School. She visited the school and posed for photos.
The newly constructed Rowley Park was dedicated on June 3rd, with a bronze plaque fastened to a glacial boulder found near the East Orange Reservoir in Livingston. Earlier, in March, a 400 million year old glacial boulder from the East/West Freeway excavation was removed to Soveral Park by direction of Mayor Kelly.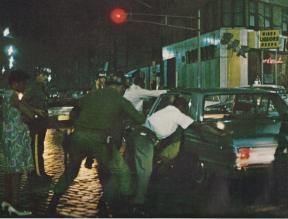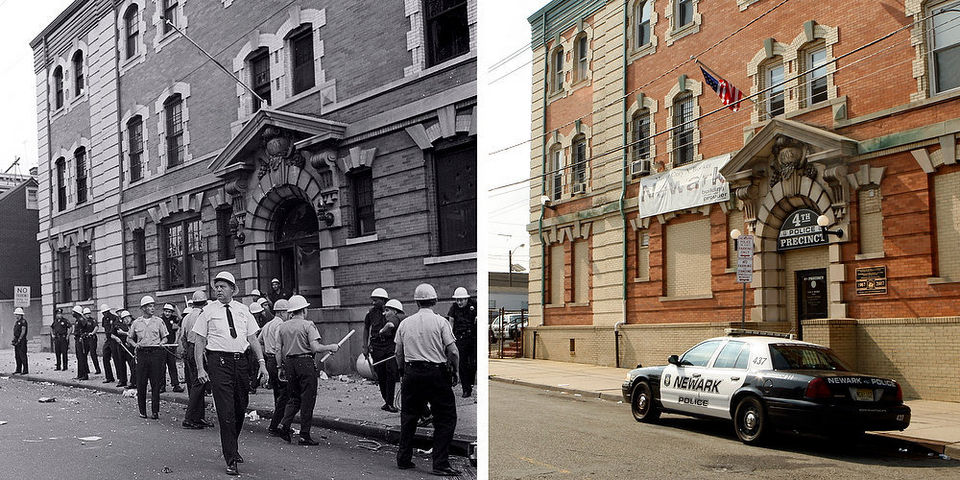 The riots in neighboring Newark take place during July 13-15 of 1967. This involves East Orange directly because the East Orange streets leading to Newark are blocked off and police are stopping and searching all vehicles with out of state license plates, convinced that outside agitators are involved.
East Orange Firemen are routinely called into Newark to assist with fires in the riot torn areas.
On July 13th, East Orange experiences its own small riot in the area around North 14th Street. East Orange police arrest 19 and the East Orange Record reports that all of those arrested have identified themselves as Black Muslims.
Anyone who lived through this period who has information to add, please contact me at [email protected]
Notably, there are more news articles about the local NAACP and the number of Blacks pictured in the East Orange Record has increased everywhere in the paper except for the Society Page.
Further Resources of Interest on this subject: