The Soul Majestics Drill Team circa 1970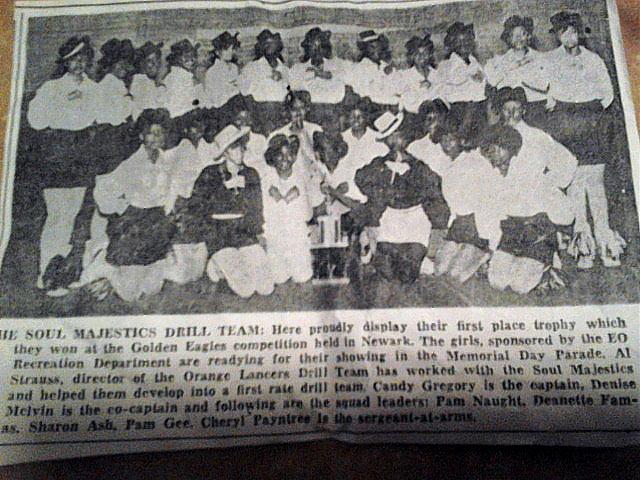 THE SOUL MAJESTICS DRILL TEAM: Here proudly display their first place trophy which they won at the Golden Eagles competition held in Newark. The girls, sponsored by the EO Recreation Department are readying for their showing in the Memorial Day Parade. Al Strauss, director of the Orange Lancers Drill Team has worked with the Soul Majestics and helped them develop into a first rate drill team. Candy Gregory is the captain, Denise Melvin is the co-captain and following are the squad leaders: Pam Vaught, Jeanette Ramos, Sharon Ash, Pam Ghee. Cheryl Paynter is the sergeant-at-arms.
The above photo of a newsclipping was sent to us by Candice M. King on December 19, 2014, who supplied the corrected spelling of the members' names. She says this was taken in 1970, when William Hart was Mayor of East Orange, and that the original photos can be seen at City Hall. We'll try to get a clearer scan of the clipping or of the original photo to insert here.
If anyone else has information on the drill team, or additional photos of this or other drill teams from our history, please e-mail Jim Gerrish at:

[email protected]