African American Slaves Discovered
Being Held In Captivity in East Orange in 2007
September 7, 2007
Federal agents yesterday arrested two men and a woman from Togo who they say smuggled at least 20 girls and young women from the West African nation and forced them to work without pay at hair braiding salons in Newark and East Orange.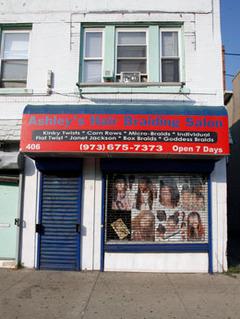 "This is a case of modern-day slavery," said Tom Manifase, deputy special agent in charge of investigations for U.S. Immigration and Customs Enforcement in Newark, the lead agency in the investigation. "These women were promised a better life in the U.S. but instead ended up becoming victims of human trafficking."

Lassissi Afolabi, 44, Akouavi Kpade Afolabi, 39, and Dereck Hounakey, 30, all of East Orange, were arrested at their homes early yesterday. They were each charged with harboring illegal aliens, which carries a maximum penalty of between three and 10 years in prison. In addition, Kpade Afolabi is charged with smuggling illegal aliens for financial gain, which carries a sentence of up to 10 years in jail.

At the two-family home in East Orange where authorities say the Afolabis lived and housed several workers, Lassissi Afolabi's son disputed the charges, saying the salon workers were well-treated, paid and free to come and go as they pleased.

He showed a reporter around two disheveled bedrooms where he said three of the salon workers lived. Each room had its own television and closets that overflowed with clothes and shoes.

"They got everything they needed and it was better than Africa," said Akl Afolabi, 19, who described Kpade Afolabi as his aunt and the third suspect, Houkaney, as a family friend. "Everybody was treated well. We helped them."

All three suspects are Togonese nationals who came to the United States on visas, authorities said.

Hounakey is listed as the owner of Newark Hair Braiding on 18th Avenue while Lassissi Afolabi owns Ashleys Hair Braiding on Central Avenue in East Orange, both businesses where ICE officials said the women were forced to work. Both businesses were closed yesterday.

The women told investigators their travel documents were taken from them and were told they'd be sent back to Africa if they objected to working without pay, according to the federal complaint.

If they complained or did not return home immediately after work, one worker told investigators, the Afolabis would beat them.
The 20 women have been placed in protective custody and will be given access to social services, including emergency housing and psychological counseling provided by nonprofit agencies who assist victims of human trafficking.
Original Story - September of 2007
Follow-up Story - May of 2008
Final Story - September of 2010