Fourth of July Celebration
July 1, 2011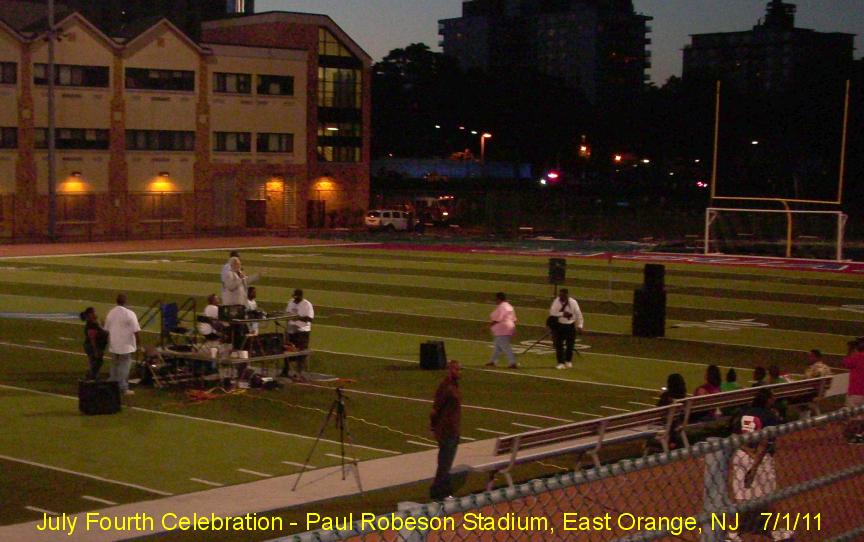 The city of East Orange celebrated the Fourth of July at Paul Robeson Stadium as it has done almost every year since the stadium was built in the 1920's. Although the present 2011 recession economy has left many cities cutting back or cutting out their celebrations, as East Orange did this past Memorial Day with a very small parade, large numbers of citizens and city officials came out on this beautiful summer evening to peacefully and joyfully celebrate the nation's Independence Day memorial. Mayor Robert L. Bowser gave the usual speech and thanked everyone who had put the program together, plus the participation of the police and firemen in the event, but at no time did I hear anyone thank the real sponsors of the event who were sitting in front of them and all around them... the taxpayers of East Orange who paid for it all through their taxes.
This is not a true news photo, but a composite made to give you an impression of the fourth of July fireworks experienced in East Orange that evening. It was made from three photos superimposed on top of one another.

The fireworks display was quite impressive and the crowd responded with great enthusiasm. The latest way to show appreciaion, besides clapping hands and cheering, is to stomp feet in the stadium's metal floor stands. When the crowd gets stomping on the metal floor beams, they can make a tremendous rumbling sound that vibrates through the entire audience. They usually begin at one end and then the sound is made to "travel" to the other end of the rows of seats and back again. It's great fun and a great way to respond when you see something you like happening either in the sky on the Fourth or at a football game in the Fall.

I have seen Fourth of July fireworks displays for well over sixty years and every year they seem to get better and better. This year's display had the usual red white and blue showers of sparks, but they I saw a new one (for me, at least) of showers of pink, green and orange sparks scattering through the sky in every direction. I decided it looked like cotton candy, for some reason, and it occured on at least two occasions during the show.

So, even though the Mayor didn't thank the taxpayers who paid for this display, as they ultimately pay for everything the city does on their behalf, I want to thank the taxpayers and let them know that in my opinion, as a taxpayer, the money was well spent this night. The citizens of East Orange came together for a peaceful, happy and even joyous celebration of the founding of our nation and left proud and satisfied to have been a part of a "happening of history."
© 2011, James Gerrish and Frederick Goode, Temporary Custodians