Elmwood Park Renovation
June 2011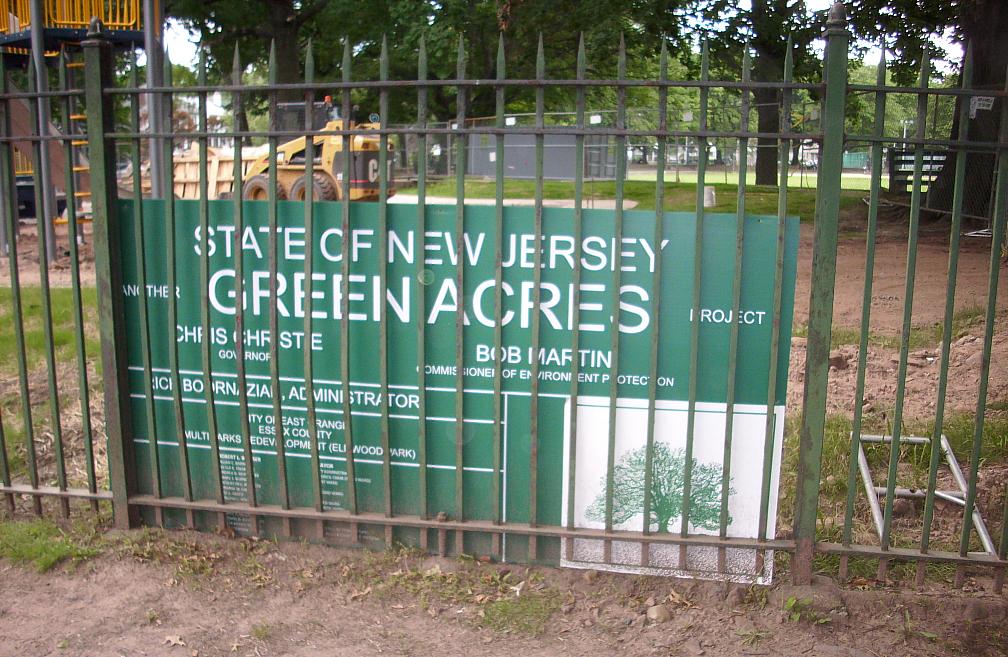 Photo by Al-Quadir Marsh, 6/29/11
Elmwood Park is bound by Elmwood Avenue on the north, from which it gets its name, Rhode Island Avenue on the south, Oak Street on the East and Freeman Avenue on the east, in East Orange, NJ. A satellite photo map of the park from 2011 (before playground renovation began, but after track renovation was complete) is shown below.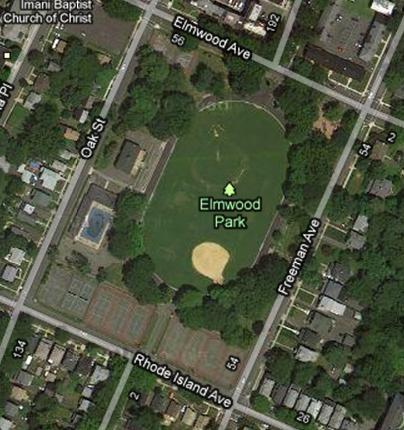 In 1907, under Mayor William Cardwell, Lincoln E. Rowley (after whom Rowley Park is named) helped to establish Elmwood Park, which had been an ash dumping ground in an attempt to fill in a former swamp. Elmwood, all nine acres of the park, was turned over to the Playground Commission on March 27,1916 and improved in 1919 by Alden Freeman (Freeman Avenue) in memory of his father, Joel Francis Freeman, at a cost of over $100,000. The Commission improved the park even further by extensive landscaping and building of a field house. Dedication ceremonies were held in Fall of 1921.
Excerpt from "History of the Oranges to 1921", Volume 3, by David Lawrence Pierson

"The Elmwood Park was completely filled with ashes, and the city authorities spent $35,000 in building a seven-foot concrete pipe drain 1,600 feet in length, enclosing the flow of the Elizabeth river and which reclaimed soil more or less 'spongy.' Nine acres are within the enclosure and Alden Freeman has announced that he will spend $150,000 in beautifying them and adding necessary fixtures. His offer to the City Council of a group of statuary to be placed there as a memorial to his father, Joel Francis Freeman, has been accepted, and the setting will take place some time during the coming year. There will be a group entitled "The Shrine of Human Rights," executed by Ulric H. Ellerhuson. The figures are eight feet in height, set upon a base seven feet high. The group will form part of the lighting system, as electric lamps will be placed in the liberty torch and in the shrine. There will be four pedestals for busts of types of individuals representing America, Europe, Asia and Africa, they being Pocahontas, Columbus, Confucius and Fred Douglass.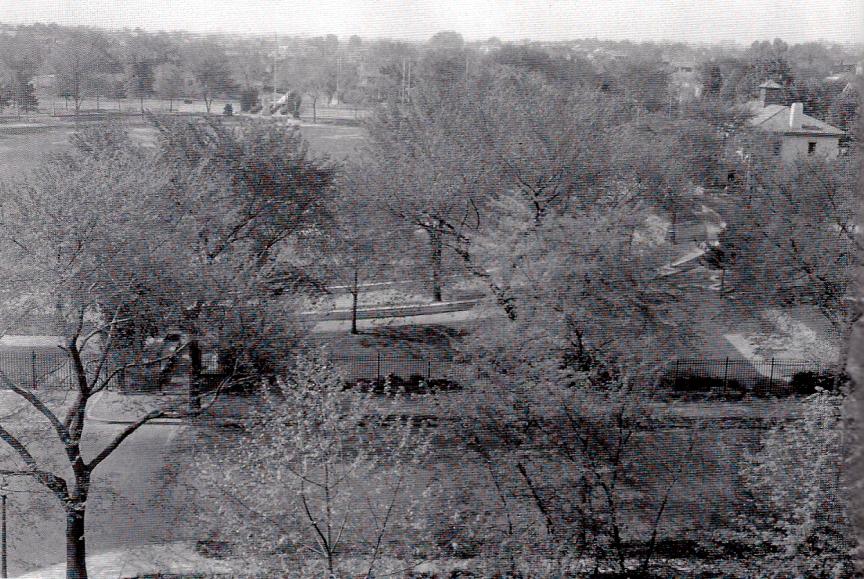 This photo, with Elmwood Avenue in the foreground, shows Elmwood Park as it appeared c.1940. The fieldhouse was taken over by the East Orange Little Theater in 1935 and many popular plays of the day were performed there.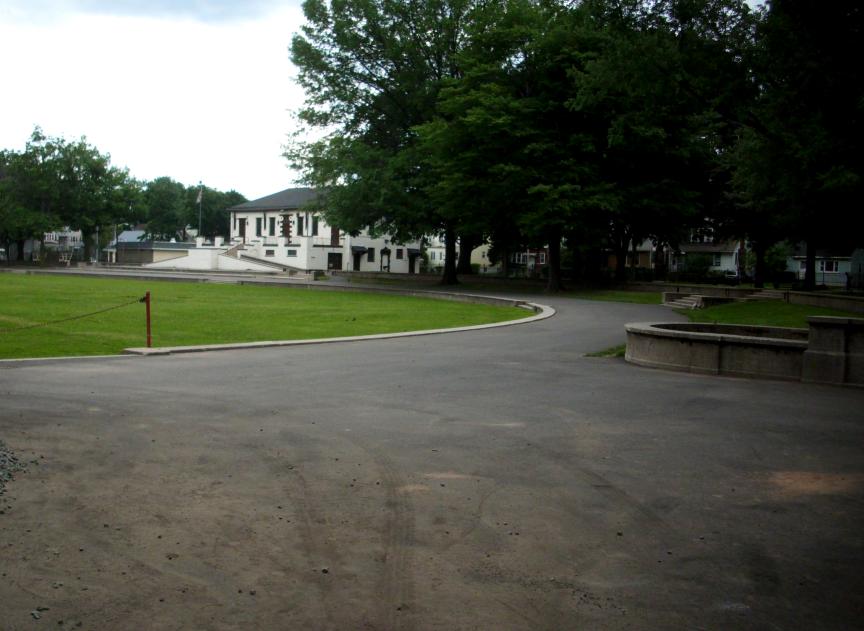 Photo by Al-Quadir Marsh, 6/29/11
In 2009, the old gravel track around Elmwood Park was paved with asphalt, as step one in the park's rennovation. The fieldhouse in the background has also undergone some cosmetic changes. Today it is mainly used as a classroom or for recreation department indoor activities.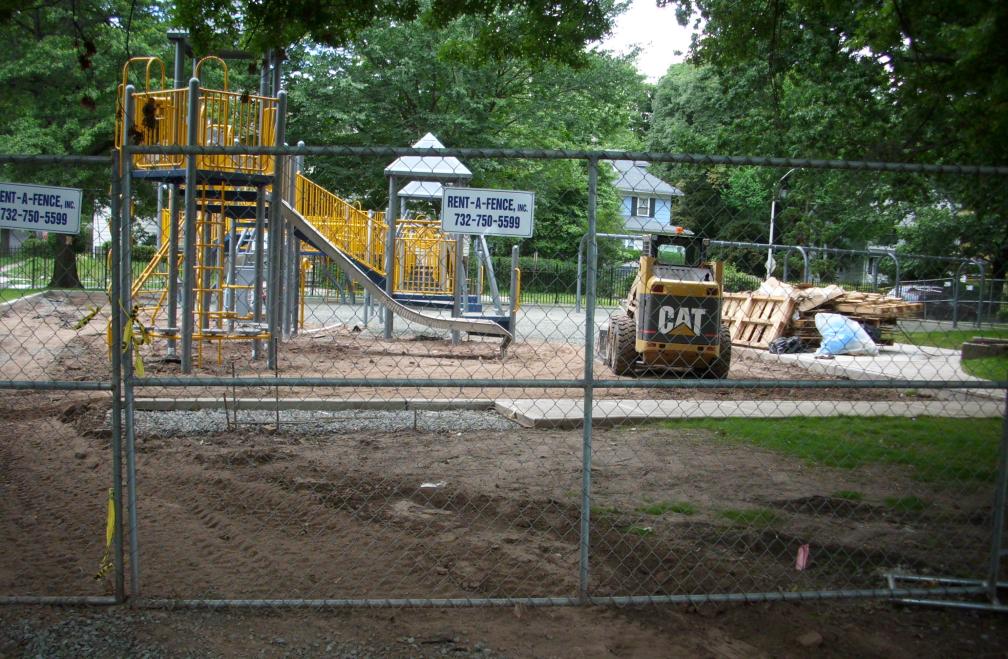 Photo by Al-Quadir Marsh, 6/29/11
The ground is being leveled and new equipment has been installed in the northeast corner of the park.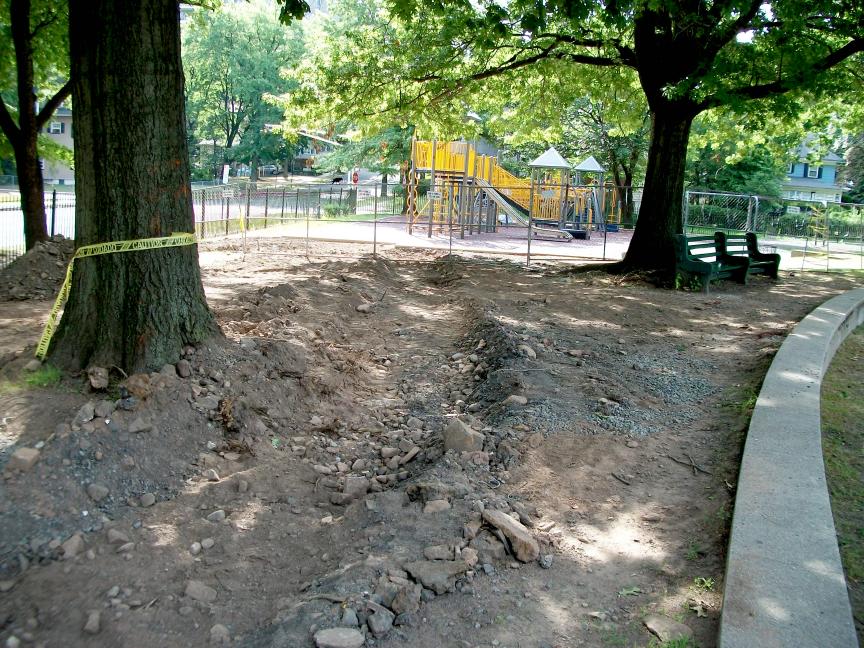 Photo by Al-Quadir Marsh, 7/28/11
A month later, the playground is almost complete except for a path which has been excavated leading up to the play area.
In May of 2011, we took some photos of the East Orange Unified Marching Band performing at Elmwood Park for a benefit event and you can see more shots of the park in the background from that article, which is posted on the Band Parents' site.
© 2011, James Gerrish and Frederick Goode, Temporary Custodians