William Stanford Hart, Sr. (1925-1999)
East Orange Mayor from 1970 to 1977

Birth: Nov. 19, 1925
Irondale
Jefferson County
Ohio, USA
Death: Sep. 23, 1999
Milford
Sussex County
Delaware, USA
William ''Bill'' Stanford Hart Sr. of Milford died of cardiac arrest, Thursday, Sept. 23, 1999, in Bayhealth-Milford Memorial Hospital. He was 73. Mr. Hart was the son of the late John and Margaret Hart.
He received a bachelor of science degree in secondary education from Delaware State University, where he earned four letters in basketball and football; and earned a master's degree in guidance administration and supervision from Seton Hall University, South Orange, N.J. Mr. Hart served in the U.S. Navy in the Pacific, a veteran of World War II. He worked for many years as an educator in the Elizabeth, N.J., school system, where he was the first African-American in the school system, retiring in 1970.
He moved to Milford, Delaware in 1987. Mr. Hart left a legacy of political firsts in the state of New Jersey. He was the first African-American councilman in East Orange, N.J., in 1960; the first African-American executive assistant to Gov. Richard Hughes in 1962; and was appointed the director of the New Jersey State Division of Youth in 1963. He was elected mayor of East Orange in 1970, serving two consecutive terms. He was also the first African-American to be elected mayor of a major New Jersey municipality.
He made an impact on everyone he met and left his imprint on everything he did, and was well-known to the local crabbers and fisherman of greater Kent County. Mr. Hart was a member of the Milford Lions Club; the treasurer/trustee of John Wesley United Church, Milford Neck; and in 1986, was inducted into the Delaware State Athletic Hall of Fame. In addition, he belonged to many social, civic and humanitarian organizations including: the board of trustees of Essex College in New Jersey; the advisory board of the U.S. Conference of Mayors; the executive board of the New Jersey Conference of Mayors; the executive board of the National League of Cities; a member of Alpha Phi Alpha Fraternity Inc.; a lifetime member of the NAACP; a lifetime member of the Big Brothers of America; and president of the National Black Caucus of Local Elected Officials.
He was preceded in death by a son, William Stanford Hart Jr.; a daughter, Cheryl Irene Hart; two brothers, John T. Hart and Arnold N. Hart; and a great-granddaughter, Armani T. Norwood. He is survived by his wife of 50 years, Gloria Mosley Hart; a son, Robert Frazier Hart and his wife, Christina E., of Yeadon, Pa.; two daughters, Linda Violet Norwood and her husband, William O., and June Denise Hart, all of East Orange; a brother, Calvin C. Hart of Bergenfield, N.J.; three sisters, Violet Fitch of Lunenburg, Mass., Ruth Naomi Roach of Wellsville, Ohio, and Marjorie Carter of Ettrick, Va.; his mother-in-law, Hazel I. Mosley; nine grandchildren, Rhonda J. Norwood, Robyn D. Taylor, Randi L. Norwood, Vanessa C. Hart, Jamal A. Hart, Daron Stewart, Yasin Hart, Thomas W. Hart and John L. Hart; two great-grandchildren, Asia J. Watson and Keith P. Craig.
Family links:
Spouse:
Gloria Marian Mosley Hart (1931 - 2011)
From an obituary published 16 June 2011:
Gloria Mosley"Punch" Hart, age 79, June 14, 2011, in Easton, Maryland.
A devoted wife, mother, and care-taker, Punch traveled from her home in Milford, Del., to live much of her life in East Orange, N.J., where she raised her family. She returned to Milford with her husband to enjoy their retirement.
Punch was preceded in death by her husband of 50 years, William S. Hart, Sr., and four of her five children, Linda V. Norwood, Cheryl I. Hart, June D. Hart, and William S. Hart, Jr. She is survived by her son Robert F. Hart, his wife Cristina E. Hart, and by son-in-law, William O. Norwood. Grandchildren include Rhonda J. Norwood, Robyn D. Taylor and her husband Rickie, Randi L. Norwood, Vanessa C. Hart, John L. Hart and a host of others, with numerous great-grandchildren.
A lifelong member of John Wesley United Church in Milford, DE, Punch's Homecoming will be held Saturday, June 18. Viewing will be held 10 a.m. to noon, funeral to follow directly after. Attendees are invited to join the family for a light repast after the interment. Arrangements by Miller Funeral Services.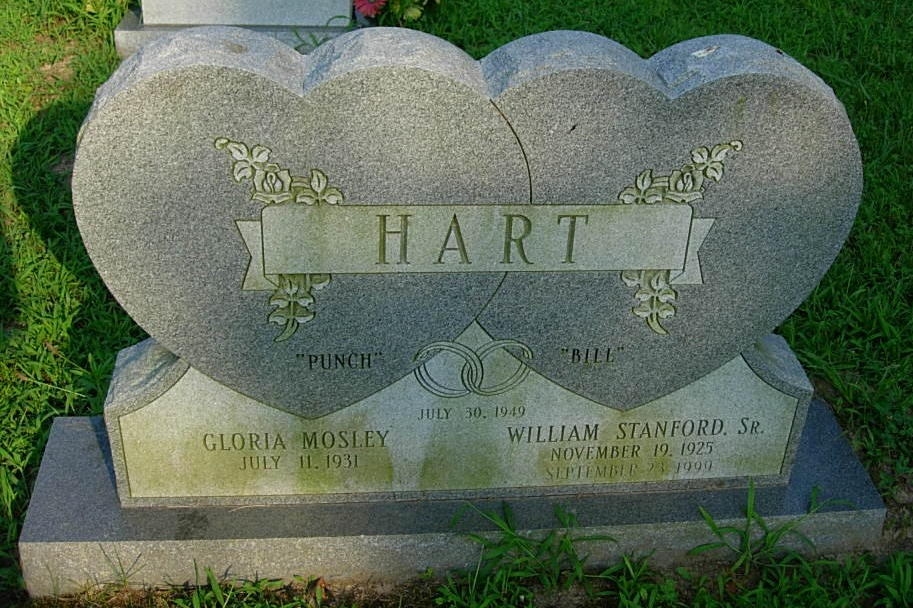 News Stories

1972 news photo
A shot was fired at Mayor William Hart of East Orange, NJ, Thursday night (June 1, 1972) police reported. Hart, who is seeking the Democratic congressional nomination for his district, was sitting in his car behind City Hall in East Orange, when one shot was fired. He escaped unhurt, police said.

Photo of June Denise Hart from 1971 Syllabus yearbook
Daughter of Mayor Charged in Stab Death
East Orange, NJ - Shock and tragedy struck two well known families and the entire community in this town bordering Newark, when 19-year-old June Hart, daughter of Mayor William S.Hart, was charged in the stabbing death of her friend Pamela Robinson, also 19, last Saturday morning.
On Tuesday afternoon, October 24th, the victim was buried in Rose Hill cemetary in Linden, NJ, and June, released under $10,000 bail following her arrest, was arraigned in East Orange Municipal Court.
While detectives investigating say that the incident stemmed from some reportedly missing money, former classmates of the pair at East Orange High, from which both graduated, and friends among their circle, expressed disbelief that such a tragedy had occurred.
The circumstances that lef to the alleged argument between the two young women sometime after midnight and over a block away from Pamela's home at 33 Rhode Island Avenue, has not yet been determined. Detectives say that the sum of money alleged to have been taken or missing by Miss Hart, was about $50 to $60.
There was said to have been a party at Miss Robinson's home earlier. Around 3 a.m. neighbors in the vicinity of 67-69-71 Rhode Island Ave. were reportedly aroused by loud voices and a neighbor called the police.
Upon arrival, East Orange detectives Sgt. Det. John Armeno and Dominick Scaglione reported finding Miss Robinson on the steps of No. 69 Rhode Island Ave.
She was pronounced dead at the scene by Dr. Charles Rosen and an autopsy performed by Chief Essex County Medical Examiner Dr. Edward F. Murray revealed that a sharp instrument had penetrated the heart. There was, the examiner reported, also a stab wound of the leg.
In the meantime, police reported, Miss Hart went to her home at 50 Elliot Pl., nearly 10 blocks away and allegedly gave her father a kitchen knife. The mayor, East Orange's first black chief executive, took his daughter back to the scene. They were driven by his aide, a city detective.
Miss Hart was represented by Atty. Ray Brown of Jersey City at her arraignment before Supreme Court Judge Joseph Sugrue.
Miss Robinson, daughter of Mrs. Clara Robinson, was one of four sisters, amnd a native of Elizabeth, NJ. The family has resided in East Orange since 1967, and Pamela graduated from East Orange High School in 1971. She had been a trainee in a Newark Postal Academy program.
Funeral services for Miss Robinson were under the direction of Nesbitt Funeral Home, Elizabeth, NJ.
Miss Hart is a clerk-stenographer at the East Orange City Hall. Mayor Hart and his wife, Gloria, are the parents of four other children.