100th Birthday Celebration of
John O. Gerrish
August 14th, 2010
Red Fox Inn, Saranac Lake, NY
On November 29th, 2010, Pop passed away quietly in his sleep. Hold fast to the happy memories of events like this 100th birthday party celebration to remember him by. Obituary here:
"Pop" Gerrish makes a grand entrance to his party, walking in on Mary's arm under his own power. He takes a long walk with her almost every day, so this little excursion is nothing.

Pop greets his brother Charles.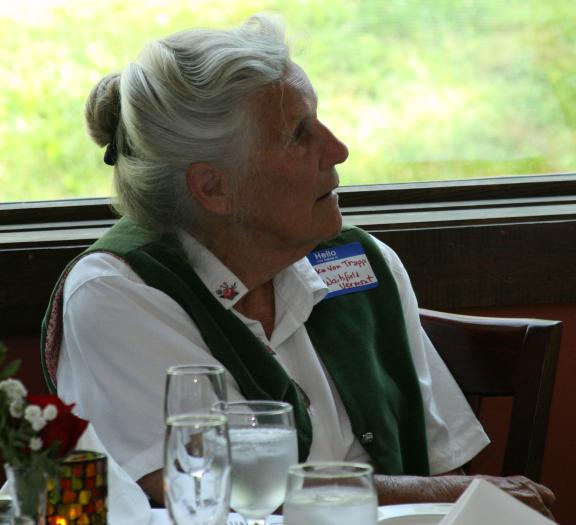 Erika von Trapp, long time friend of the family.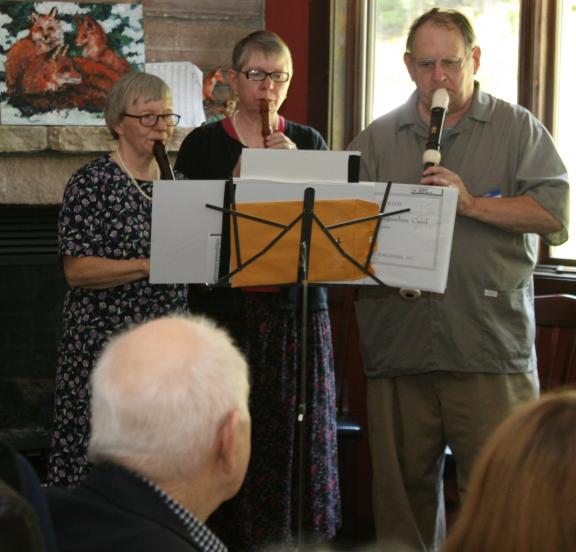 Pop listens attentively as his children, Mary, Cathy and Jim, play his 1957 published composition Variations on a Burgundian Carol on the recorders. It was dedicated "To John (B.) and the Midnight Recorder Society" which included Father Phil, among others. Video below.
Catherine (Cathy) Ryan on the soprano recorder, Mary Gerrish on the alto recorder, and Jim Gerrish on the tenor recorder, playing three movements (Prelude, Scherzo, and Finale) of Variations on a Burgundian Carol composed by their father, John O. Gerrish.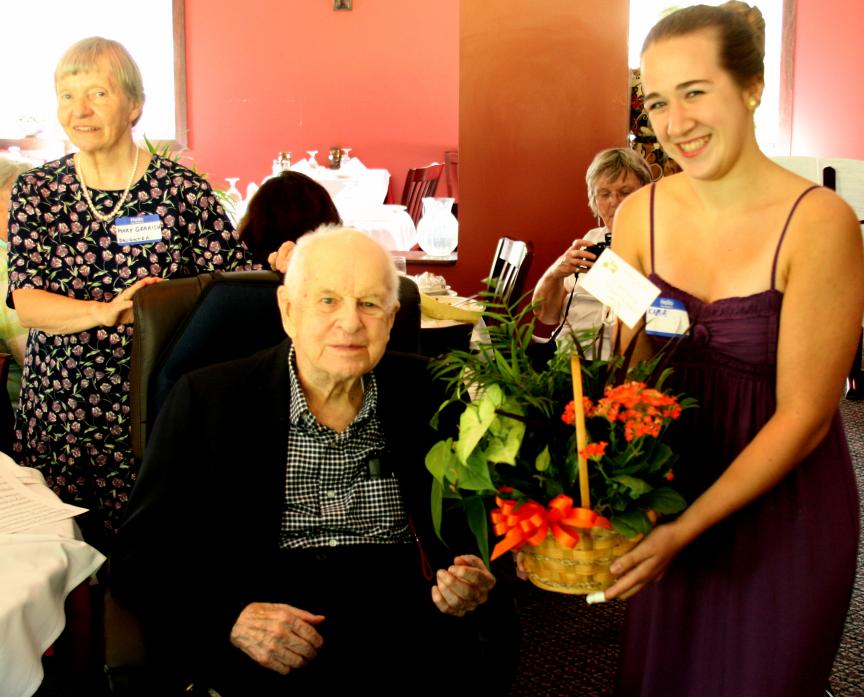 Kama Prellwitz, friend of the family and special guest violinist with the newly formed Jesu Joy Ensemble, presents Pop with a special bouquet of flowers sent from his Alma Mater, the Crane School of Music in Potsdam, NY, from which he graduated in 1930. Kama also currently attends Crane School of Music.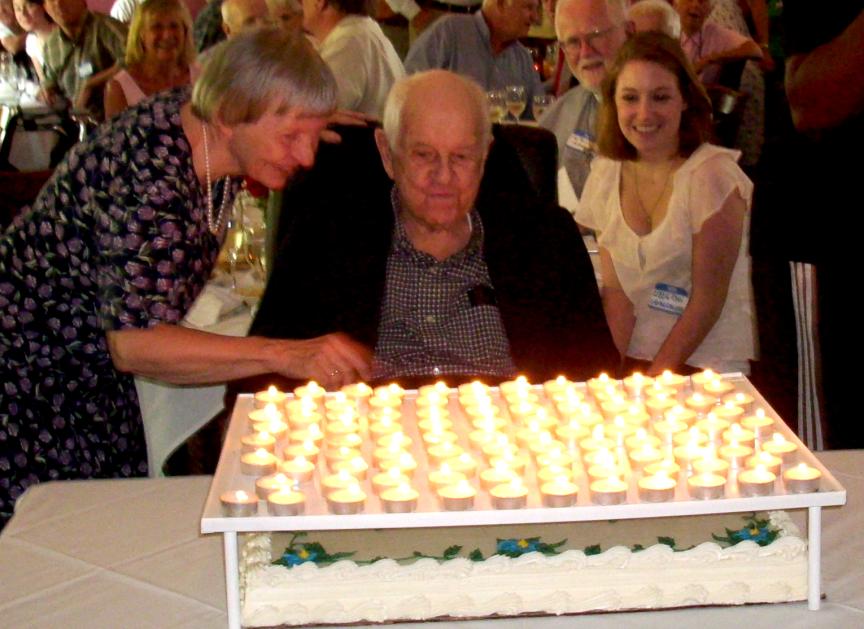 John (Jack) Gerrish gazes in amazement at the 100 blazing candles over his birthday cake. How will he ever blow them all out? With a little help from his great grand-children, of course!
The great grandchildren gathered willingly around the cake and candles to help great grandpa blow them out and get his wish... which I think had already come true in this room today!
Toastmaster Bill Ryan (Son-in-law and Cathy's husband) gave the first toast, as John B. warned everyone not to drink it all because there would be a second toast, thereby breaking his own rule about extra toasts and speeches.
However, John was forgiven his "transgression" because the second toast was for Mary, who had been Pop's caregiver for the past 18 years, as well as the world's best "Aunt" by unanimous acclamation of all the relatives present, because she never forgets a birthday and always picks the best presents for every occasion. John B. also presented her with a special bouquet of flowers.
Another combination of great grandchildren played an "arrangement for cousins" by Harriet Groenleer of Aaron Copeland's Hoe-down movement from Rodeo .
A final ensemble of the party played a variety of W.A. Mozart quartets in the background as relatives and friends began to say their farewells and head back home.
At this point, Pop was beginning to nod off, so Father Phil gave him a special blessing, and Mary took him home to have a nap. Tomorrow they can remember the party, look at pictures and videos of the event, and recall all the excitement of this day that celebrates a century of living life to the fullest.
Ann TenEyck's Photos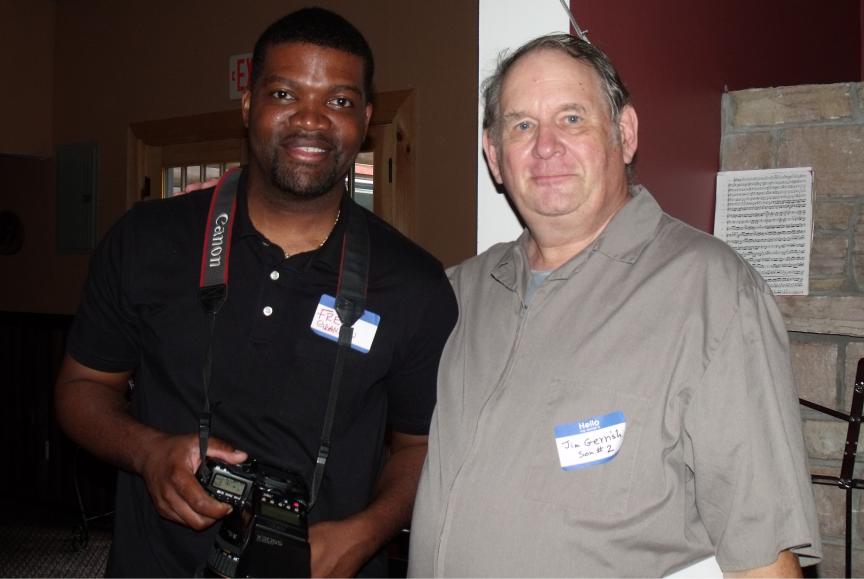 L-R: Frederick Goode, Jim Gerrish
Most of the above party photos were taken by Fred Goode, Jim Gerrish's son. However, no one remembered to take a photo of the photographer, so here he is at last, thanks to our Saranac Lake neighbor and lifelong family friend Ann TenEyck.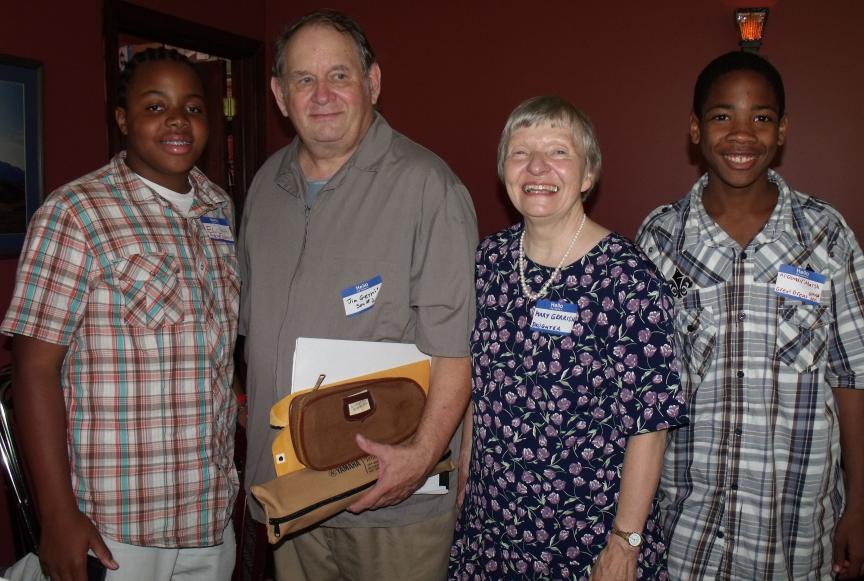 L-R: Elijah Goode, (Grandpa) Jim Gerrish, Mary Gerrish, Al-Quadir Marsh
Ann also took this photo of Jim's two grandsons who were at the party and who helped photograph it as well: Elijah (Fred's son) and Al-Quadir (step son of Lee Harper, who did not attend the party). Both grandsons are members of Jim's Wiz Kids.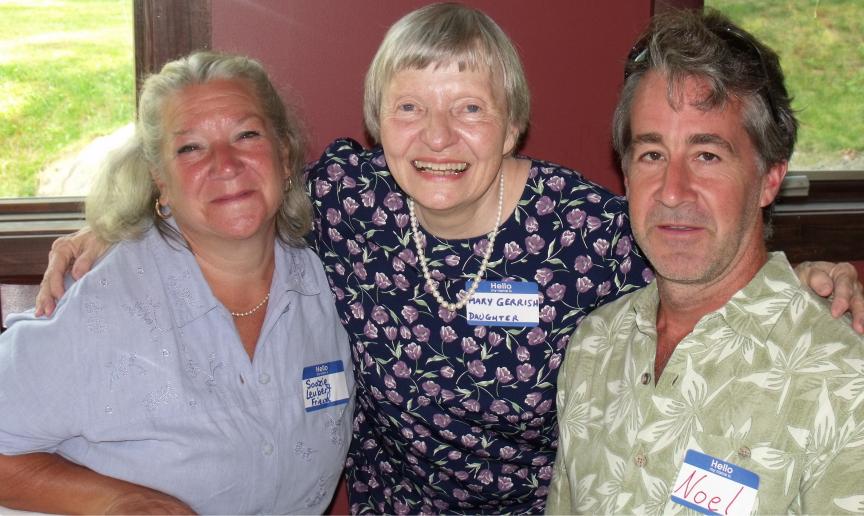 L-R: Soozie Leubert, Mary Gerrish, Noel Prellwitz
Ann also remembered to take a photo of Kama's parents, although Kama's parents did not forget to invite many of us to their camp at Rainbow Lake for a late night swimming party and campfire.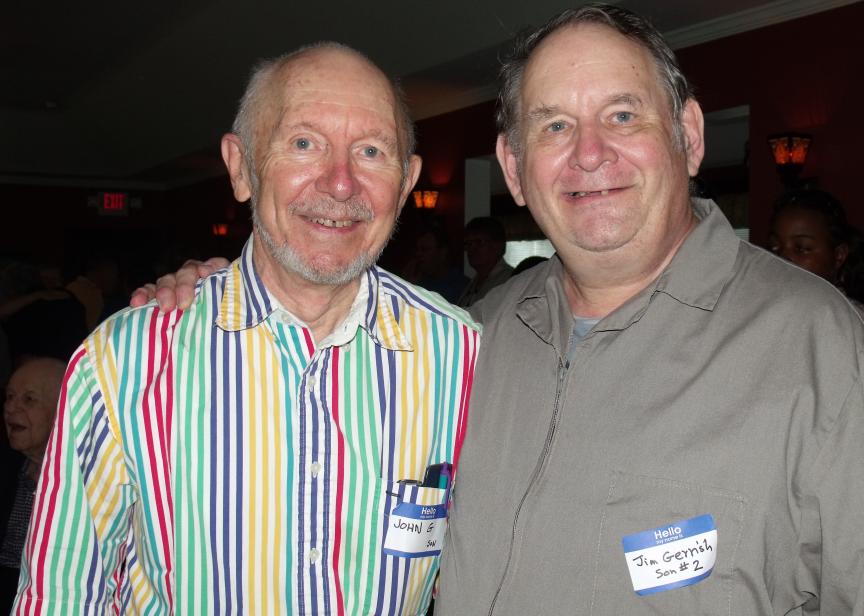 Ann also took this photo of brothers John and Jim Gerrish. John is losing his hair and Jim is losing his teeth, but both retain their sense of humor.
Other Photographers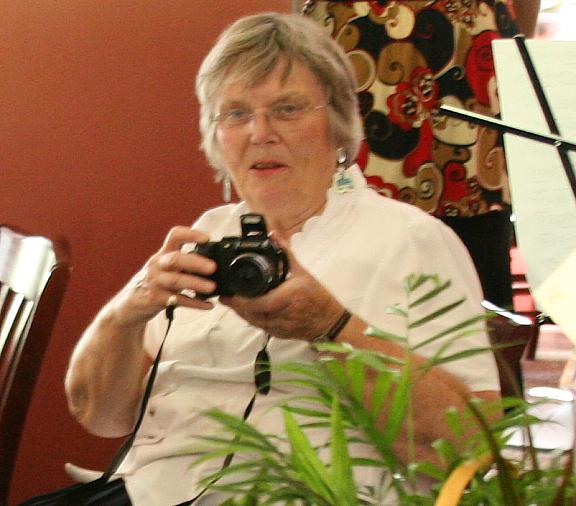 We gathered this action photo of neighbor Ann TenEyck from the background of one of Fred's photos.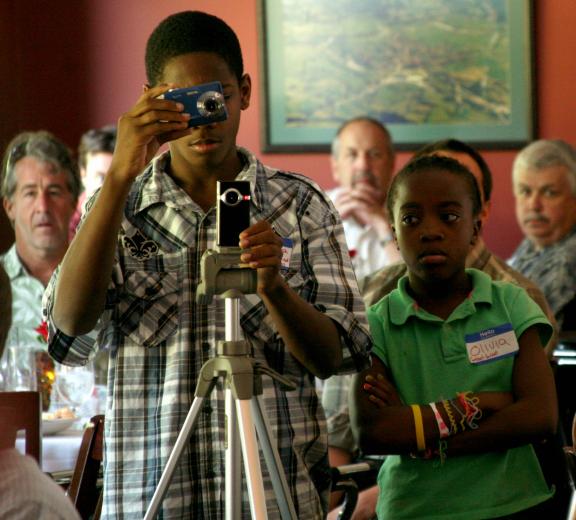 L-R: Foreground - Al-Quadir Marsh, Olivia Goode
Al-Quadir Marsh did some of the videography on a Flip camera, and, as you can see, took still photos on his digital camera at the same time. Al-Quadir is also an official photographer of his Uncle Fred's East Orange Unified Marching Band. Olivia Goode, his cousin, watched him very closely and for her birthday in September 2010 asked for a digital camera of her own (Which she got! Look out world!).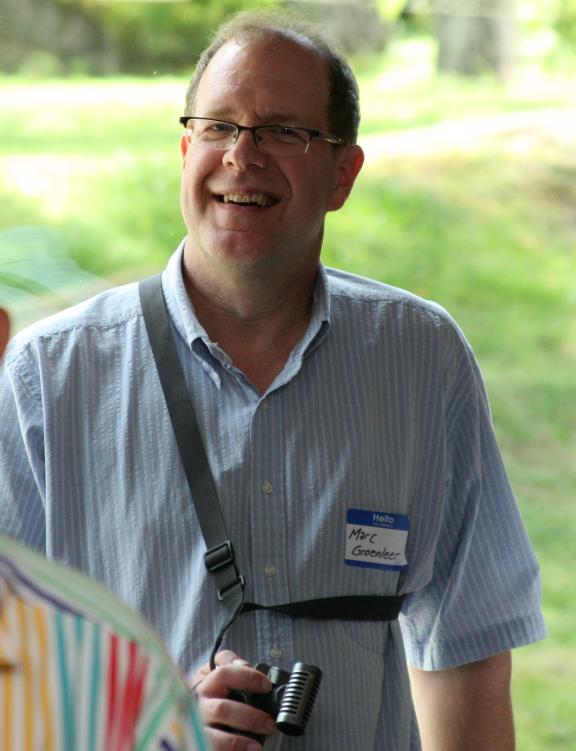 Marc Groenleer, grandson-in-law, videotaped the event and produced a DVD for members of the family.
Family members who spot errors or omissions, please contact Jim Gerrish. Anyone who attended the party and who has additional photos, video and information either of a historic nature or about the party, please e-mail them to Jim Gerrish.
Museum caretakers: Jim Gerrish (#2 son of John O. Gerrish) and Frederick Goode (grandson of John O. Gerrish)