Battle for the Bands - April 25, 2015
---
03/07/15 Mayor's Annual Ball Held at "The Castle"
in Parsippany-Troy Hills. Only Wealthy Invited.
How's that for "Quality of Life?"
Photos
---
East Orange 2014 Property Taxes:
Average Residential Property Value: $172,082.00
Average Property Taxes: $8,444.00
Net Value EO Taxable - $2,513,103,146.00
County Taxes: $14,544,693.99
County Open Space Tax: $440,422.70
Total County Taxes: $14,985,116.69
EO School District: $20,544,012.00
EO Municipal: $86,299,608.00
EO Municipal Open Space: $502,621.00
EO Library Tax: $991,610.00
EO Total Municipal: $87,793,839.00
Here's the man responsible: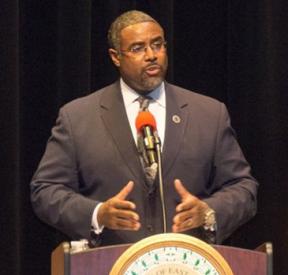 Lester Taylor Delivers State of the City Speech
01/20/15
Video Part 1
Video Part 2
I was not there, so I cannot tell you what was said,
but I CAN tell you what was NOT said. No mention
was made of the seven East Orange residents who
were murdered last year, nor the two more residents
who were murdered this year. There was NO
EXPLANATION as to how our public schools
were the highest in numbers of violent incidents and
highest in substance abuse in all of Essex County
this past year during mayor Taylor's watch.
There was NO EXPLANATION nor APOLOGY
given for the mayor's inability to provide true
transparency and accountability of government by
posting the budget on-line and the city codes and
ordinances on-line.
I was not there, so I am only guessing that the above
statement is completely true. If I am wrong, play me
the video recording of the speech and prove me
wrong and I will apologize to the mayor and council.
01/21/15 Jim Gerrish - E. Orange, NJ
UPDATE: 3/18/15 There has been no complete video
of the State of the City Address released and no
written transcript. The pitiful information that HAS
been released and the above videos show that every
statement I made above is TRUE NEWS.
Instead of working to put the city budget on-line,
as promised many times, or to put the city codes
and ordinances on-line, again as promised many
times, the mayor and council have come up with a
scheme to run the Police and Fire departments by
committee, adding layers of bureacracy and
removing accountability. This move will increase
the number of people working for the city, but not
the number of police officers or fire fighters. Unless
YOU show up to demand accountability and REAL
transparency, the mayor and council will sign this
into EO law on January 26th with a flick of the pen.
We don't need another water commission (water
department run by committee) on our hands.
01/17/15 - Jim Gerrish - E. Orange, NJ

02/19/15 -Ohio Teacher of the Year, Stacie Starr,
resigned because of Common Core. That took a
great deal of courage of conviction.Read her reasons
why she resigned HERE.