NW 5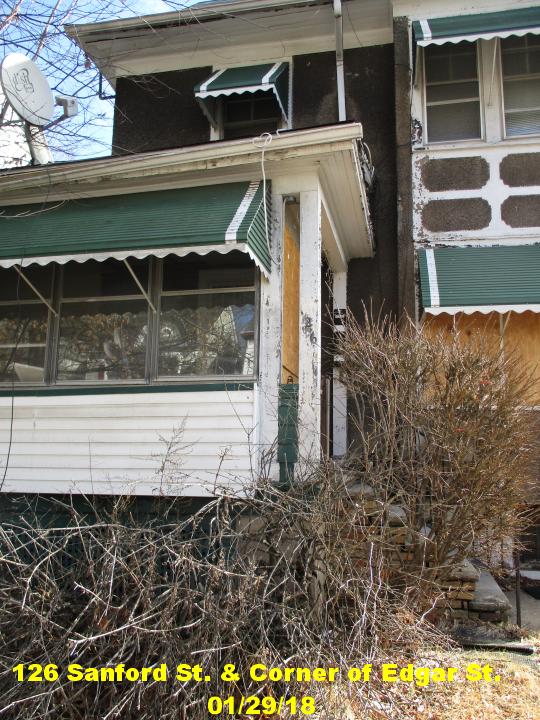 01/29/18
S-Hole Report: We are now well rid of mayor Lester Taylor, and have as our new mayor, Ted Green, who was formerly the council person for the Third Ward. Lester Taylor did nothing to improve this Third Ward neighborhood property, and neither did Ted Green as council person. Let's see if newly elected mayor Green, or new third ward councilman Bergson Leneaus, does anything to improve conditions in the Third World Third Ward S-Holes of East Orange. This is the house on the east side of Sanford Street at the corner of Sanford and Edgar Streets.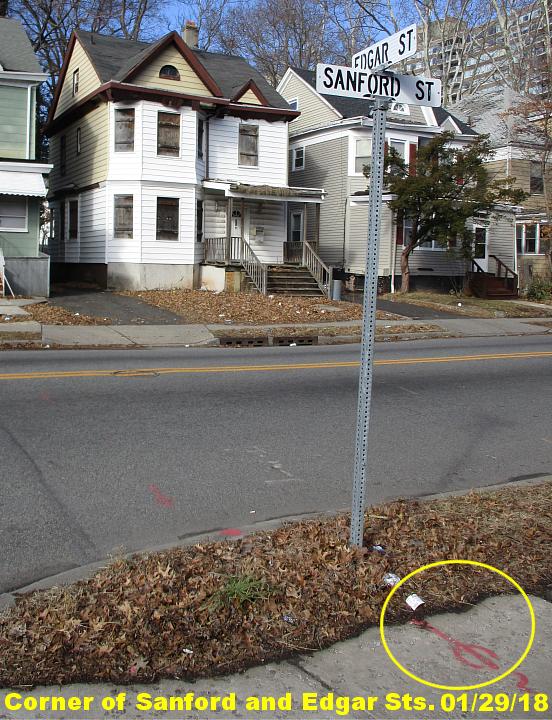 Across the street is NW 3 (135 Sanford), just in case the new mayor or councilman can't find his way here. On the sidewalk, some city engineer has painted an arrow pointing to this new S-Hole that has joined with the others to destroy the neighborhood at 126 Sanford St. Click here to go to 135 Sanford Street on the west side of the street and see how long that has been going on.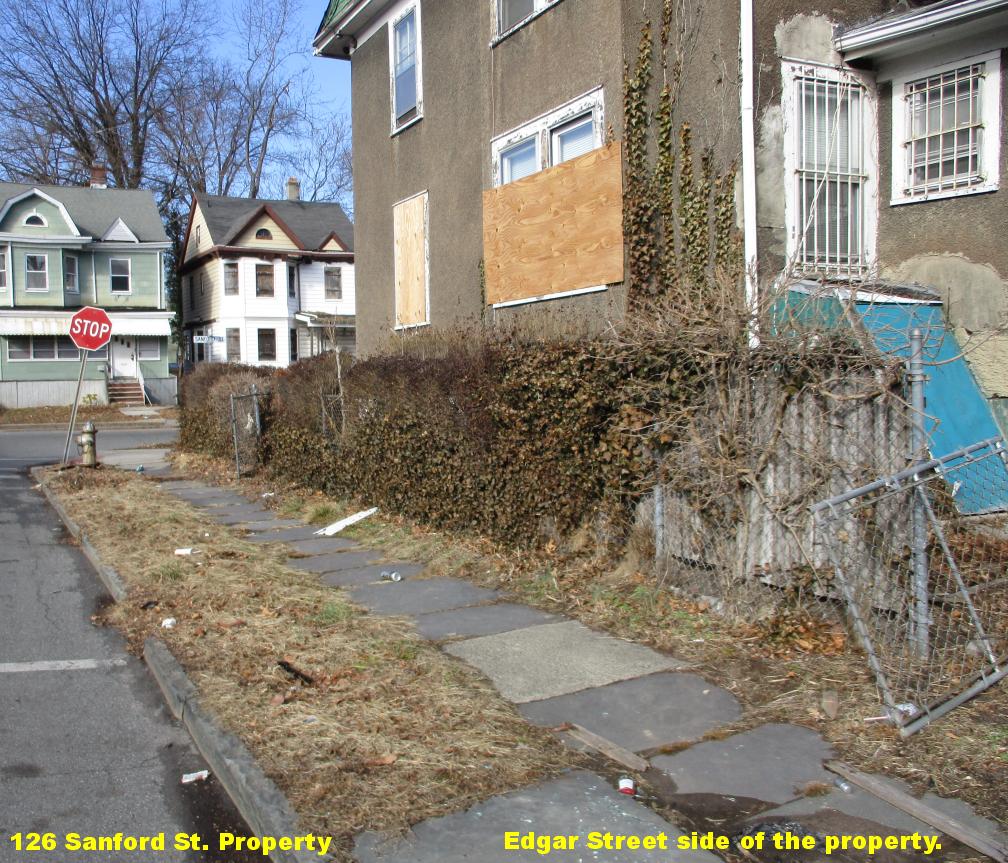 I originally came here to photograph a dead animal that was left on the corner by the hydrant. Then I saw the amount of litter that had been dumped on the property on the Edgar Street sidewalk. This is city property and supposedly a city problem.

I called in the dead animal to (973) 266-5337 because it had apparently been lying in that spot for several days. On returning to the spot, I saw on closer inspection that it was a dead cat, probably one of the many feral cats that roam the area. It is unbelievable that no one saw it before today (1/29/18); more likely no one bothered to notice it and call it in for removal. East Orange does not deal with dead animals unless someone takes the effort to call in and report them to the Department of Public Works.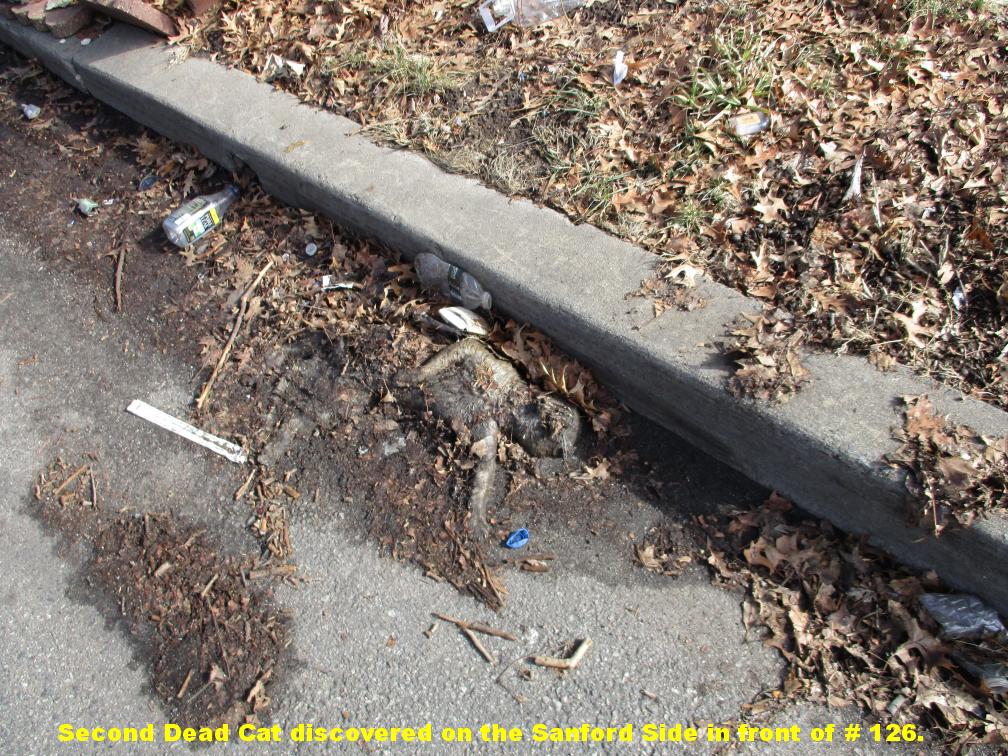 Then I came across another dead cat #2, buried in the leaves on the Sanford Street side in front of the #126 property. I think two dead cats left for days in the street qualifies this as a Shit-Hole-In-Progress for our S-Hole Report of East Orange, NJ.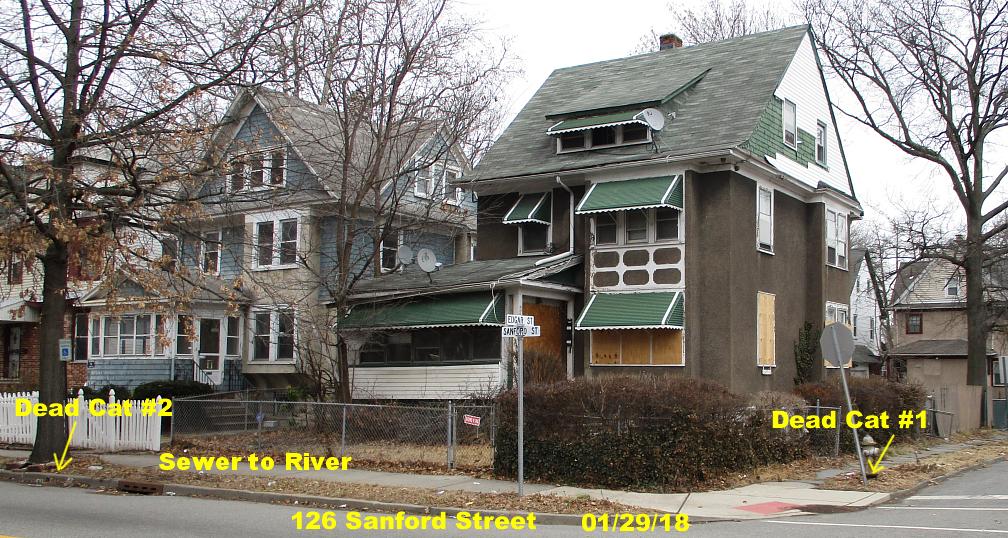 Apparently the city of East Orange turns over reports of dead animals in the street to a private contractor, Suburban Disposal, at 263 Shepard Ave, East Orange. The first dead cat was removed about two hours after I called. I called in the second animal and we'll see how long it takes them to find it and dispose of it. But no one has yet cleaned up the sidewalk and street around the property at all, so that must be another department.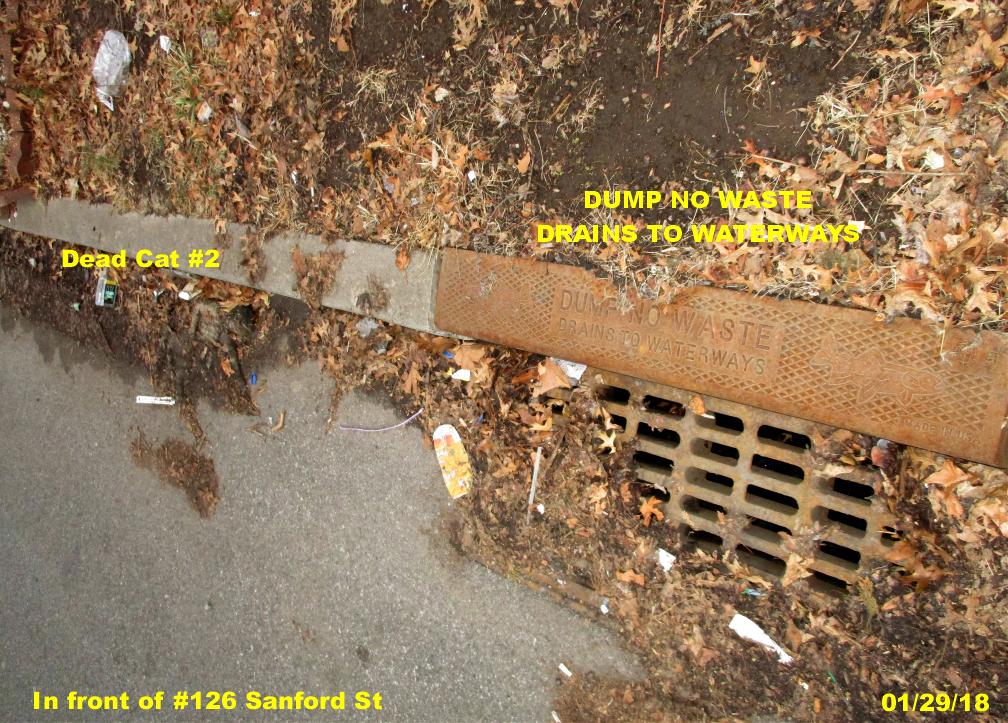 The sewer near Dead Cat #2 is clearly marked that it drains to waterways (The Second River), which drains into the Passaic River eventually and ends up in Newark. Or it might drain south into Elizabeth. Either direction doesn't need our polluted water; they have enough of their own. Now let's check on that "Dump No Waste" part.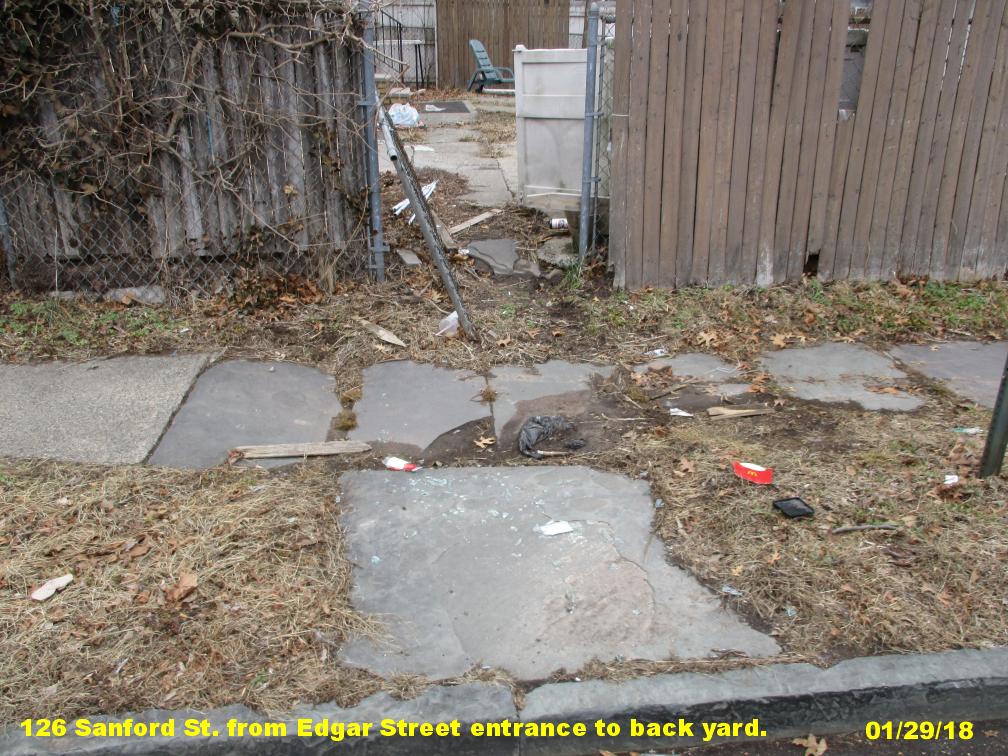 This sidewalk is a favorite place for drivers to smash glass bottles of liquor while driving by or parking in their cars. S-Holes are caused by A-holes. Let's peek into the abandoned backyard.
So far, not too bad. That could have just blown in to the yard from the street.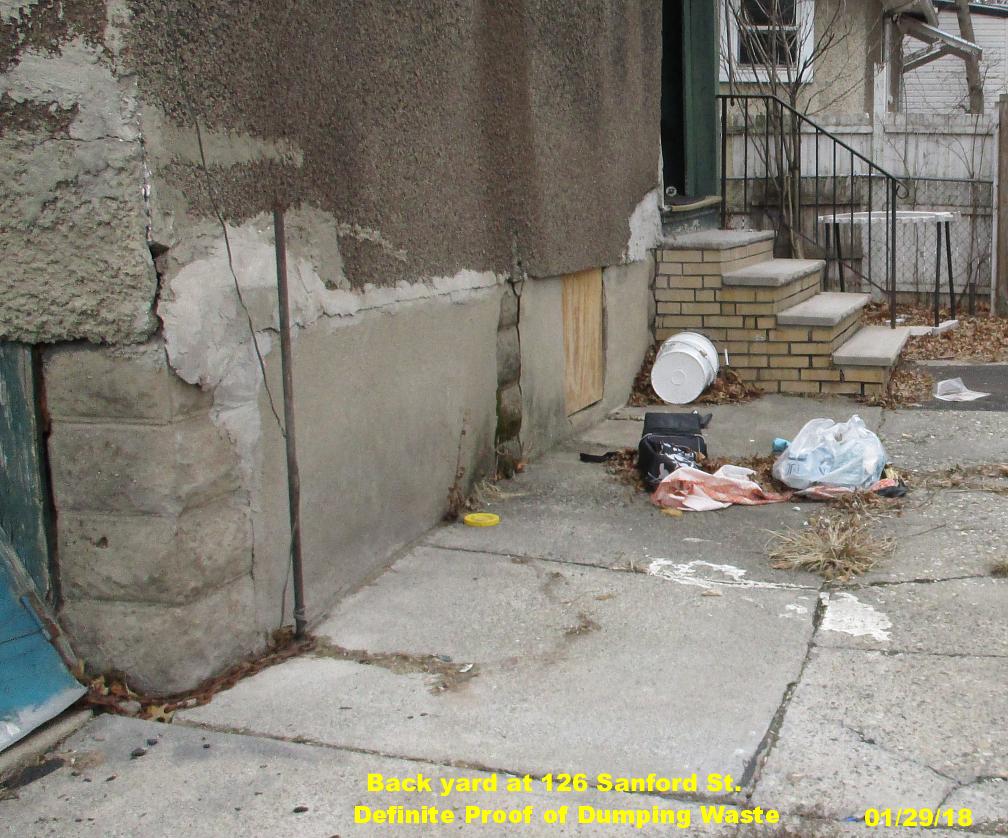 That wasn't blown in by the wind. Someone has started dumping bags of garbage, and if it isn't dealt with right away, it will continue until the yard is filled. The person or bank that owns this property is responsible for cleaning it up. The city is responsible for contacting them and enforcing the clean-up. But if no one from Public Works or Property Maintenance is looking at what goes on in the city (not just here, there are many more examples as I will be showing over the next few months) then we could end up like this: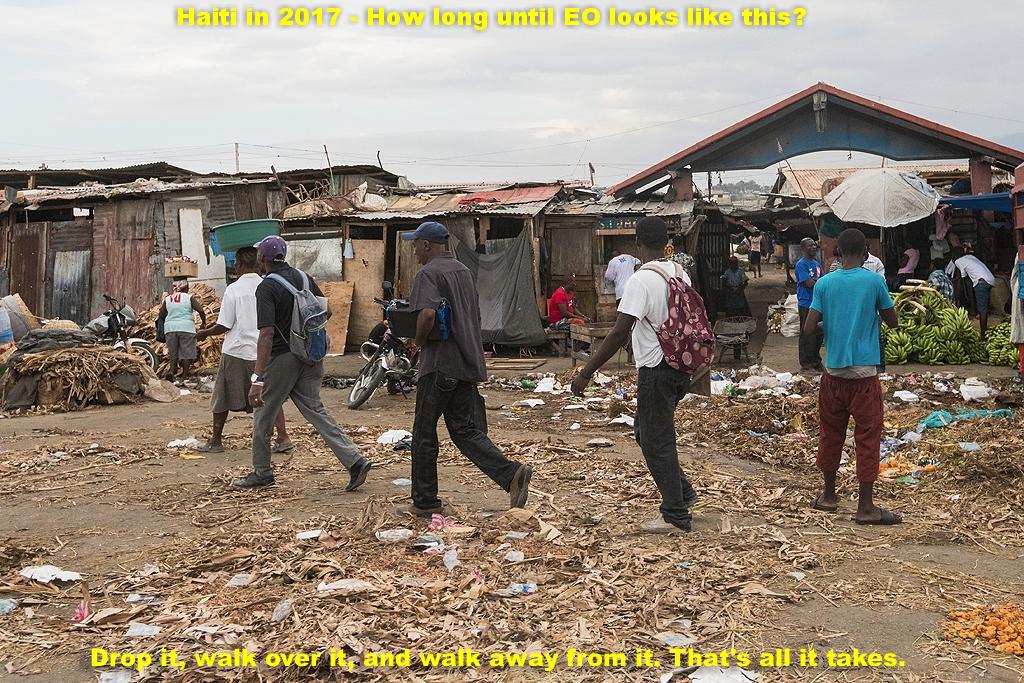 But I digress. Back to the immediate problem at 126 Sanford Street.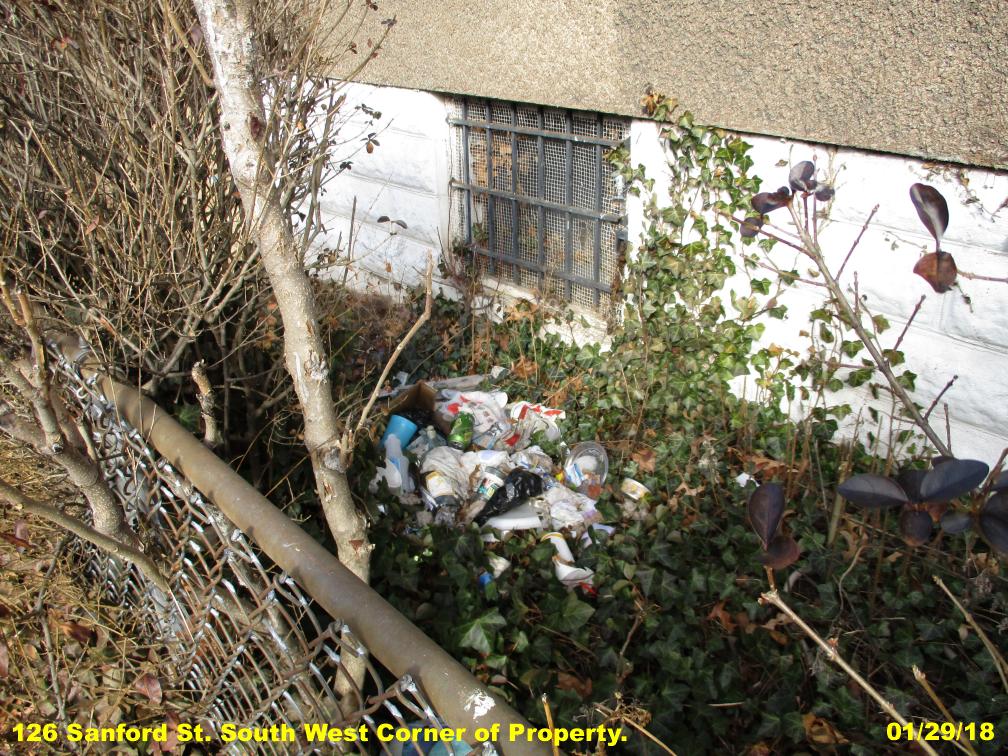 Look what is "hidden" just behind the fence at the south west corner. That wasn't blown in there by the wind, either.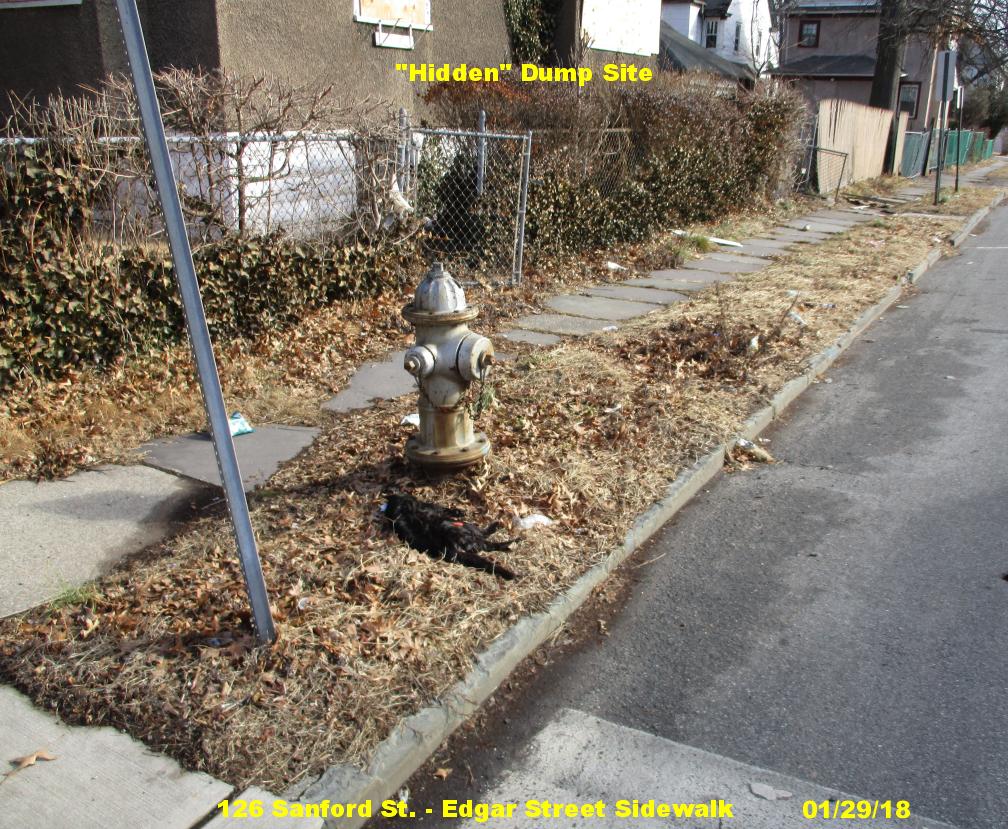 The full "scenic view" along Edgar Street. What a wonderful path of learning to walk with your children on their way to school in East Orange. Watch out for broken glass.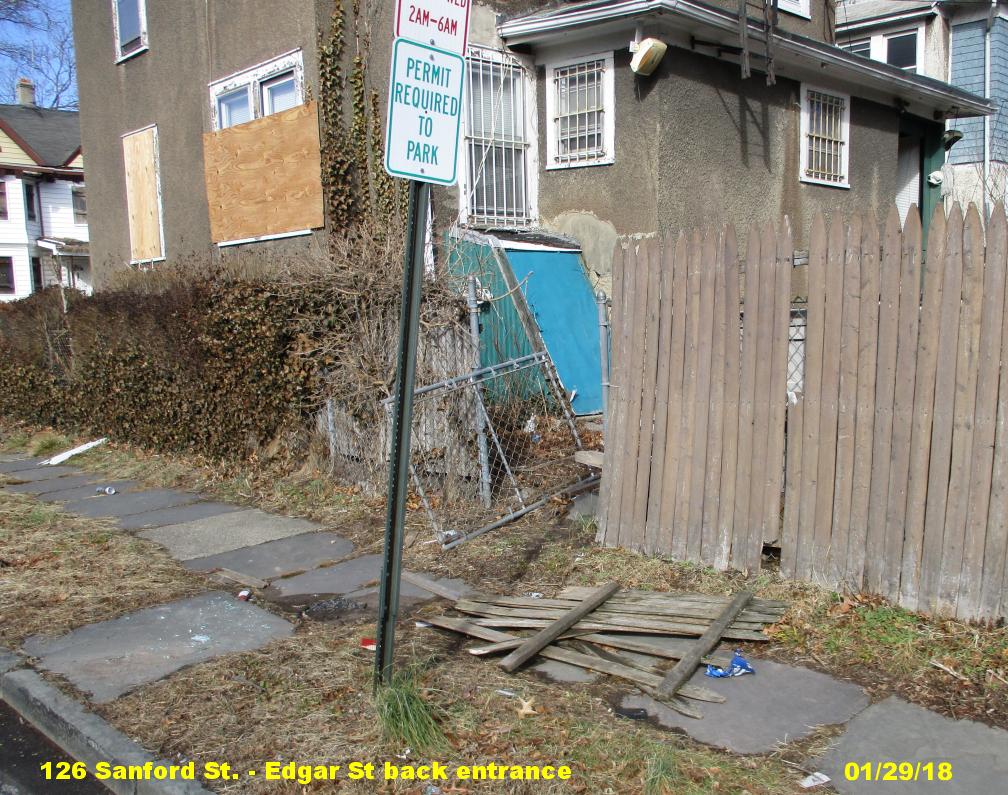 It is difficult for me to believe that NO ONE from Public Works OR Property Maintanence passed by this and missed the clues of the broken glass on the sidewalk, the leaning broken metal gate, or the smashed wooden fence lying on the sidewalk. As far as residents who walk this way frequently, most often talking on their hand held phones, walked by it, walked over it, and ignored it tells me we are on our way to becoming a Third World Sanctuary City, just like the ones our East Orange immigrants, legal or illegal, came here to escape.
© 2018, Written by James Gerrish , Temporary Custodian of the Web site.
Contact with corrections or additional information for this page: jimgerrish@yahoo.com
Death threats are automatically referred to the F.B.I.