Mayor Lester Taylor's Agenda 2017
This is what the Mayor HAS or HAS NOT done for us lately:
02/02/17 Only nine days after giving his State of the City Address, Lester Taylor announced that he was dropping out of a bid to be re-elected mayor of East Orange. There was a brief announcement of the February 2nd press conference the day before, (February 1st at 9:50 PM), in a little-read The Alternative Press note from Connie Jackson. The speed at which all of this unraveled needs to be carefully studied by all taxpayers of East Orange, because no one else will be interested in the outcome. We are the ones who have to drain our own swamp.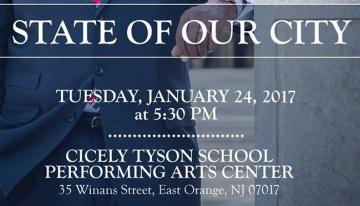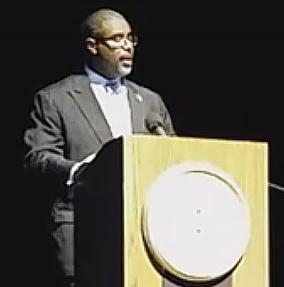 01/24/17 State of the City Address Video
Better Video on YouTube:
01/24/17 - Rebuttal to the State of the City Address
This year, every one of my 6 Predictions about what the mayor would NOT say in his State of the City Address has come true.
The speech was recorded on someone's hand-held phone, with very poor sound quality and a lot of motion-sickness inducing jitters, waves and pans. The sound quality was not very good, and during one portion the sound almost shuts down to a whisper (I guess because the videographer's hand was covering the microphone). The address took place in Cicely Tyson's 800 seat auditorium, which was mostly filled by many of the 900+ public workers that fill City Hall, plus other invited guests - not much room left over for the ordinary taxpayer.
The opening remarks were unremarkable except for two things. #1 We were told that the City of East Orange is in Revolt. We were not told why. We are supposed to assume that everyone in the city is against the election of our 45th President, Donald J. Trump, and that the revolution will "do something about it." #2 The audience was asked to recite the indoctrination mantra that fills Lester Taylor's speeches, as if it was a "pledge of allegiance" to the City of East Orange. The pledge was: "East Orange will set the standard for urban excellence and become a 'Destination City'." No one defined what a "Destination City" was supposed to mean, but later on you will hear Lester Taylor proclaiming that our City is now "officially" a Sanctuary City, and we do know the meaning of that.
Councilman Ted Green took the opportunity to give himself a little campaign speech to promote his re-election in the June 2017 Primary. He did NOT mention the shootings that have taken place recently in the third ward (his ward responsibility) 01/14/17 and 01/22/17 or his FAILURE to do anything about the abandoned houses that have been on my "Shame of the City" map for several years now.
Mayor Taylor's speech was the well memorized collection of fairy-tale facts he has been promoting for the past three years, like the decrease in violent crime that the charts below show was actually an increase of 4.2% and all the rehabilitated abandoned properties for which he has been responsible (when he can't even point to one single example). But he tells us he is making "progressive changes" in the city, which is a code word for "socialist changes." Taylor glossed over the recent election of Donald Trump as president and took sides with the next day's Women's March to promote Abortion and protect Margaret Sanger's legacy of eradicating African Americans by killing their unborn babies in her Planned Parenthood Organization.
Taylor bragged that he has closed the Ten Million Dollar City deficit, which should mean that our property taxes will no longer increase (but I'll believe that when I see it happen). He is planning on getting Five Million Dollars in Federal Funds in 2017, but his declaration that East Orange is now "officially" a Sanctuary City (although the only ones to vote for that were his toadies on the City Council), may very well cut down not only that hope, but other projects of his that depend on federal funding, like the public schools, the library, the police department, the fire department and several others that I forget right now. If Once the Federal Funding is cut, the State Funding may undergo a similar fate. His statements of defiance of Federal Law clearly violate his oath of office.
When the mayor ended his speech, he thanked the crowd and immediately left before anyone could ask him any questions. Darn! That's another thing I should have been able to predict!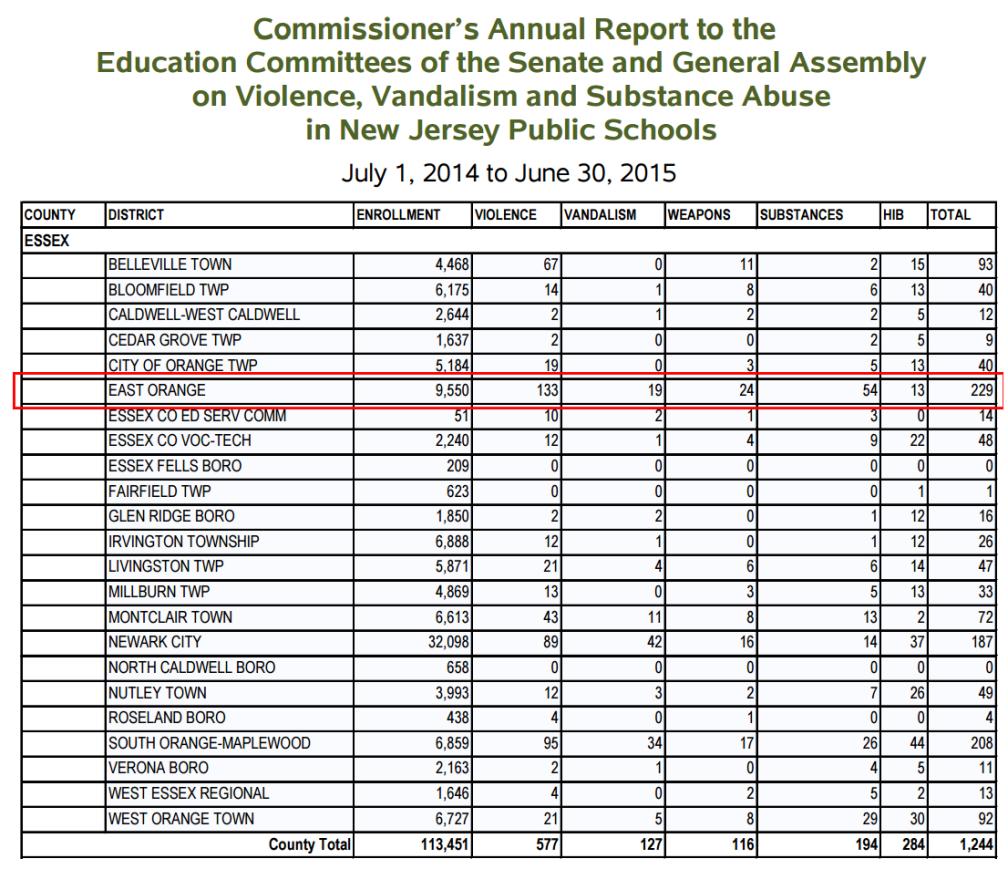 Latest Commissioners School Report
Uniform Crime Report for 2016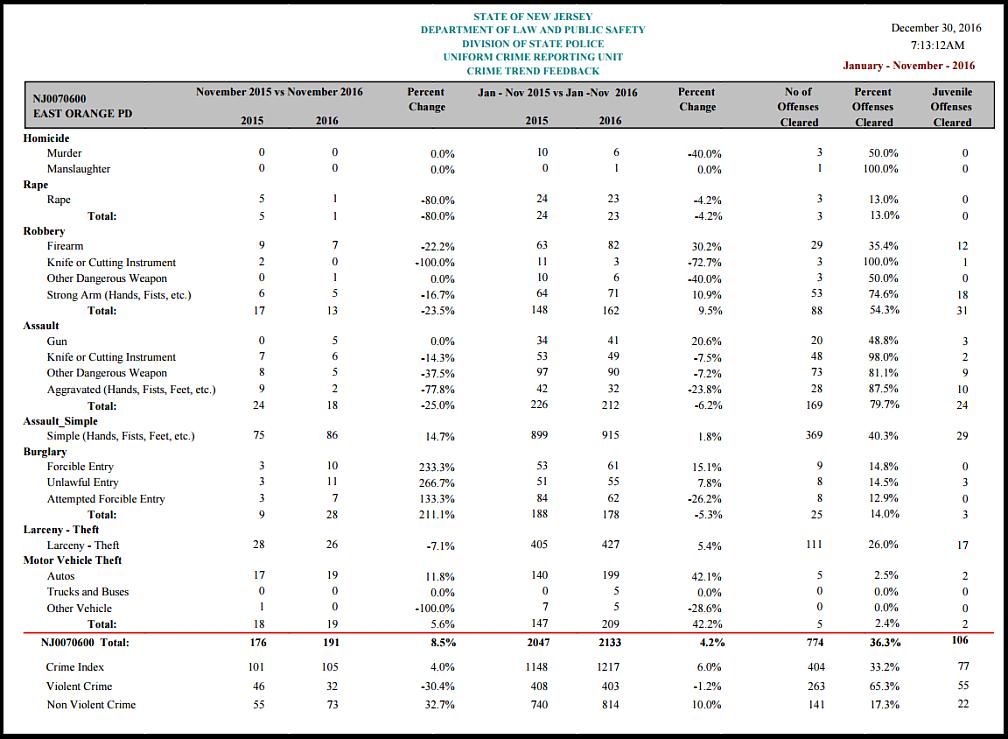 12/02/16 In his December Message to East Orange Residents, the mayor stated that the crime rate has "decreased by 21% this year." The above chart gives the lie to that statement, showing that crime in East Orange has INCREASED by at least 4.2%.
Contact with corrections or additional information for this page: jimgerrish@yahoo.com
Death threats are automatically referred to the F.B.I.
© 2017, Jim Gerrish