LINE A - (& Line G) Democrat Vandals in East Orange
AGAIN!
06/03/17
by Jim Gerrish
§ 238-4
Placement of signs, posters or other fixtures.
No sign, poster, device or other fixture shall
be placed upon any telephone pole, traffic
controller cabinet or affixed to any signal box
or any fixture or appurtenance thereto or to
any lamppost. No such sign, poster, device or
other fixture shall be affixed to any tree located
on any street or public place. No signs or posters
shall be permitted to be placed in the municipal
right-of-way. The beneficiary of such advertising
shall be held fully responsible for the placement
of the sign or poster and shall be treated as if they
placed same.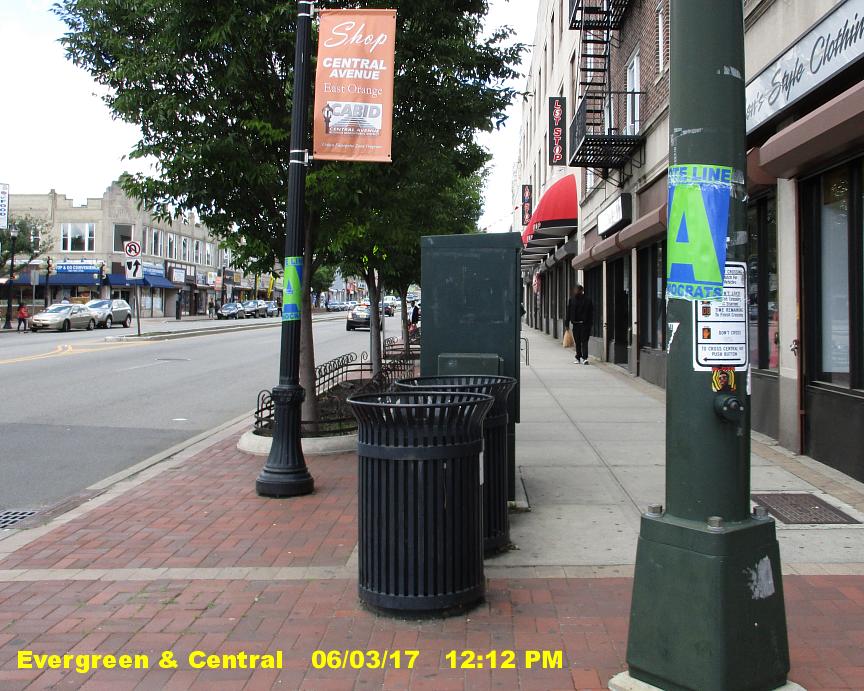 On June 3rd, 3 days before the Primary Election, I found the city of East Orange plastered with disrespect and vandalism by the LINE-A Democrats, this time colored Green, as if we didn't need a reminder who is responsible for LINE-A this year. Ted Green, running for Mayor, has been a councilman since 2006, and he should know well the city codes and ordinances that he helped write and put in place. Yet, once again, he and all the Line-A Democrats have trashed our city with their signs in spite of having it reported again and again each year since I started noticing what was going on. 2014 - 2015 - 2016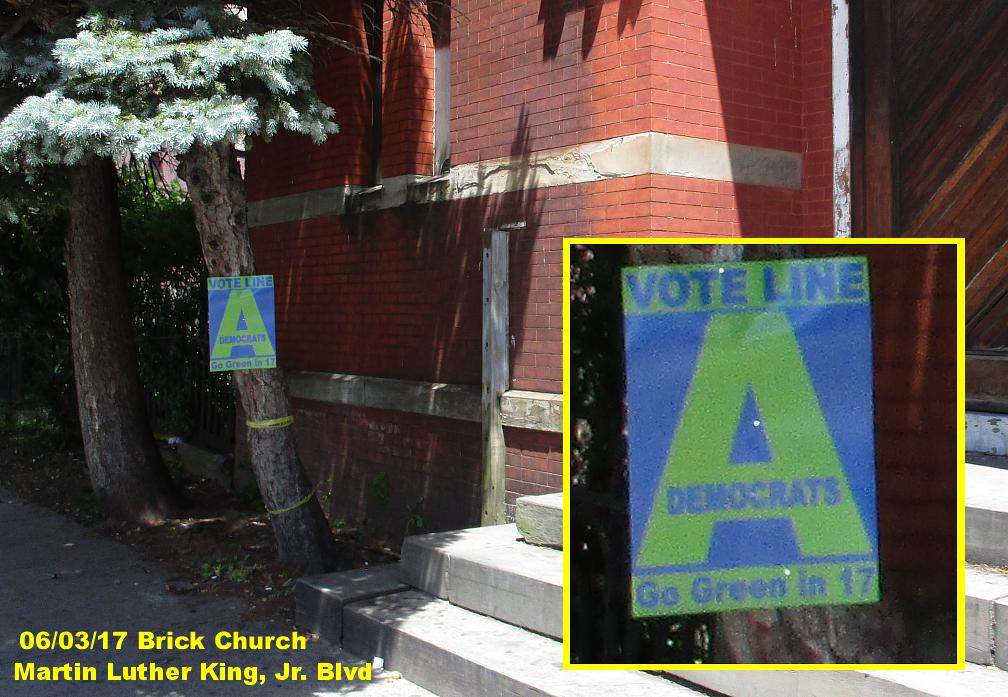 This poster is definitely one of Ted Green's, using his campaign slogan, and nailed to a tree in front of our beloved and historic Brick Church on Martin Luther King, Jr. Boulevard. The man has no sense of honor, or decency or civic responsibility. Worst of all, he has no shame.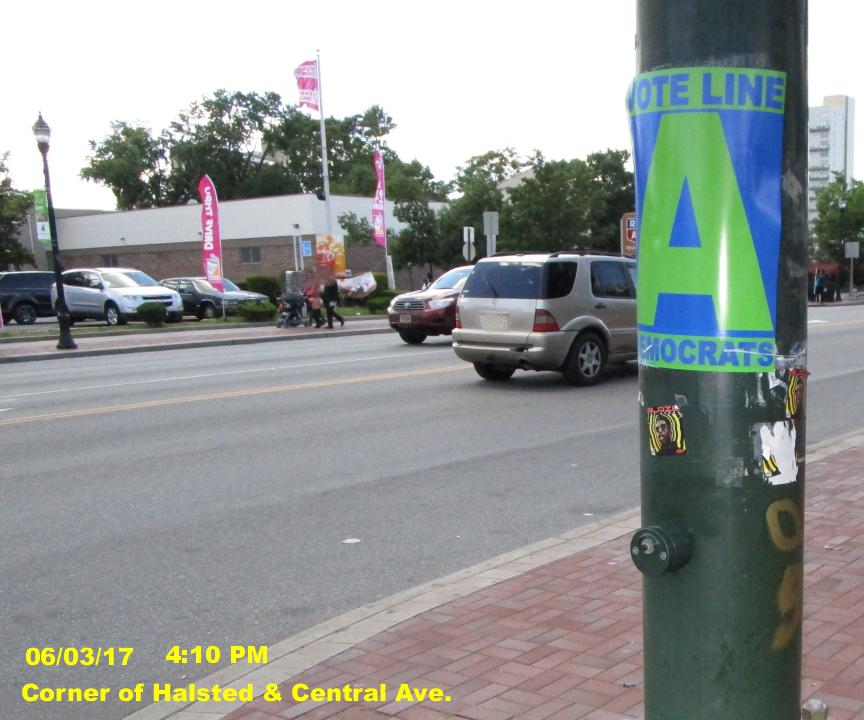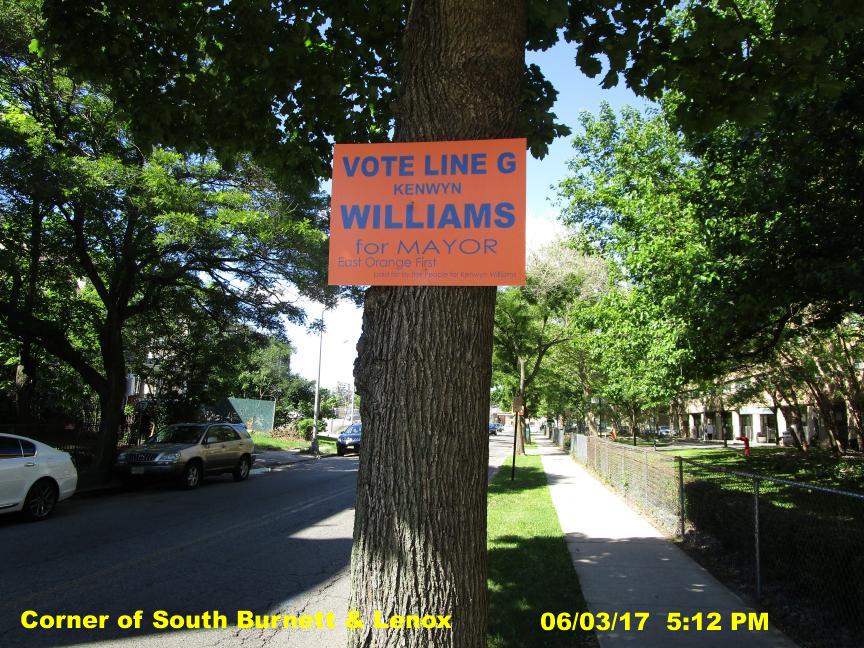 I contacted Kenwyn Williams about Ted Green and the Line-A signs. Now I know why Kenwyn Williams was hemming and hawing over whether the signs violated the code. He wrote: "I think there is an exception when there is an election with the caveat that it be removed within days after the election." and when I asked him to show me where that was written in the code, he responded "There are always higher code Jim." That was before my photographer saw Kerwyn Williams' campaign poster nailed to a tree.
More Photos yet to come...
City Codes - Article II, General Penalty:
Except as hereinafter provided, whenever in this Code or in any other ordinance of the City, or in any rule, regulation or order promulgated pursuant to such Code or other ordinance of the City, any act is prohibited or is made or declared to be unlawful or an offense, or whenever in such Code or in such other City ordinance, rule, regulation or order the doing of any act is required or the failure to do any act is declared to be unlawful, where no specific penalty is provided therefor, the violation of any such provision of this Code or of any other ordinance of the City or of any rule, regulation or order promulgated pursuant to such Code or other City ordinance shall be punished by a fine not less than $100 and not exceeding $2,000 or by imprisonment for a period not exceeding 90 days or by a period of community service not exceeding 90 days, or any combination thereof.
Each day any violation of this Code or any other ordinance or rule, regulation or order promulgated pursuant thereto shall continue shall constitute a separate offense unless otherwise provided.
I will be holding all my dated photographs for use as evidence, if the city can't collect the appropriate fines from those responsible and the case has to go to court. If we want East Orange restored to its former beauty and respectability, we can't let a few Council members and wannabee politicians drag OUR city down.
Jim Gerrish - eohistorical@yahoo.com