William Anderson Walker
100 years ago, in April of 1912 (today is May of 2012), the Titanic ocean liner sank, taking the life of East Orange resident William Anderson Walker. Interestingly enough, the news came to us 100 years later in East Orange, NJ, through an e-mail from Tim Bayley, who lives in Nelson, New Zealand, where he and his wife, Janet, run a Bed and Breakfast in an 1885 Villa ( www.baywicks.com ).
On May 15th, 2012, Mr Bayley wrote:
My 90 year-old aunt was up here last week. We got talking about the Titanic sinking and our lost relative on it.

I had never really taken much notice of who he was or what his name was, so I had looked under Anderson and Patterson names but found nothing. But he was my Granny Kathleen Anderson's ( nee Patterson) first cousin, which makes him our first cousin twice removed.

His name was William Anderson Walker, 47, born 8 August 1863 in Chorlton, Manchester, England. He was married to Frances ( who was always called Frankie ) and they had no children. They were living at 72 East Park Street, East Orange, New Jersey. He was also the Grand Master of the Masonic Lodge in East Orange.
The Walkers were English, but lived in New Jersey, where William was manager for J. Mandelberg & Co. US division, raincoat manufacturers, of 18 Twentieth Street, NY. My mum was named after him, as in Joan Walker Anderson, and Frankie was her Godmother. I had a look at StreetView ( http://showmystreet.com/ ) of where they lived in East Orange, NJ, at 72 East Park Street, and it looks like the house went after WW1, and was replaced by a "new" 1920's house. There are still some of the old houses on Park St., on the other side of Washington St., so it must have been a nice place back in the day.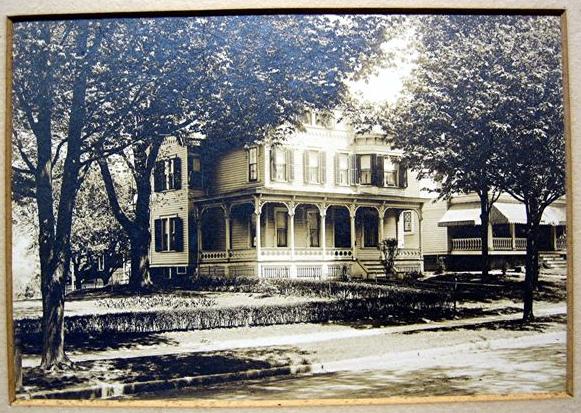 Photo sent by Tim Bayley 5/23/12, courtesy of his sister
72 East Park Street as it looked in 1911.
On the back of the photo, written in ink by Granny Anderson: The Walker's House, 72 Park St, East Orange. USA
I have been re-reading my Granny's diary, written in the 1970's, and she talks about the Titanic and her great loss at its sinking. Here is an excerpt and a photo of my Granny on the white horse that was taken when she stayed with the Walkers in 1910 for 3 months. She was just 18 at the time so her elder brothers chaperoned her trip over and back.
"I must go back as I have forgotten to write about my visit to America in 1910. My cousin Will Walker who was married with no family and had a good business and lived in East Orange, across the river from NY.

Will came to see us in Belfast and took a fancy to me and asked me to visit them. So I went out with my brother Charlie, and had Christmas in 1910 on board the Carmania, a Cunard Line vessel.

I remember arriving on a clear and very frosty and cold day and going to the Walkers. I had a blue coat with a fur lining and big grey squirrel collar and a fur hat much the same shape as the present day ones. I was terribly nervous as I had never met Frankie and she was the same. We had tea upstairs in her room and we both ended by spilling our tea and were the best of friends after that!

She and cousin Will must have been in their forties and were terribly good to me. Being the 12th of the family I had never had much spoiling and I grew to love Frankie and cousin Will dearly and my three months with them flew past. I was taught to ride and used to go out with them every morning before breakfast and loved my white horse Sheik.


Photo provided by Tim Bayley

I returned home on the Baltic, White Star Line, with my brother John and loved the week on board.

Another year I met cousin Will in Liverpool and that was the last time I saw him as he was on the Titanic when she was lost. That was my first terrible grief and I can remember it all now still so clearly and the awful days waiting and hoping he might be amongst the saved.

Frankie came back (to England) and bought a house in Totteridge and later I had many happy visits with her. She brought two horses with her and also her Irish groom and I rode with Phillip one day in Rotten Row and crossed the traffic into St. James Park. I would not like to do it today."

Kathleen Anderson -1892 to 1982

On May 21, 2012, Tim Bayley sent me a second family photo, this time of Frances (Frankie) Walker at the Riding and Driving Club.

Tim wrote: I just got another photo from my sister.

This is of Frankie on her horse, outside the East Orange Riding and Driving Club. It seems to have been taken in the summer and a bit later on, maybe after Granny was home (in England), as the wire fence has changed to a wooden one.
Historic note: 1507 people lost their lives as a result of the sinking of the Titanic. More facts HERE.
More information is available from the Encyclopedia Titanica: