2013 East Orange Mayoral Candidates
For November's Election
After removing the candidates who have conceded the Primary election of June 4th to Lester Taylor, I have restored this page to the Web site with the only two candidates left in the race.
---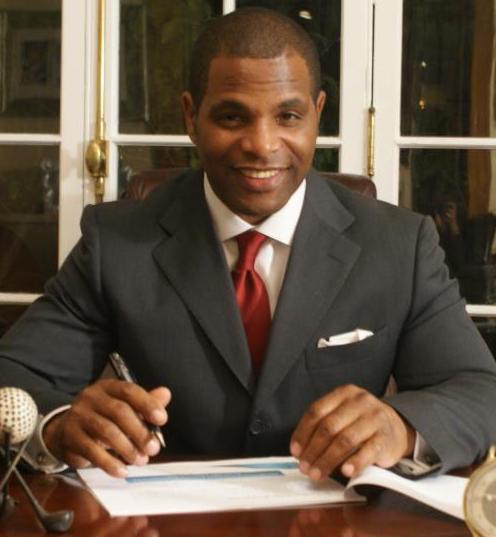 Kevin Taylor
Born May 14, 1959 at Beth Israel Hospital in Newark, NJ, Kevin's family made their way to East Orange when he was just six years old. Kevin began his education at Columbian Elementary and Rutledge Elementary Schools in East Orange. He went on to graduate from Clifford J. Scott High School in 1978 where he received All-American, All-state and New York Daily News All Stars honors in football. His talents and leadership on the field awarded him a football scholarship to the University of Maryland, where he earned a Bachelor of Arts in Business Management and was privileged to play in the prestigious Aloha Bowl Championship in Honolulu, Hawaii.
While in college, Kevin met and fell in love with his beautiful wife Sandy Taylor Esq. After college, the two moved back to East Orange where they reside today with their two children Kelsey, 18 and Kevin Jr. 15. Once home, Kevin established Ketco Construction and soon after landed a contract to build the well known Brick Church Mall in East Orange. He would go on to acquire multiple contracts with prominent businesses and corporations including the Port Authority of New York and New Jersey. Kevin worked diligently and efficiently to grow his business into a thriving entity that his family and community could be proud of. He was a self made entrepreneur who now desired to use his wealth of knowledge in managing a successful enterprise along with his astute business practices to change his community.
In 1992, Kevin founded the East Orange Falcon Pop Warner Football and Cheerleading Program. He would use the discipline of sports to instill values, ambition and character into East Orange's most precious resource, its youth. For fourteen years the nationally recognized Pop Warner organization serviced over 4000 youth and organized a yearly staff of more than 35 volunteers. After seeing the great effect this program was having on the youth and their parents, Kevin launched the Falcon Mentoring and Tutoring Program. This program allowed for dozens of East Orange students to receive much needed academic assistance from some of Seton Hall University's brightest students. Kevin didn't stop there; he forged a partnership with the Dionne Warwick School to establish a one on one mentoring program throughout the East Orange school district. He was also elected 5th ward district leader.
After his years of service to East Orange youth Kevin now turned his full attention to the community at large. He began the Kevin Taylor Civic Association, an organization that sponsors various initiatives throughout East Orange for the purpose of assisting churches, seniors, families and addressing critical community issues. Kevin also serves as a board member of the East Orange Education Foundation and as an involved member of the East Orange Chamber of Commerce. As President of Blackstone Acquisition LLC, a property acquisition firm, Kevin currently manages over 150 properties throughout the United States, totaling over 8 million square feet, within major urban and suburban real estate markets. He is also Chief Executive Officer of PI Resources LLC, a marketing and advertising firm.
Kevin has his own Facebook page where you can ask him questions.
Kevin's "Revitalization Plan" as of 2/28/13:
1. Secure our Streets
2. Clean our Streets
3. Rebuild our Streets
Campaign Slogan: Putting People Before Politics
Kevin's goals as stated at his public meeting:
Use our Water Wealth from the city's 18 artesian wells to generate revenue to bring down property taxes.
Develop some of the land on the outskirts of our watershed property to add further revenue to bring down property taxes.
Reduce dependence on police parking tickets as a source of revenue for the city by increasing on-street parking permits, using alternate side of the street parking, and make use of the city's vacant lots for increased parking. This would also mend the divide between citizens and the police caused by excessive parking tickets.
Develop our sanitation department by leasing our own garbage trucks, providing for our own sanitation needs at less expense and extending sanitation services to near-by cities to create new jobs and add to our city revenues without raising taxes.
Convert the many vacant buildings and vacant schools into money-making properties, creating jobs and adding to the revenue to help lower taxes.
Reform our school district with transparency and by having a partially elected school board, giving parents and teachers a greater say in running our schools.
Nothing vague, just solid solutions. They might not all work, but all are worth trying.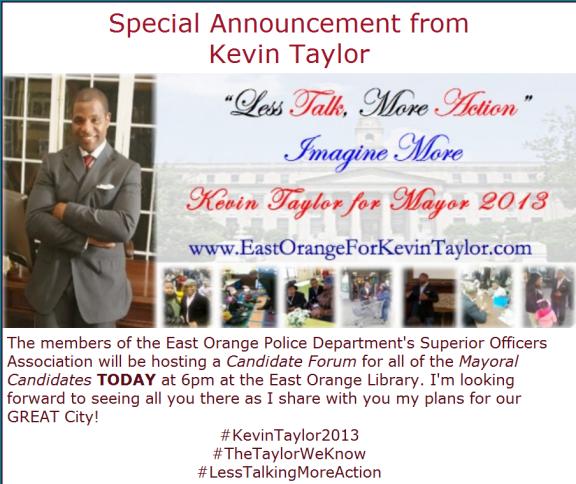 This event was hastily put together. It was first (poorly) announced in the Essex News on Saturday evening. By Tuesday morning, the day of the event, it had still not been verified and was still not mentioned on any of the candidates' Web sites. Around 3:00 PM on Tuesday afternoon, Kevin Taylor was the only candidate who was mentioning the event and displaying the above poster on his Facebook page.
"In keeping with my pledge to hold our elected officials
accountable, after I am elected mayor of this great city,
I will work with city council to implement a three-term
mayoral limit.

Time and time again, we've seen how career politicians
in East Orange end up serving their own interests as
well as the interests of their cronies, rather than serving
the public. Because of their lack of concern for the very
residents who elected them, the results have been
devastating. Their actions have resulted in higher
taxes, contracts for supporters and a school system
that isn't adequately preparing our young people to
enter into the global economy. East Orange is at a
standstill because of career politicians. lt's time to start
moving forward.

If the governor of our great state, and even the
President of the United States, is limited to two terms,
then it is time for East Orange to follow suit. I believe
that it is time to end politics as usual and start putting
our people first. Term limits will help our city
tremendously by allowing for fresh, new ideas. It will
enable us to elect individuals who are truly committed
to serving East Orange residents first and foremost.
Most importantly, term limits will prevent our future
mayors from becoming complacent while in office. It
pushes them to work for results."
Kevin Taylor 4/16/13

---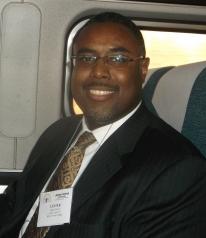 Lester E. Taylor
The 38-year-old attorney has the backing of City of East Orange Council Chair Quilla Talmadge, Councilmembers Ted Green, Sharon Fields, Jacqueline Johnson, Lonnie Hughes, and Jamal Barnes.

"The decision to run for mayor was founded upon my deep desire to provide the best quality of life for my family, neighbors and community," Taylor said recently. "My goal over the next five months is to engage as many East Orange residents, clergy members, business leaders and organizations in a fruitful discussion about job creation, lowering taxes and creating revenue streams to enhance our city."

A partner with the law firm of Florio Perrucci Steinhardt & Fader, LLC, the candidate chairs the firm's Education Practice Group, which represents Boards of Education in General, Special Education, Litigation, Labor, Employment and Workers' Compensation related matters.

He is the fourth candidate to formally enter the East Orange mayor's race.
Lester Taylor's East Orange Democratic Committee statement of 3/11/13
"I am thrilled to be a part of a great team that is dedicated to our city. We're ready to roll up our sleeves to do the hard work necessary to make East Orange the best place it can be. It's time for new leadership that puts our families first by making our streets safer, saves our taxpayers' money and finds innovative ways to attract new businesses to put our residents back to work."
Lester has his own Facebook Page where you can ask him questions.*
Campaign Slogan: It's Time for a Change
Lester's goals in his own words: "There's a lot of work ahead to spread our message of reducing crime, saving our taxpayers' money, attracting businesses to our city to create jobs and investing in education so that our children have a brighter future."
Very vague; no specifics given.
Goals from Lester's Web site:
Spur job creation by bringing in new businesses and revitalizing parts of downtown.
Hold the line on taxes by being smarter about how the city spends our tax dollars.
Create new revenue streams to balance the budget without raising taxes.
Reduce crime by developing new community partnerships.
Less vague, but still no solid solutions mentioned.
* 4/2/13 After attempting to raise questions about his vague goals on his Facebook page, my question was deleted and I am now blocked from asking any further questions of him. My response to this is HERE.

© 2013, James Gerrish and Frederick Goode, Temporary Custodians of the Web site