New York Times
October 1, 1882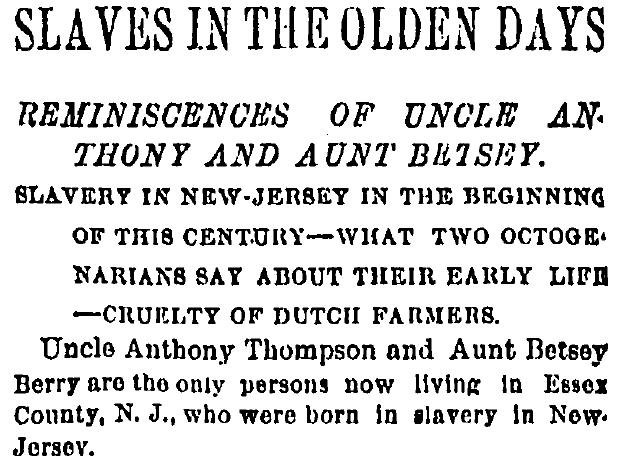 Published in The New York Times, October 1, 1882

Slaves in the Olden Days
Reminiscences of Uncle Anthony and Aunt Betsey.
Slavery in New Jersey In the Beginning of This
Century - What Two Octogenarians say about
their Early Life - Cruelty of Dutch Farmers.
Uncle Anthony Thompson and Aunt Betsey Berry are the only persons now living in Essex County, N.J., who were born in slavery in New Jersey.

Uncle Anthony lives in a little weather-beaten cottage near the base of Eagle Rock (Tory Corner), the highest point on the Orange Mountains. In 1833 he purchased the place for $800, and he has lived there ever since. He was born in Raritan, Somerset County, N.J., in 1798. His mother was a slave in the family of Rev. Philip Duryee, of Raritan, and she and her babe were sold to David Still, who resold them to Samuel M. Ward of Cranetown, now Montclair, in Essex County.

Mr. Ward died in 1832, after promising to give Anthony and his mother their freedom. Mrs. Ward a few months after her husband's death, and then Anthony became a free man at the age of 34 years. His mother, who was too old to work, was sold at auction by the town, that being the custom in those days. Anthony got her and cared for her until she died.

He entered the service of the grandfather of the Rev. Dr. Williams, the present venerable Rector of St. Marks Episcopal Church, in Orange, and he has known five generations of the family.

Anthony got a fair education in the district school, joined the First Presbyterian Church, of which he was one of the three oldest members until he joined the Second Presbyterian Church, and recently went over to the First Reformed Church. His maternal great-grandfather was a chief of the Guinea Negroes in Africa.

Anthony has no children, but he has been married twice, his second wife being a portly and pleasant woman about 50 years old. He has large features, coal-black eyes and a frame that was once muscular and powerful.

"I never saw a slave whipped in New Jersey unless he deserved it," said Uncle Anthony to a Times reporter, "but I heard of some cruelty up in the Dutch settlements about Quackanock* and Stone House Plains+. I was kindly treated, and so far as I know, all the slaves in Essex County had kind masters. Friends loaned me money to buy mother with, and I gave $100 to a young man who bid her in for that sum up at the old Park House. He gambled away the money and went to the bad, but the town gave me my mother. She often told me that she had seen slave mothers sold away from their children in New Jersey, and she had seen slave women severely whipped.

"Some men in Newark and up on the mountain owned from five to twelve slaves when I was a lad, and up in Bergen County all the Dutch farmers had slaves. After I got my freedom I went into the service of 'Governor' Benjamin Williams at Tory Corner, who was the head man about Orange. He owned nearly all the land in these parts, and he settled all the disputes among farmers. His family and the Harrison family bought hundreds of acres of land from the Indians for rum and old clothes, so the folks used to say. I've heard Gov. Ben say that when Steve Harrison made a four-wheeled wagon people came from all parts to see the wonderful invention. Only clumsy ox-carts were known to the farmers before that time, and a trip to New York was like going to Europe now.

"When I was a small boy," said Uncle Anthony, "all the country between the mountain and Newark was almost a howling wilderness, with the exception of the few houses in Orange and Bloomfield. There was no tavern until you got to Caldwell, beyond the mountain, or else up at Stone House Plains, where young fellows used to drink and dance with the girls. Nearly all the land as far as you could see was owned by the Harrison, Williams, and Dodd families, and everybody went to the First Church, in Orange, where the slaves were boxed up in one corner like horses in a stall. In the new First Church the slaves had a place in the gallery.

"I married a daughter of 'Fiddler Tom' when I was a very young man. He played for the white folks in Newark and over the mountains, and when he drew the bow across the fiddle the girls came from far and near. Apple-parings and potato-pulls were followed by supper and a dance in the barns. At big weddings the Dominie kissed the bride, drank apple-jack toddy and cider, and got the pick of the eating."
-------
Aunt Betsey Berry was found in her cozy home on Main Street, in East Orange, chatting with the pretty daughter of one of her rich New York neighbors. She had on a neat black house cap, a plain dress of brown stuff, with a white linen collar about her neck, and her eyes shone like black diamonds when she became excited. For over 40 years she has rented the little house in which she lives and which is neatly furnished. Her husband died 26 years ago (1856). He earned his freedom after they were married. They had 12 children, 5 of whom are living.

Aunt Betsey has a kindly word for her neighbors, but she is very bitter against the old families that owned slaves up in Bergen County. She likes to have the Bible read to her, but she says that she does not believe that the persons who were cruel to her in slave days can now be occupying "reserved seats in heaven." She was born at Quackanock*, in Bergen County, and is now 85 years old.

"Folks as had slaves here in New Jersey was just as cruel as the folks in the South," said Aunt Betsey to the Time's reporter. "In every place there is good and bad folks, and there was good and bad masters and missus in New Jersey. Families was broke up and sold up in Bergen County in my time, and my mother was sold away from me when I was a wee little baby, so little I can't remember her except like in a dream. First I remember I was called Betsey Jacobus, and that was because I was owned by the Jacobus family up at Quackanock*.

"Henry Jacobus was my own master and he was good to me sometimes, but the rest of the family cuffed me about. I knowed slaves as was whipped so bad by the old Dutch farmers that they died, and one man named Still had to bury his dead nigger under the barn. I was small when I seen women whipped with bunches of twigs until the blood ran in streams, and they afterward showed me their backs all covered with cuts and black welts. Nobody can't tell me that slaves wasn't whipped in them days, and nobody can't scarcely believe how bad and cruel some masters was in them days. Some of the slaves used to fight for themselves toward the last, and you couldn't blame them if they did nigh kill the masters sometimes. Good masters sent the black children to school, but them kind of folks was scarce. Once I asked to go to school, and old Jacobus said: 'What! You nigger. I'll take you to the barn and give you school if you ever mention it again.' And so I didn't get any learning.

"The farmers had from 3 to 12 slaves, and Miss Van Wagenen, over nigh to Plainfield, had more than 20. And yet she died poor, and I've had old Missus Jacobus ask me for help after I got free. Them folks was too proud and lazy to work after the slaves was freed, and so they lost their property.

"One of old man Jacobus' daughters-in-law once attempted to whip me," Aunt Betsey went on to say. "The folks was at church, and she told me to fetch some apple-jack from the cellar barn. I wouldn't, because it was Sunday, and then she said she would flog me. But I was a powerful strong young girl and dared her to do it. She struck me once with the whip, and then I got hold of her long black hair and yanked her down, and I tell you what, didn't we have it lively for awhile, and didn't she holler for help. I got her down with my knees between her shoulders, and when she hollered I got up and run away. I was supple then, and I meant to run away if they whipped me, but when old master got home and heard the story, he scolded her for whipping me. He said he could do all that business himself. He didn't like her and I knowed it. That's why I showed fight.

"Another of the family once choked me by the throat and she said she'd get her husband to whip me, but the old man called her a she-devil, and warned her I was desperate. Women folks was cruelest to the slaves. It's all right for some folks to boast of their Dutch ancestors, but there is lots that hold their heads high now who came from a cruel stock. They made slaves go barefooted for fear they'd run off while church was in! That's religion and piety for you! Black folks, they thought, hadn't white souls. Wonder if the Lord thinks so?

"When the manumitting law** was passed I was bound to get my freedom. Two men went my security, and I was three years paying $350 for my free papers. I got 50 cents a day working out. Living was cheap, for butter was only 12 cents a pound and a quarter of flour only 50 cents. Besides, I mostly got my meals at the house I worked a day in. Didn't I scrimp and save every penny I earned and that was given me, and wasn't I a proud woman when I was free! A Queen couldn't be prouder!

"Before that I married James Berry, who was a slave for old Dr. Pierson here in Orange, but who was born in the Berry family. My husband worked out his freedom for $400, and was five years doing it. I tell my children that they don't know what it is to live when they grumble about hard work. They's ought to thank God every minute they is free, even if they only live on one meal a day. Nobody can tell me how good the masters was in New Jersey, for I know what I seen with my own eyes and felt with my own body. Other slaves had twenty times worse than I had, and my lot was bad enough.

"I've lived in Orange since I got my freedom," said Aunt Betsey, after a pause, "and I must say that the folks have been very good to me. I worked out washing 'till a year ago, but now these bones of mine is getting stiff and lame."

* Acquackanonk - Present Day Passaic
+ Stone House Plains - Present Day Bloomfield
** NOTE: New Jersey's gradual abolition law freed future children at birth, but those enslaved before its 1804 passage remained enslaved-for-life. The December 6, 1865 ratification of the Thirteenth Amendment to the United States Constitution ended slavery in the United States. New Jersey's legislature did not approve the Thirteenth Amendment until February 1866, two months after it had been ratified by a three-fourths majority of the states.
Further research: Could Anthony Thompson have been related to Niann Thompson mentioned in this document (1833)?
Excerpt from:
The History of Essex and Hudson Counties, New Jersey,
Compiled by William Shaw, Volume II, 1884
Essex County's Last Slave—Anthony Thompson, the oldest and best-known colored man in the Oranges died at his residence, at the junction of Washington Street and Eagle Rock Avenue, Tory Corner, West Orange,—-on Tuesday night, Aug. 1884. He was the last of the old slaves of Essex County, and died of old age and a complication of troubles.
Uncle Anthony, as all his neighbors called him, was a tall, powerfully built man of great strength and endurance. His great-grandmother was the queen of an African tribe, and his grandmother, when a young girl, was stolen, with a number of others, by a slave trader and brought to this country. Uncle Anthony was born in Raritan, Somerset Co., in 1798, his mother being a slave in the family of Rev. Dr. Philip Duryee, pastor of the Dutch Reformed Church of that place. Two of Dominic Duryee's grandsons, John G. and Joseph D. Harrison, are now living and carry on the flour and feed business at No. 502 Broad Street, Newark. While Uncle Anthony was a baby, Dominic Duryee sold out and removed to Little Falls (now Passaic County), and Anthony's mother was sold to one David Still, Anthony being sold with her. About a year after Anthony and his mother were sold to Samuel M. Ward, of Cranetown (now Montclair.) They lived with Mr. Ward until the latter's death, in 1822. In his will Mr. Ward gave Anthony his freedom, but requested he should remain with Mrs. Ward until her death. She died in September, 1828, and Anthony, being then twenty-four years of age, was his own master.
His mother was too old to begin life anew, and was a town charge. In those days the poor were sold off to whoever bid the lowest price for taking care of them. Anthony, though he was just starting out in life bought his mother for one hundred dollars, took her home and cared for her until her death in a most filial and kindly manner. In 1828 he moved to Orange and bought a little place on Washington Street, West Orange. He lived there till 1833, when he bought the place where he ended his days.