2013 East Orange Mayoral Candidates
Because East Orange is a one party town (Democrat), the mayoral election is over June 4th, when the primary voting is completed. Therefore, we don't have much time to learn about the candidates. Any Republicans, Independents, or members of any other parties are advised to register as Democrats if you want to be able to vote for mayor. Otherwise, you'll take what your registered Democrat neighbors decide for you.
---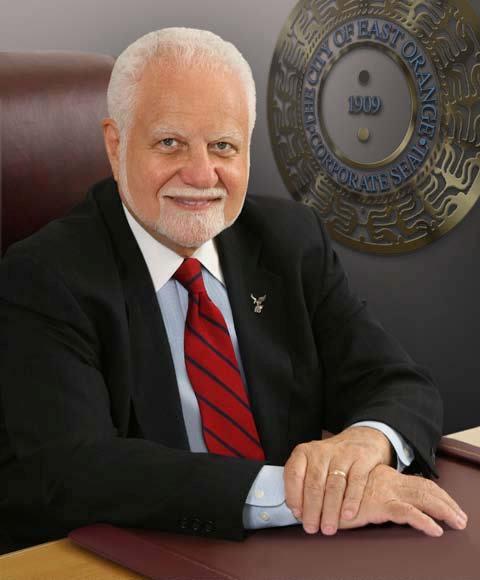 Incumbent Mayor Robert L. Bowser
Mayor Robert L. Bowser is the twelfth Mayor of the City of East Orange. He holds the distinction of being the first African American in the history of the City to have been elected to serve a third term. (Note- this is an old statement that was never updated when he began his fourth term in 2010)

Mayor Bowser hails from a family whose presence in East Orange dates back to the late 1800's and is one of the City's oldest African American families. He is a graduate of the Newark College of Engineering, now the New Jersey Institute of Technology, earning a Bachelor's of Science Degree in Civil Engineering. Trained as a Civil Engineer, Planner and Surveyor, Mayor Bowser is a Professional Land Surveyor and Professional Planner in the State of New Jersey. He began his professional career as a Principal City Planner for the Newark Central Planning Board and Traffic Engineer for the Township of Montclair. Mayor Browser was president of Bowser Engineers and Associates, Incorporated for twenty-six years. This East Orange-based engineering, planning, surveying and architectural design firm grew to become one of the largest minority-owned consulting firms on the East Coast. Following this experience as the head of a successful business, he became the Director of the East Orange Department of Public Works and served as the Acting City Planner. Prior to becoming Mayor, he served the Newark Board of Education as a School District Principal Engineer in the Design and Construction Department.

Active in numerous community, social and civic affairs, Mayor Bowser served on the Board of Directors for the Girl Scouts of Greater Essex County, New Jersey for ten years and was a member of the Brick Church Lions Club; President of the East Orange Kiwanis Club and Chairman of the Rutgers University Urban Gardening Program Advisory Board. He was founder and Executive Director of the Essex County Touch Football League for twenty-six years. He is a member of the Men of Essex, Incorporated; Board Member of the Salvation Army and Member of the East Orange General Hospital Board of Trustees.

Mayor Bowser's professional affiliations include Past President of the Northern Chapter of Associated Builders and Contractors, Incorporated and membership with the National Minority Contractors Association, Incorporated. He is on the
Board of Directors of the National Black Conference of Mayors and co-chairs the Conference's Legislative Committee. He is a member of the National Black Conference of Mayors' Board of Directors and serves as the organization's First Vice President and Finance Committee Chairperson. Mayor Bowser is a Founder of the New Jersey Conference of Black Mayors and was selected as President in 2003 and is a member of the United States Conference of Mayors, Incorporated. He was appointed to Acting Governor Richard Codey's Gang Land Security Task Force Advisory Committee and the State of New Jersey Planning Commission.

Mayor Bowser serves on the New Jersey State League of Municipalities Executive Board as the Third Vice President. He chairs the newly formed Gang and Youth Violence Task Force. He also serves on the Legislative Committee and Economic Development Committee, participating in numerous League workshops and is a member of the New Jersey Urban Mayor's Association.

Mayor Bowser is married to Marilyn Bowser and is father to son David Bowser and daughters Lisa A Ward and Leslie J. Ward.
---

Carol Y, Clark
First elected as District III Freeholder in 2002, Clark won re-election in 2005, 2008 and 2011. She served 8 years on the East Orange City Council and as the city's Assistant Director of Community Affairs and Public Relations. She also served as Deputy County Administrator and Chief of Staff for the Essex County Department of Citizen Services, as an Essex County Utilities Authority Commissioner, and was the Assistant to the Dean of Student Affairs and Director of Student Activities at Essex County College.
She has represented the Freeholder Board at the New Jersey Association of Counties since 2003, and served as the organization's President in 2009. She is also a member and former President (2002) of the National Black Caucus of Local Elected Officials, a board member of the National League of Cities, and a NJ League of Municipalities Legislative Committee member. She earned her B.A. in History/Political Science from Douglass College, her M.A. in Education from Seton Hall University, and received a fellowship from the Institute for Educational Leadership in Washington, D.C.
Carol has her own Facebook page HERE where you can ask her questions.
Campaign Slogan: The Power of One = The Power of Many
Carol's goals, in her own words: "We have work to do and a City to reclaim, restore, and protect. We can do this if we vote."
It seems vague to me.
3/17/13 - Carol has deleted the questions I posted on her Facebook Page, simply asking her to explain what she means by her goals, and finally asking her just to explain her first goal of reclaiming something. She also blocked me from asking further questions. Her e-mail response to me was: "You will be able to ask your question and get an answer in person Thursday March 21st at 7:30 pm at Grace UME church."
4/4/13 Currently Carol is listing a Mayoral Candidate Debate to be held at the East Orange Public Library Community Room, 6:00 PM on Monday, April 8th. No one else seems to be aware of this "debate." I will try to attend and report back as to whether or not there was an actual debate between candidates that evening.
4/8/13 I should have known better. Not only did no one show up for this advertised (on Carol's Facebook Event Page) Mayoral Debate, no one I spoke with at the library had ever heard of her or any meeting. There is no room known as "The Community Room" as it states in her ad. This is NOT a person I want as Mayor of East Orange or any other town or city where I live. When her term as Freeholder ends, I'm going to be looking for a candidate to replace her there, as well.
4/18/13 After all this time, Carol finally answered the question I originally put on her Facebook Page requesting specifics of her goals for East Orange, for which request I was blocked from her page. At the Mayoral Debate she quickly tried to read through the list, but ran out of time. She has since posted them on her Facebook page, and here they are as well:
Carol Y. Clark's PLATFORM
1. Revitalize our Central Avenue, Main Street and neighborhood corridors with restaurants, shops, arts and cultural venues.
2. Improve public safety by implementing community-centered policing. Community policing doesn't pit the police and the citizen against one another. Instead, it establishes a working relationship of mutual respect, i.e. Neighborhood Watch, Block Watch, & Crime Watch Coalitions.
3. Strengthen our schools by engaging all community stakeholders (educator, students, parents, and community members) to build a better educational system.
• Call for a public referendum to decide if East Orange should have an elected or appointed school board.
4. Expand city sponsored recreation programs for children, adults, and seniors.
• Create intergenerational programs, i.e. Adopt a School Program, Senior and Teen Councils , & adult athletic leagues.
• Establish and improve community health and Planned Parenthood Clinics.
• Construct a Skate & BMX bike parks and state of the art Community/Recreation & PAL Centers.
5. Produce sustained economic growth by protecting & effectively utilizing city assets & resources (i.e. East Orange Golf Course, Reservoir, City Garage, Communication Center, etc.).
6. Improve housing development by creating homebuyer incentive programs for public servants, urban professionals, & men of color.
7. Advance, innovate & create green space revitalization & Green Job programs.
8. Normalize city parking by implementing alternate side of the street parking in designated areas.
9. Implement effective prisoner reentry programs to utilize former inmates' talents to meet the needs of the community.
It is interesting to note that on her own official Web site, her previous Campaign Platform was more wishy-washy, which was the reason I originally asked for clarification in March 2013.
The Campaign Platform:

TOGETHER WE WILL BUILD A BETTER EAST ORANGE BY:


Aggressively working to reduce taxes

Restoring unity, pride & dignity

Strengthening our schools

Developing jobs & sustainable economic growth

Protecting our assets & resources

Supporting public safety initiatives

Improving our quality of life
The NEW platform seems to have been made just before the 4/18/13 debate, and is quite obviously based on the platforms of Kevin Taylor and Lester Taylor, borrowing both language and ideas from her competitors. What will she do when she has to think for herself?
---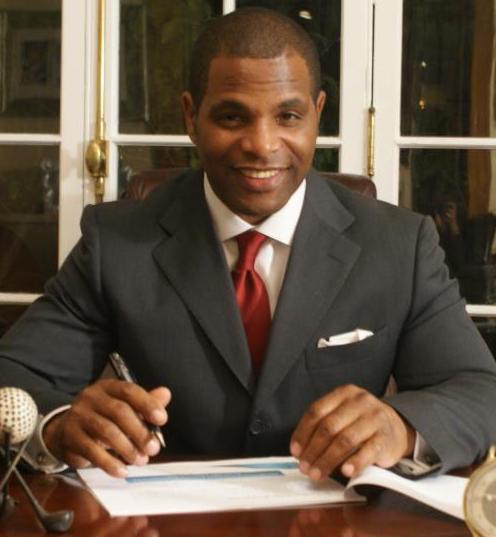 Kevin Taylor
Born May 14, 1959 at Beth Israel Hospital in Newark, NJ, Kevin's family made their way to East Orange when he was just six years old. Kevin began his education at Columbian Elementary and Rutledge Elementary Schools in East Orange. He went on to graduate from Clifford J. Scott High School in 1978 where he received All-American, All-state and New York Daily News All Stars honors in football. His talents and leadership on the field awarded him a football scholarship to the University of Maryland, where he earned a Bachelor of Arts in Business Management and was privileged to play in the prestigious Aloha Bowl Championship in Honolulu, Hawaii.
While in college, Kevin met and fell in love with his beautiful wife Sandy Taylor Esq. After college, the two moved back to East Orange where they reside today with their two children Kelsey, 18 and Kevin Jr. 15. Once home, Kevin established Ketco Construction and soon after landed a contract to build the well known Brick Church Mall in East Orange. He would go on to acquire multiple contracts with prominent businesses and corporations including the Port Authority of New York and New Jersey. Kevin worked diligently and efficiently to grow his business into a thriving entity that his family and community could be proud of. He was a self made entrepreneur who now desired to use his wealth of knowledge in managing a successful enterprise along with his astute business practices to change his community.
In 1992, Kevin founded the East Orange Falcon Pop Warner Football and Cheerleading Program. He would use the discipline of sports to instill values, ambition and character into East Orange's most precious resource, its youth. For fourteen years the nationally recognized Pop Warner organization serviced over 4000 youth and organized a yearly staff of more than 35 volunteers. After seeing the great effect this program was having on the youth and their parents, Kevin launched the Falcon Mentoring and Tutoring Program. This program allowed for dozens of East Orange students to receive much needed academic assistance from some of Seton Hall University's brightest students. Kevin didn't stop there; he forged a partnership with the Dionne Warwick School to establish a one on one mentoring program throughout the East Orange school district. He was also elected 5th ward district leader.
After his years of service to East Orange youth Kevin now turned his full attention to the community at large. He began the Kevin Taylor Civic Association, an organization that sponsors various initiatives throughout East Orange for the purpose of assisting churches, seniors, families and addressing critical community issues. Kevin also serves as a board member of the East Orange Education Foundation and as an involved member of the East Orange Chamber of Commerce. As President of Blackstone Acquisition LLC, a property acquisition firm, Kevin currently manages over 150 properties throughout the United States, totaling over 8 million square feet, within major urban and suburban real estate markets. He is also Chief Executive Officer of PI Resources LLC, a marketing and advertising firm.
Kevin has his own Facebook page where you can ask him questions.
Kevin's "Revitalization Plan" as of 2/28/13:
1. Secure our Streets
2. Clean our Streets
3. Rebuild our Streets
Campaign Slogan: Putting People Before Politics
Kevin's goals as stated at his public meeting:
Use our Water Wealth from the city's 18 artesian wells to generate revenue to bring down property taxes.
Develop some of the land on the outskirts of our watershed property to add further revenue to bring down property taxes.
Reduce dependence on police parking tickets as a source of revenue for the city by increasing on-street parking permits, using alternate side of the street parking, and make use of the city's vacant lots for increased parking. This would also mend the divide between citizens and the police caused by excessive parking tickets.
Develop our sanitation department by leasing our own garbage trucks, providing for our own sanitation needs at less expense and extending sanitation services to near-by cities to create new jobs and add to our city revenues without raising taxes.
Convert the many vacant buildings and vacant schools into money-making properties, creating jobs and adding to the revenue to help lower taxes.
Reform our school district with transparency and by having a partially elected school board, giving parents and teachers a greater say in running our schools.
Nothing vague, just solid solutions. They might not all work, but all are worth trying.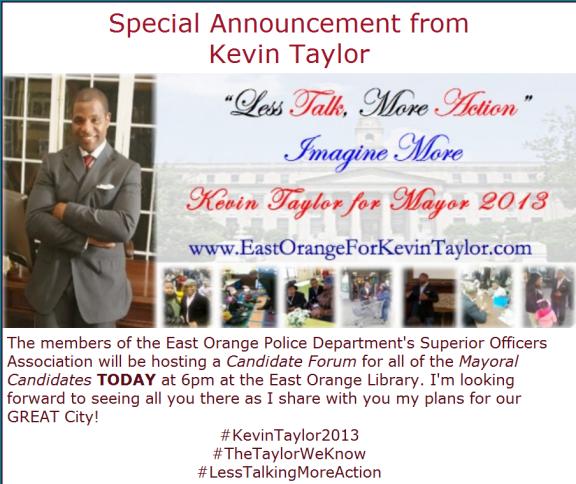 This event was hastily put together. It was first (poorly) announced in the Essex News on Saturday evening. By Tuesday morning, the day of the event, it had still not been verified and was still not mentioned on any of the candidates' Web sites. Around 3:00 PM on Tuesday afternoon, Kevin Taylor was the only candidate who was mentioning the event and displaying the above poster on his Facebook page.
"In keeping with my pledge to hold our elected officials
accountable, after I am elected mayor of this great city,
I will work with city council to implement a three-term
mayoral limit.

Time and time again, we've seen how career politicians
in East Orange end up serving their own interests as
well as the interests of their cronies, rather than serving
the public. Because of their lack of concern for the very
residents who elected them, the results have been
devastating. Their actions have resulted in higher
taxes, contracts for supporters and a school system
that isn't adequately preparing our young people to
enter into the global economy. East Orange is at a
standstill because of career politicians. lt's time to start
moving forward.

If the governor of our great state, and even the
President of the United States, is limited to two terms,
then it is time for East Orange to follow suit. I believe
that it is time to end politics as usual and start putting
our people first. Term limits will help our city
tremendously by allowing for fresh, new ideas. It will
enable us to elect individuals who are truly committed
to serving East Orange residents first and foremost.
Most importantly, term limits will prevent our future
mayors from becoming complacent while in office. It
pushes them to work for results."
Kevin Taylor 4/16/13
---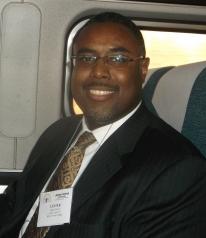 Lester E. Taylor
The 38-year-old attorney has the backing of City of East Orange Council Chair Quilla Talmadge, Councilmembers Ted Green, Sharon Fields, Jacqueline Johnson, Lonnie Hughes, and Jamal Barnes.

"The decision to run for mayor was founded upon my deep desire to provide the best quality of life for my family, neighbors and community," Taylor said recently. "My goal over the next five months is to engage as many East Orange residents, clergy members, business leaders and organizations in a fruitful discussion about job creation, lowering taxes and creating revenue streams to enhance our city."

A partner with the law firm of Florio Perrucci Steinhardt & Fader, LLC, the candidate chairs the firm's Education Practice Group, which represents Boards of Education in General, Special Education, Litigation, Labor, Employment and Workers' Compensation related matters.

He is the fourth candidate to formally enter the East Orange mayor's race.
Lester Taylor's East Orange Democratic Committee statement of 3/11/13
"I am thrilled to be a part of a great team that is dedicated to our city. We're ready to roll up our sleeves to do the hard work necessary to make East Orange the best place it can be. It's time for new leadership that puts our families first by making our streets safer, saves our taxpayers' money and finds innovative ways to attract new businesses to put our residents back to work."
Lester has his own Facebook Page where you can ask him questions.*
Campaign Slogan: It's Time for a Change
Lester's goals in his own words: "There's a lot of work ahead to spread our message of reducing crime, saving our taxpayers' money, attracting businesses to our city to create jobs and investing in education so that our children have a brighter future."
Very vague; no specifics given.
Goals from Lester's Web site:
Spur job creation by bringing in new businesses and revitalizing parts of downtown.
Hold the line on taxes by being smarter about how the city spends our tax dollars.
Create new revenue streams to balance the budget without raising taxes.
Reduce crime by developing new community partnerships.
Less vague, but still no solid solutions mentioned.
* 4/2/13 After attempting to raise questions about his vague goals on his Facebook page, my question was deleted and I am now blocked from asking any further questions of him. My response to this is HERE.
---
4/4/13 - One more person has filed a petition to run for Mayor of East Orange - Tonya Parker-Lemon, an independent on the Looking For Extraordinary Change ticket.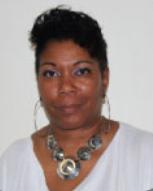 The following is from Tonya's own flyer, exactly as written.
TONYA PARKER-LEMON
being a retired correctional officer is not ordinary when it comes to her knowledge in LAW ENFORCEMENT AND LEADERSHIP She's known for her dedication in dealing with the youth in the community.

Let Us Work To Bring EXTRAORDINARY CHANGE Back to East Orange for the future of
" OUR CHILDREN"
A Service for The People
I want to see more Revenue brought to the city
Lower Taxes almost to a freeze:;
More Security Enforcement for citizens being Officers and cameras:
Curfew Enforced: Rotating Side of the Street Parking:
Vistor Parking Permits: Lower Parking Permits:
More Activities for Youth and Seniors: Job promotions along with raises:
More Emergency Assistance programs: Rental Assistance along with Rent Control:
Home owners getting supplies to beautify there property (such as) paint, flowers, wood etc.
Bringing Large Franchises into the city to create jobs and revenue:
Let us try to keep our youth involved with more activities, try to save our future generation:
Let us care about one another lets bring back a "Look after our neighbor policy:
Big Brother along with Sister is watching you! A city that cares is one that will want to share:
Yes! " I Love East Orange", Don't You?
Vote Parker-Lemon line D
the First Female Mayor of East Orange
PAID FOR BY CHARLES CUSH
© 2013, James Gerrish and Frederick Goode, Temporary Custodians of the Web site