Mayor Lester Taylor's Agenda 2014
This is what the Mayor HAS or HAS NOT done for us lately:
I have to give the Mayor credit when credit is due. An article from The Alternative Press (written by Connie Jackson, East Orange Public Information Officer and strangely NOT published either on the city's own Web site nor on the city's Facebook page) reports that three East Orange Restaurants were closed because of health or building code violations. The article ends with this quote from the Mayor: "A healthy community is a clean community. This is a Quality of Life issue and East Orange residents deserve and expect better," said Mayor Lester E. Taylor III. "Our Quality of Life Task Force, with tips from residents and business owners, is strategically cleaning up the city and making it a safer place to live."
If the Mayor is listening to residents and business owners and acting on the information given him to at least investigate and then produce a positive action, this is a good sign and I hope it continues. If it is just for show, we'll soon know, but for now I'm giving him the benefit of the doubt and a PLUS (+)to his goal of making the city a safer place to live.
NOW, if the Mayor will only publish the health and building codes, along with all the other city ordinances, ON-LINE so that anyone with a computer can read them and know what they are IN ADVANCE of being shut down or ordered to comply, then he will really be doing something that will be open and transparent and make our city a safer place to live. This will do much more than just give "lip service" to the term "Quality of Life." Get your "Task Force" to take on a real "Task."
I have to print a retraction and give my apologies to the mayor and third ward councilpersons Ted Green and Quilla Talmadge for thinking the errors in the advertisement posted in Local Talk News had anything to do with them.

My first mistake was in reading the name Elwood Park and simply thinking that someone had misspelled ELMwood park. The Park on Summer Avenue Between ELwood Avenue and ELwood Place is NOT called ELwood Park, but Phillips Park. If the advertisers had added one word - Newark - after the name, that would have kept me from mistaking it for ELMwood Park in East Orange. So it is the people responsible for the advertisement that caused the mix-up, but I apologize for not reading the sign correctly and looking it up on the MAP before I started scolding everyone.
Yet Another Way to Waste Taxpayer Money! Raise the Budget Again, Mr. mayor!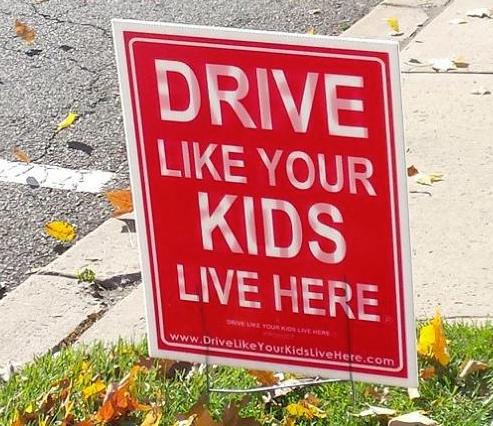 Posted on the City Facebook Page: "Did you know motor vehicle accidents are the leading cause of death for children 14 years of age and younger? To crack down on speeding, the City of East Orange has placed 'Drive Like Your Kids Live Here' signs throughout the city to remind drivers to slow down. If you see a sign in your neighborhood, take a picture next to it and email it to us at

[email protected]

. We'll post it on the City's Facebook page to show your support!"
Let's see, if this sign thing actually works, we can get rid of the entire police force.
Sign: "Don't Rob Anyone in This Nice Neighborhood. OK?"
Sign: "No Shooting of Guns Allowed on This Street"
Sign: "No Killing the Neighborhood Kids" - oops, that's too much like a Pro-Life Anti-Abortion sentiment.
Sign: "Thou Shalt Not Kill" No, that's been tried before and it doesn't seem to work.
Wait! There's a Web site printed on the bottom of that East Orange Drivers sign. Let's Take a look: www.drivelikeyourkidslivehere.com
Wait, the most important part of the Web site is here. This is what it's all about!
That's right! It's all about money. MY money and YOUR Money - Taxpayer money. I bet the mayor has not bought a single sign from this commercial company (they take PayPal) using his own personal money. Not when he has 60,000 suckers taxpayers willing to just hand over their money every time he decides to raise the budget. Check out THIS sign from 8/22/14. If you want to mail in THAT photo to

[email protected]

as a protest, be my guest. Here's the URL to use: http://eohistory.info/2014/MayorLesterTaylor/CartoonPhotos/TheNEWsigning25.JPG
10/31/14
This is what it is all about, folks!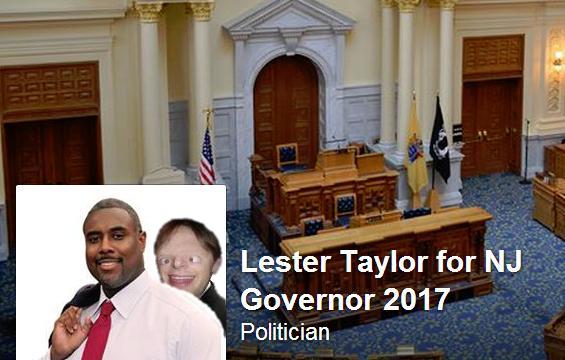 Lester Taylor has been telling me to "Sit Down and Shut Up" since he first banned me from commenting on his Campaign for Mayor Facebook Page in 2013. Now he has a NEW Facebook page in which he wants to challenge Chris Christie for the privilege of telling EVERYONE to "Sit Down and Shut Up" as Governor of New Jersey. The first thing a politician thinks about upon being elected to office is being elected again, either to the same office or to a higher office. That's what all the photos with kids and seniors has been about since the day he got elected. He's already thinking about moving up the ladder and will have less and less time to spend on little old East Orange as he drools about what he could do if he got his hands on the tax money of everyone in the State of New Jersey.
Dono Nuthin, Director of the Department of Stupidity for the City of East Orange, has agreed to vote for him providing the Guv, as he is being called around the office behind his back, opens up a State Department of Stupidity so Dono continues to have a job in 2017.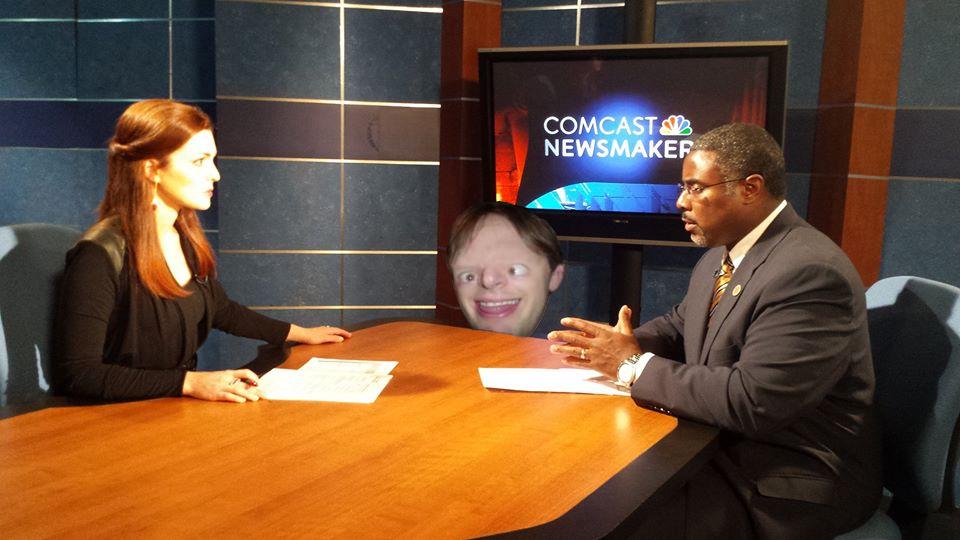 Update: The Video was released by Comcast on 10/23/14 - so here it is: http://youtu.be/TUSNygW9neY
On November 10, the mayor will appear on Comcast Newsmakers to talk to Jill Horner about public safety and community policing strategies that have made East Orange the safest it has been in almost 50 years. The segment will air on Comcast On Demand on Nov. 10, which means no one who has Dish or Direct TV or Verizon FIOS will get to see it.
I hope the mayor will explain how all the following events described in past news articles show evidence of just how safe we are in East Orange.
Dono Nuthin will be on the broadcast as well, but you won't see him because he will be "blue-screened" out of the picture. Instead, the mayor will take his part and say all his lines for him.
What the mayor talked about: It was pretty much the same head-in-the-sand "mayor-speak" that was in his October 2014 MESSage.
5% reduction in violent crime
Shooting incidents down 80%
Perception that the city is unsafe.
Make people "feel" a sense of community.
"Drive like your kid lives here" signs.
30% lower crime rate than neighbors.
No Thanks to the Taxpayers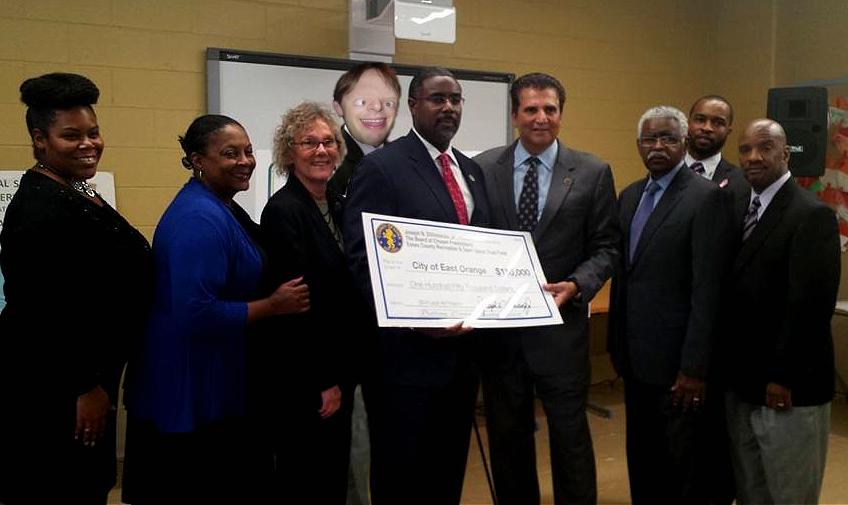 The caption on the City Facebook Page reads: "On behalf of the City of East Orange, Mayor Taylor accepts $150,000 from Essex County Executive Joseph DiVincenzo for renovations to the tennis courts at Soveral (SIC) Park." No thanks is given to the taxpayers who provided the money on which that check is written. Everyone in that crowd thinks of that money as "theirs" and not "ours." Many taxpayers viewing this scene believe that they gave that money to the county in taxes. No, the county TOOK the money from you in taxes. You had no choice in the matter, and if you think you did, try not paying your taxes for a year or two and see how things really are in the real world of politics from your jail cell.

Read the mayor's message for October 2014 and see why his eyes are closed and why I think he is "messing" with us with his misuse of statistics.
The mayor sent taxpayers a letter along with their 2014-2015 Preliminary Tax Bills. You can read the entire letter, along with my translations and observations printed in red, HERE.

The mayor is collecting hundreds of these photo opportunity shots with our senior citizens, but look at them closely and you always see the mayor talking/preaching to them, but rarely is he sitting down and listening to them. If he did, he might be able to provide them with what they really need, like legal and financial counseling to keep them from getting fleeced by people like George Vaugnn (inset), who recently pleaded guilty to conning his 90-year-old dementia-stricken neighbor in the senior citizen home out of $50,000. The mayor has three years before he has to go around campaigning for re-election and collecting senior votes; right now he should be doing what he promised he would do for them, which is to provide them with adequate services.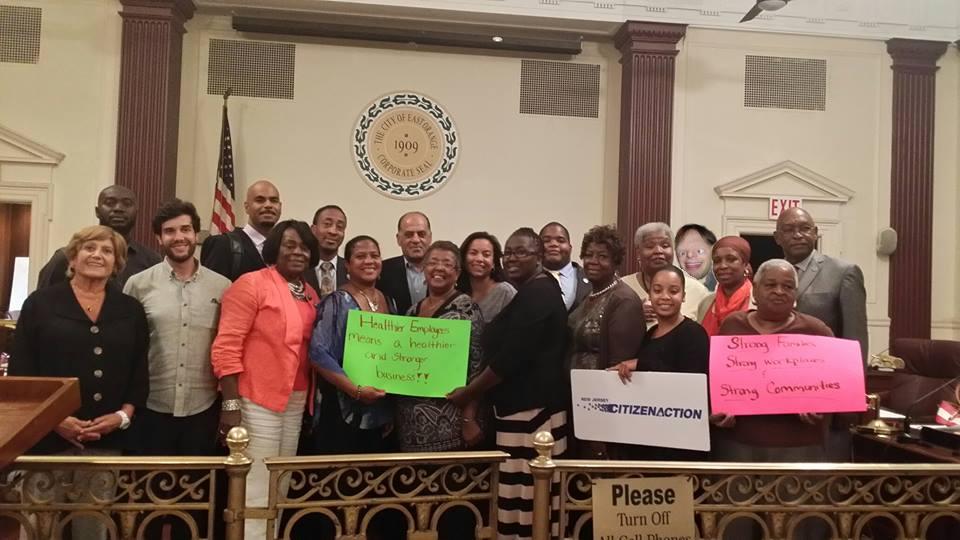 City Council versus the City of East Orange - wins with a score of 10 (plus 8 busy-bodies) to 65,000.
Dono Nuthin in the background doesn't count ... he only voted to change the sign on the gate to read
"Please Turn Off All Brains."
The game is over, the fix is in, and now businesses in East Orange have been handed the mandate that all their employees MUST receive sick-leave pay. The council didn't vote to put this choice on the November ballot or the 65,000 East Orange residents might have had a chance to decide something which affects the entire city, not just businesses. It would have been easy enough to do that, but it would have set a bad precedent for the Lester Taylor administration if he started letting citizens vote on matters affecting the entire community. I'm sure if it had been put on the ballot, it would have passed overwhelmingly because everyone is in favor of making those evil employers who have the temerity to hire help to be allowed to make business decisions for themselves, but that's not the point. The point is now the city rulers have proof positive that no one will dispute their right to rule and their demands to be treated like royalty will be taken seriously instead of getting them laughed out of office.
In Local Talk Weekly dated from 9/04/14, Mayor Lester Taylor was interviewed by editor Dhiren Shah, for which see the full interview HERE. I call your attention to excerpts in which the mayor revealed his true intentions and plans beneath the "show plans" that he presents for public deception.
"Another thing I'm happy about is our quality of life task force ... a multi-departmental initiative ... to educate the community about the standards and expectations per our municipal code and/or state laws regarding maintenance of their property. "
I highlighted one phrase in red. Regarding our municipal code, one of my first requests to the much heralded office of constituent services was to get the East Orange Municipal Code on-line so that we citizens can see what it is. We can't find it in print in the public library, and if you ask to see it in city hall, no one seems to have a copy that you can sit down and read. Yet, one of the first actions of his administration was to send out code enforcement "officers" to enforce codes that are not available for the public to see until a ticket or a summons is written.
"There's no intention on my part to sell the water commission or privatize it."
It took long enough to get him to make this statement public. You may recall I challenged him to answer this rumor on May 10th, 2014 and put it to rest back then. Not that it helps much, because the mayor broke his campaign promises to lower taxes, so this one should be easy to by-pass when he feels like it. But look at what he says next:
"My intention is to maximize the productivity of that municipally owned and operated entity to maximize its potential to service other customers so that we can in turn increase water rates, provide safe drinking water, and create jobs and experiential learning opportunities for young people."
Surely he meant DECREASE water rates, which OUGHT to be the goal of any REAL business that is involved in maximizing productivity. But no, he plainly states his plan to increase the water rates, and as proof of that, has already raised the rates by 5%. So not only is he moving forward with his plan to increase property tax rates, we have his word that he will continue to increase water rates as a direct result of "maximizing productivity" in the water business. He makes it obvious that he has no idea how to run a business. Also, recall that the whole idea of East Orange owning its own water works from 1881 until 2013 was to reduce property taxes and save money on water.
"We're having strategic conversations on how we can help the school district apply to and/or lobby the school development authority to build a new school in the 5th Ward that does not have a school there."
When last I looked, Fourth Avenue School was included in the Fifth Ward, unless they have shut it down like they did with Washington Academy, Elmwood School, and Vernon L. Davy School in the Third Ward, and left them to decay and neglect. It is listed on the City Web site as the Alternative Program @ 4th Avenue, an Adult High School, but interestingly it is not mentioned on the Board of Education's list of schools. No matter, our city web site has been out of date and out of touch before, but unless the building has been demolished "accidentally" there is no need to "build" a new school in the 5th Ward at this time. I wonder how many millions I just saved the city that could be used to offset the deficits with that tidbit of information. After all, it cost six million dollars to build the so-called "community school" next to city hall that can't even be used by the city, much less the community. Next time you see the mayor, tell him "NO NEW SCHOOLS until you have made full use of what we already have."
The outcome will be that we, the taxpayers, will pay for the mismanagement at the EOWC with higher taxes and higher water rates. The EOWC will continue to be run by a committee of so-called "commissioners" who are used to spending other people's money to solve their problems. This will be known as "fixing the problem".
In the above prediction, I was 100% correct. What I failed to predict was that the mayor would focus on the safety of the water, which was never in question. It is trusting the mayor to speak the truth that is in question. That's what we, the voters, mean by "Transparency." The mayor thinks "transparency" is just a political term he can toss out to conceal the fact that he is hiding information and misdeeds from the voters.
The question is: Do YOU trust the mayor?
| | | |
| --- | --- | --- |
| What He Said: | | What He Did: |
The reason I now call them the Silly Lazy Alternative Press (SLAP) is because the TAP Into East Orange Staff (as they refer to whomever wrote the article) stated that this forum was being held "as part of (the mayor's) election promise to maintain transparency." The mayor never began talking about transparency until after he was elected and it was becoming obvious that he was NOT being transparent about anything that he suddenly began spouting the campaign slogans of "transparency and accountability." But those are part of his campaign for re-election to a second term as mayor.
SLAP also said the mayor "addressed a sizable audience." If every single person the mayor has hired since he was elected attended the meeting, they would not have had enough room anywhere in the library to hold the meeting. If you include all the city hall workers that kept their jobs after the mayor was elected, it would have been a mob scene. So I am not impressed by their "sizable audience" statement since no one bothered to count the number of attendees present.
SLAP also suggested that the purpose of the forum was "to discuss the embattled Water Department amid indictments, rumors of contaminated water and privatization of the department." Wow! They let that last bit leak out like a spurt of dirty water, didn't they? Yet nowhere do they mention what the mayor responded to a "charge" of privatization of the water department. I'd like some follow-up on that tidbit of news. The fact that they even mentioned it means someone at city hall has been talking about it.
The last SLAP in the face is the final paragraph: "The consensus of the attendees interviewed by TAP into East Orange seemed to suggest that the residents were inclined to give Taylor and his staff an opportunity to get things on track before passing judgement." How about the time-honored method of writing down the interviews and letting US, the READERS discover the inclinations of those being interviewed? That's where the LAZY part of their new name comes from.
EDITORIAL: What Have We Learned From Our History?
An article in NJ.COM today emphasizes the trouble the Newark Watershed Conservation and Development Corp. has been having, which is similar in many ways to the problems of the East Orange Water Commission. It's what happens when you try to run a business by a committee, especially by a committee controlled by politicians. That's what our Water Commission is - a committee controlled by politicians. The mayor is the ringleader politician, who appoints the commissioners. The city council provides more elected politicians who are supposed to be providing oversight of the commissioners. You can see how well that worked out for us in 2013, and how well it is working for Newark this year. And yet we are back to restoring the same political system with oversight by the same council politicians who failed us in 2013. Those who don't learn from history are doomed to keep repeating the mistakes history was supposed to have taught us to avoid. Apparently, we, as a city, have learned nothing.
Now that councilpersons Alicia Holman and Lonnie P. Hughes have not only passed the budget, but spoken out in complete agreement of it because it gives them more of our money to mismanage and waste on activities like the recent Fifth Ward community day at Columbian Park, I have decided to include them on this same page with their ringleader, the mayor.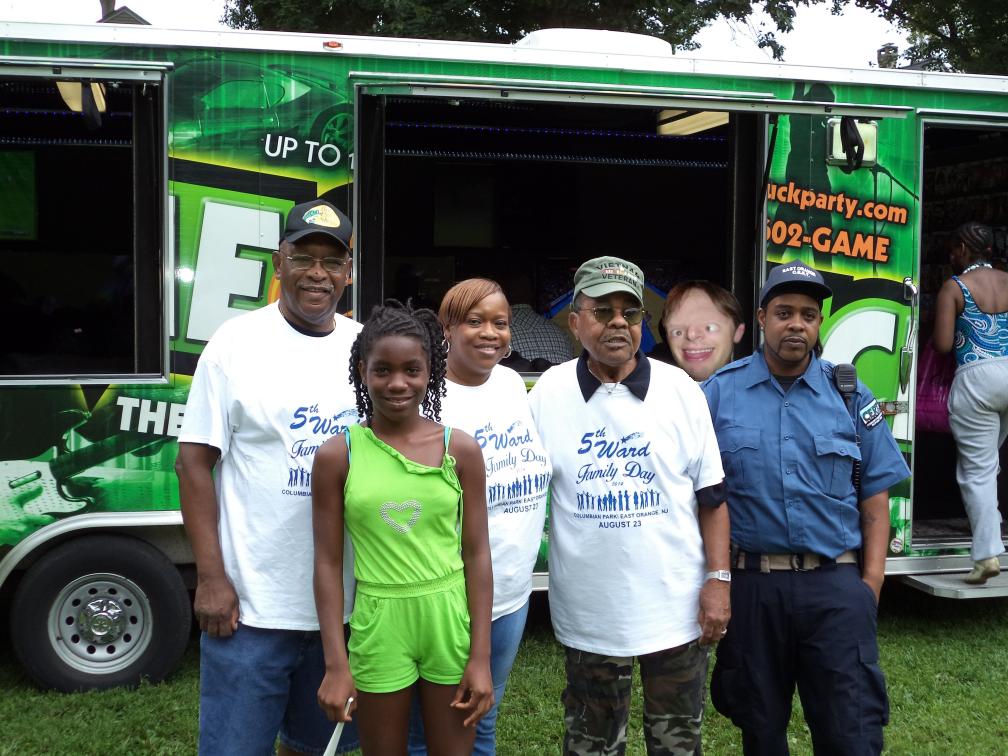 Dono Nuthin (second from the right, thanks for asking) enjoys a day in the park with his mentors who are teaching him how to
game the system and take money from taxpayers while making them THINK all this stuff is FREE! What fun!
The Silly Lazy Alternative Press (SLAP) formerly known as The Alternative Press (TAP) has pronounced the Fifth Ward Family Day a "success" because no one guessed that the money being spent had been taken from the taxpayers of East Orange when they raised property taxes last year. The increased taxes for this year will be spent next year, and with any luck they can get away with it again without riots and cries for recall of the wasteful spenders at city hall. Well done, and the summer spending isn't over yet! Don't mention that the money used on this day of frivolity, along with the money for throwing parties in all the other city parks, could have been applied to reduce the deficit in order to lower taxes. Lonnie P. Hughes, chairman of the East Orange City Council's Finance Committee, didn't know this? And you elected him again?
Citizens and residents of East Orange: Your time has come. The mayor and his council have decided that YOU shall bear the full burden of their incompetence to balance the budget by cutting real expenses, and therefore YOU must pay higher taxes.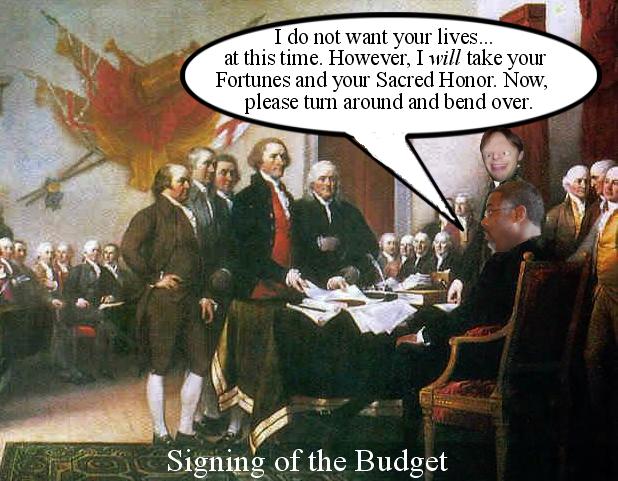 Now we await with breathless anticipation for the mayor to tell us how he will "fix" the deficit of the East Orange Water Commission, which, we have been told by City Council President Quilla Talmadge, has its own separate budget and the two deficits are not connected in any way whatsoever. The meeting on 8/26/14 is described as a "Community Forum" and a "discussion" by the mayor, but he will do all the talking and no more listening than he has done in the past.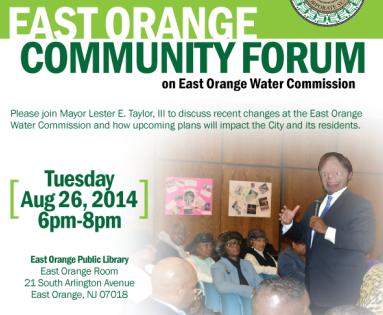 The outcome will be (in case you don't plan to attend) that we, the taxpayers, will pay for the mismanagement at the EOWC with higher taxes and higher water rates. The EOWC will continue to be run by a committee of so-called "commissioners" who are used to spending other people's money to solve their problems. This will be known as "fixing the problem". Any questions? Ask Dono Nuthin.
Posted in The Essex News Daily today (8/10/14) was a piece about a meeting that was held on Tuesday, July 29th, with two of the former East Orange Water Commissioners, Darryl C. Walls (suspended) and R. Greg Ward (resigned). It seems reporter Chris Sykes was not at the meeting, because all of the information in the article he wrote is third party "hear-say" reporting. There are NO QUOTATIONS from either of the two former commissioners who held the event. Instead there were comments like these from people who attended the meeting: As Patricia Braxton, a resident of Hoffman Boulevard, was quoted as saying: "... we need the current people here, as well as the mayor, since it's his administration that is responsible for what's going on now; right now... Our council people need to be at this meeting. I applaud the courageous actions of the people that called this meeting. But I would hope that it would grow and that more responsible people that are currently in city government would attend. Let's get some transparency. We do not have transparency."
Carol Clark, who held her own press conference earlier, continued to brag about what she has done, as if she were still campaigning for mayor (and perhaps she is) : "I live in the 5th Ward. I served as the 5th Ward councilperson for eight years. I sat on joint meetings; chaired the Arts, Culture and Recreation Committee; and I also chaired Law and Legislation. Before I became a council person, I was the chairperson of the Golf Course Advisory Committee. I was the liaison to the Water Commission for two to three years. So I understand what has gone on over there and it's not right." But with all that foreknowledge and hindsight, she still does not say what she knew and when she knew it and exactly what is not right about it. Nor does she say why she did not speak up about it during her recent campaign for mayor.
Apparently no one from East Orange attended who had a pencil and pad of paper on which to take copious notes, nor a voice recorder nor a camcorder, nor any way to ask questions and record the exact answers. We not only do NOT have transparency from our city administration, we have incompetency and lack of transparency from the local media as well.

The mayor's TRUE message to East Orange taxpayers for August 2014 is PAY UP! With the skill of a true con artist, the mayor distracted the residents of East Orange with Bread and Circuses, while he got his council "ducks" all lined up to pass the most controversial budget of our time, raising our taxes to pay for council mismanagement of the money that they had already TAKEN from us in the previous years of the Bowser administration, and asking us to PAY for their crimes with a huge INCREASE in taxes for this year. Instead of firing those responsible, trimming the salaries of those overpaid miscreants at city hall, scaling back his grandiose plans to spend more money he doesn't have, or finding new sources of revenue for the city as he promised he would do in all his campaign messages, the mayor will simply TAKE our money by making it law that WE HAVE TO PAY MORE TAXES.
Did citizens show up at the meeting held on Monday, August 4th, when the vote was taken? Apparently not, according to this photo published by The Alternative Press on Tuesday, 8/5/14.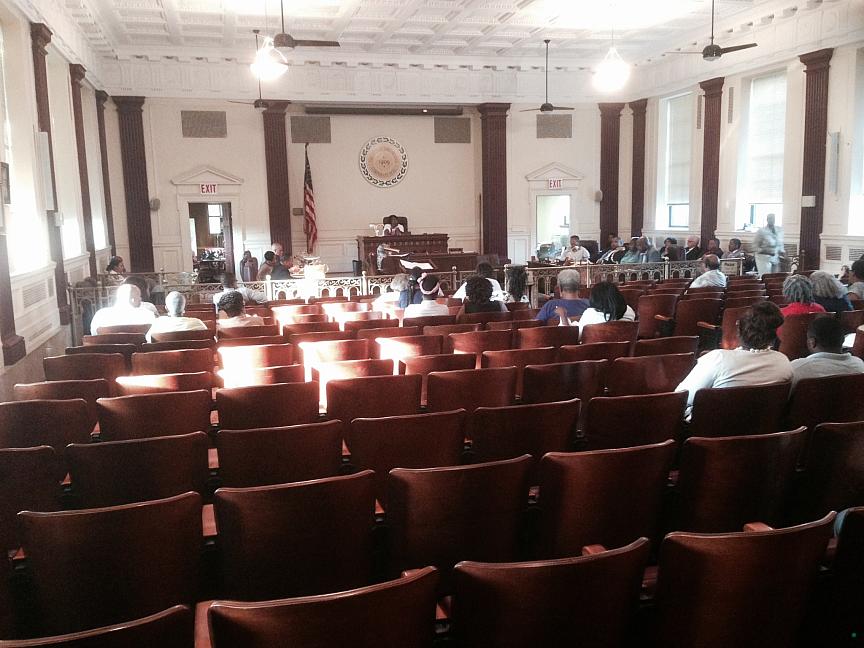 On 8/21/14, this article regarding this August 4th meeting was published in the Essex News Daily. It doesn't add much that is new, but it is interesting to note that the city council was focused on cutting THINGS and PROJECTS from the budget, and not overpaid PEOPLE and SALARIES. The distain which Fifth Ward Councilman and chairman of the East Orange City Council's Finance Committee, Lonnie P. Hughes, has for the taxpayers who pay HIS salary is revealed in this quotation from the END article: "We had several meetings with the acting business administrator and the chief financial officer," Hughes said on Monday, Aug. 11. "We had to sit down two and three times and go back and forth and we all had to agree to the amount that we were going to cut. We cut the appropriations in the budget by $997,000. We only missed by $3,000, but that's a million dollars in my book."
The mismanagement of the budget under the Bowser Administration happened on the watch of these Council Members, who knew all about the budget problems in 2013 and did not deal with them or make any problems publicly known before the election in November of 2013: First Ward - Andrea D. McPhatter, Second Ward - Jacquelyn E. Johnson, Third Ward - Council Chairwoman Quilla E. Talmadge and Ted. R. Green, Fourth Ward - Sharon Fields, Fifth Ward - Alicia Holman and Lonnie P. Hughes. And here they all are mismanaging the budget again to make the taxpayers PAY for their incompetence by simply requiring us to sit still while they apply their financial enema solution to a problem THEY helped cause.
Carol Clark Chimes In on EOWC. Guess who is getting ready for a new run for mayor in the next election? But her closing words in the recent Essex News Daily article show us how out of touch politicians become when they are used to spending other people's money as if it was their own: "What's the remedy?" Clark asked. "You pleaded guilty, now what? How are the city of East Orange and the citizens and taxpayers to be made whole in this? Not only was there a life, health and safety issue, there is also a financial implication here."
Well, Carol, we already know what that financial implication is, since the cost of water to residents began to rise with a 5% increase this month. The implication is that we, the taxpayers, will pay for it and our elected officials will make us do so by "putting it in the budget."
As for Carol Clark's "I told you this would happen" claims...I don't recall her making any of them when she ran for mayor last year even while it was happening at the EOWC. Somehow she forgot to put that on her campaign flyers and posters and into any of her speeches.
The East Orange Water Commission continues and nothing much has changed except the people in the commission. According to the mayor in a recent article published in the Essex News Daily, "I'd like to ensure [sic] our residents and surrounding municipalities that the water quality in the city of East Orange is safe, and I am working collaboratively with the East Orange Water commissioners to ensure that our most important asset is properly managed and back on the road to financial stability." Yet the mayor does not see that the problem IS the East Orange Water Commission, a bureaucracy of appointed "know-it-alls" who get high salaries and who apparently can't be fired, even though they were appointed to the position. The fact that the two perpetrators of mismanagement were shielded by the commissioners in 2013 would make any intelligent person realize that the system doesn't work; it hasn't worked for some time and we are just now finding that out. Telling appointees to resign and having them refuse to do so ought to make that very clear. It doesn't take five people sitting around a table and meeting once a month to manage a simple operation like the East Orange Water Works. I may never trust the drinking water in East Orange again as long as this clown and pony show is allowed to continue. My solution is below, dated 07/17/14. I know the mayor doesn't listen to me. His phoney department of "constituent services" no longer responds to my complaints. His "HootSuite" flappers who now operate the city Facebook Pages, regularly erase my comments and only allow "happy news" that they have decided is good enough for the citizens and residents of East Orange to stay on our city's public web page. How can you trust an elected public servant who shuts people out and who won't listen to the people who got him elected?
The Alternative Press reported the following Press Release from the City Hall Staff: "The East Orange Chamber of Commerce held a luncheon this past Thursday July 17, 2014 to highlight the coordinated efforts of Mayor Lester Taylor and the Chamber to provide meaningful summer employment for youths residing in the city. Proceeds from the luncheon went to help fund the Chamber's Summer Youth Employment Program."

Our Original Parody Photo shows Department of Stupidity Dono Nuthin standing at the mayor's right, where he belongs. The photo released by The Alternative Press has tried to photoshop someone else into the picture, but we all know those tricks.
Instead of highlighting coordinated efforts of the mayor and the chamber of commerce to provide meaningful summer employment for youths residing in the city, the photos released show not a single unemployed youth being helped (they don't hire East Orange youth at these fancy out-of-town restaurants). In fact, any place that serves lunch and calls it "luncheon" is too swanky and high priced for all but the city's elite who are shown in the photos above and below.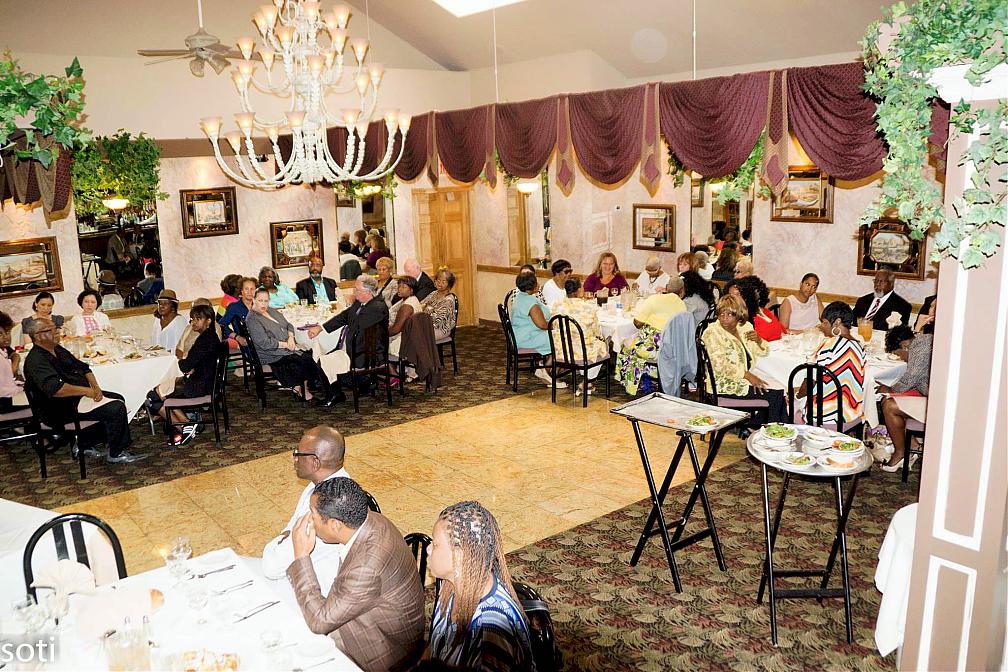 Not a "youth" in sight. Did you get an invitation to attend this "luncheon"? The venue was "Bella Italia" in Orange.
We'll expect to see an accounting of the funds raised by this "luncheon" and what it cost the city and chamber to host it (as usual) outside the city where they can bolster the economy of Orange, West Orange or Parsippany (but not East Orange). And why are any funds at all required to help the Chamber's Summer Youth Employment Program? Does the Chamber need to bribe East Orange businesses to hire East Orange youth at "make-work" summer jobs?
Note that the next East Orange Chamber of Commerce event, a Barbecue and Art Sale, will be held in South Orange... NOT East Orange. Is it too much to suggest a boycott of all events involving East Orange City Hall that are held OUTSIDE of East Orange?
Speaking of Transparency and Accountability, this press release regarding the mayor's appointment of four new water commissioners, dated July 15th, actually occurred on July 3rd according to the announcement and did not show up on the city web site until today, 7/17/14. Thus it took 14 days for it to finally end up on the city's own Web site. So much for the efficiency of the Mayor's Office of Public Information in getting out the news.
Now let's look at those appointments. Chris Coke, the current Director of Public Works for the City of East Orange was appointed to Acting Interim Executive Director of the EOWC. That appointment makes sense. Chris Coke actually knows something about the EOWC and has been doing parallel work for the city in managing the water once it arrives in our pipes.

The rest of the appointments are pure fluff. None of the others knows anything about running the Water Works except for turning on the faucets in their own homes.

I submit that the entire concept of the East Orange Water Commission is purely political in nature and that is how it got into trouble last year. Politicians do not make good managers, as currently demonstrated by our own mayor who is only good for photo ops and who knows nothing about running the city beyond spending taxpaper money he doesn't yet have. It is also obvious when the mayor is quoted saying, "the new commissioners will return the East Orange Water Commission to functioning and operating properly in the best interest of the residents," that he doesn't have a clue about what needs fixing.

It is not the East Orange Water Commission that needs fixing. It is the East Orange Water Works that needs to be properly supervised and managed. That's what we need to have functioning and operating properly. That is what is in the best interests of the residents of East Orange and the other towns that buy our water. The Water Works needs to be treated like a business. We sell water, residents and others buy the water. It is the job of the Water Works to test the water, make sure it is safe and meets all standards for clean water, then deliver it to the customers for distribution. It's a business.

My suggestion is to abolish the Water Commission, put Chris Coke in charge of straightening out the operations at the Water Works and give him a free hand (with oversight from the council members of each of the five wards) to get the business running again. Instead of monthly meetings, Chris Coke can see to it that everything he does is posted on the EOWC Web site, on a monthly basis, the way it used to be posted before the water commissioners got their sticky little hands on it. It's not rocket science. Do the job, report to your boss - who is not the mayor or the council, but the people of East Orange, the real boss. If Chris Coke is not up to the responsibility, then fire him and find someone else who can do the job, but not a politician- someone with real experience in running a public utility. However, I am sure Chris will do a fine job if the mayor lets him. The one good thing the mayor did was to appoint him Executive Director. Don't spoil it by sending him to meetings with amateurs.
On the down side, we need to remember Chris Coke's background with the city of Paterson. He resigned there in May, 2014 and was quickly hired in East Orange without much public fanfare or public knowledge. I hope he was at least thoroughly vetted by the mayor, especially regarding the Paterson scandals in which he was implicated. It doesn't mean Coke won't do a capable job here, but I'd appreciate a little more transparency and accountability from our mayor regarding his new hires for the city.

On this Independence Day, we examine the Shell Game being played by the Mayor and City Council regarding Public Meetings for budget amendments.
Click on any "SHELL" to enlarge the "PEA"
There are generally three roles to be played in this con game. The OPERATOR is the one who puts a pea under a shell and then shuffles the shells around. SHILLS surround the OPERATOR and encourage the MARK to place a bet on the location of the pea. The MARK always loses that bet.
I'm not sure who is the OPERATOR in this game of Budget Meetings. The one who has signed her name to each of the Public Notices is City Council Chairwoman Quilla E. Talmadge. But the one who has the most "skin" in the game is the mayor.
One thing is certain, we know who the MARK is in this game- it is US- WE the Taxpayers. We have the most to lose: an average of $455 per property owner.
The SHILLS are most certainly the other council members as well as certain other members of the mayor's administrative "team". The SHILLS act as lookouts for the law; they also serve as "muscle" to intimidate MARKS who become unruly. Some SHILLS pretend to play the game, and entice the MARK into betting. They crowd around to protect the OPERATOR and other SHILLS from any incriminating photographs being taken of the act. The OPERATOR and the SHILLS try to get the MARK into a heightened state of anger or greed. Once this is accomplished, one SHILL will pretend to disclose a winning strategy to the MARK. It is all a ruse to get the MARK to place a large bet and to make sure that the MARK loses every time.
Notice that NOTHING has been written down regarding the Budget Meetings. There is NO PUBLIC AGENDA which contains the wording of any actual "budget amendments." The one Public Meeting which occurs on July 21st right AFTER the 5:00 PM Budget Meeting does have wording about "improvements and enhancements designed to increase recreational benefits in (Elmwood) park to benefit the residents of East Orange." That's what shell game operators call a DISTRACTOR or MISDIRECTION, to get the MARK to look away while the OPERATOR puts the pea under a different shell.
East Orange has given up control of its Facebook Pages to a Social Media Management Company called Hootsuite. As mentioned before, the old and new city Facebook pages once were the only places where a resident could openly confront the mayor about what is happening, and both were examples of the standard "democratic machine" technique of concealing problems by distracting the voters with "bread and circuses." Now that's all you will see on those pages - provided by Hootsuite, news about events all around East Orange, but not necessarily including any East Orange events. As patrons of the Facebook pages have already discovered, most of the announcements about events come too late to be useful and, of course, they stay up forever, filling the pages with outdated advertisements for any group that Hootsuite selects to place there. Hootsuite is being paid to be the mayor's on-line "flappers."
The pages can still be used by residents to communicate with one another about what is happening in East Orange, since no one from the city will be actively monitoring what is posted. Just go to the latest announcement from Hootsuite and post your concerns as usual. The only ones who will see it and respond will be concerned city residents like myself.
We should have known that the mayor and his administrative robots would soon drop out of communicating with constituents from the way the city's own official Web page is filled with out-dated announcements and propaganda for the media. We can only expect to see "happy news" coming from city hall. For the REAL news and the TRUE news, we'll have to dig for ourselves.
06/28/14 The East Orange City Council Spoke Publicly about the East Orange Water Commission in this article from the Essex News Daily (END). I guess it is time for me to speak publicly about members of the Council and try to hold them accountable for their statements as well as the mayor. First, let me put down this direct quote from the article attributed to the mayor: "In previous years the Water Commission generated revenue for the city's budget," Taylor said when he introduced his budget to the City Council (on April 14th, 2014). "The administration met with the state Department of Community Affairs, Division of Local Government Services, to discuss potential ways to improve the fiscal state of the Water Commission. Due to these significant financial challenges a property tax increase of $455 a year — equaling $113.77 per quarter — has been proposed for the average home valued at $175,000." I put this in red because the mayor's words are going to put us all in the red if he gets his way.
Now let us look at the contradictory remarks of City Council President Quilla Talmadge in answer to this question from END: "...how do the issues at the city's water utility impact the larger municipal financial situation and the ongoing Calendar Year 2014 city budget process in East Orange?" According to Chris Sykes, her curt answer was: "Not at all." The longer quote is:""The Water Commission has the Water Commission budget and they are separate from the city budget," Talmadge said on Tuesday, June 24. Here's the contradiction: If "In previous years the Water Commission generated revenue for the city's budget" and this year the EOWC has a 3 million dollar deficit, then they won't be adding any revenue to the East Orange Budget for this year or for some years to come. They are NOT as Talmadge suggests, separate from the city budget.
Another point of contradiction: Question #1 - Where does the city get the money it uses to spend on things, such as salaries of council members and city administrators and the mayor, money for running its various departments, money for all these little building projects the mayor is looking forward to? Answer: from the taxpayers of East Orange, mostly from property owners and businesses.
Question #2- Where does the Water Commission get the money it uses to spend on things like salaries of commissioners and workers, money for running its daily operations, money for paying its bills, money it owes the state in fines for mismanagement? Answer: from the residents of East Orange and South Orange who buy the free water that rained down on the watershed lands and which got polluted with contaminents through their greed and mismanagement. Who else could take something they get absolutely free and pure from the heavens and muck it up so badly that no one wants to buy it any more? So our taxes are going to rise, and the price of water is going to rise at the same time, and only council members and the mayor don't see any problem with that.
According to the END article, Council Finance Committee Chairman Lonny P. Hughes agreed with Talmadge that the issues going on over at the EOWC should not have any effect at all on the CY 2014 city budget. "She was absolutely right," Hughes said. "In the past they had made some contributions to the East Orange budget. But this year they were not in a position to do it. I don't think that they were in a position to do it last year either."
They can't have it both ways. If the money from the EOWC in the past was used as revenue to keep our taxes low (and our taxes have been rising steadily over the years - never decreasing- thanks to the money hungry mayors and council members of the past who wanted to spend it on their favorite little projects), and now we no longer have that revenue, then they are both wrong and the "issues going on over at the EOWC" WILL have an effect CY 2014 city budget. Am I the only person in East Orange who can do math?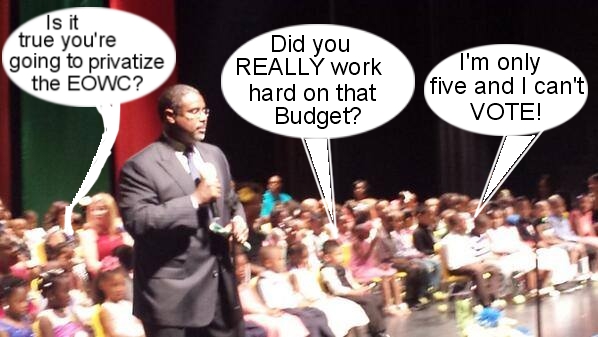 06/27/14 The Mayor is Accused by Rucks and Ward. I am no longer so alone in feeling that mayor Lester Taylor is making "backroom deals" and is NOT the least bit "transparent" or willing to be held "accountable" as his speeches have declared. The old and new city Facebook pages are the only places where a resident can openly confront the mayor about what is happening, and are both examples of the standard "democratic machine" technique of concealing problems by distracting the voters with "bread and circuses." The city's own official Website is only used to report "happy news" as if the mayor were still campaigning instead of in over his head as an incompetent city administrator. The truth about him and his "cronies" is only beginning to come out, and even then most of the East Orange residents are in denial about what is happening. Since the budget hearing of 6/18/14 there has been no public word from anyone who attended the meeting about any "budget amendments" or any movement to avoid having East Orange property owners pay for the six million dollar deficit with their property taxes.
06/16/14 If You Go to the City Council Budget Hearing on 6/18/14 - Wear High Boots and Carry a Shovel. The historic halls of our City Hall will be over flowing with B.S. according to THIS ARTICLE in the Essex News Daily. In fact, the B.S. is already flowing out the doors of city hall: "The purpose of this meeting is to review 2014 Calendar Year Budget amendments and any other financial matters regarding the 2014 calendar year budget," Cynthia Brown, the East Orange city clerk, said in a public notice on Monday, June 9. "Formal action may be taken."

What amendments? How can they review amendments when no amendments to the Budget have ever been mentioned publicly?

Fifth Ward Councilman Lonnie P. Hughes, chairman of the City Council Finance Committee, which deals with all aspects of East Orange's municipal finances, was quoted in the same Essex News Daily article as saying: "We don't have all of the amendments yet, because there was some movement of personnel before the introduction of the budget.Those amendments should have been made before they introduced the budget, but they didn't do it. So the finance director and business administrator have to make some adjustments. The council has some amendments that we want to make, but we want to make sure that they adjust the budget before we sit down and make our cuts." So there it is stated plainly - there ARE NO amendments, at least none that anyone wishes to talk about in public.

Here is the List of those Council Members who knew all about the budget problems in 2013 and did not deal with them or make any problems publicly known before the election in November of 2013: First Ward - Andrea D. McPhatter, Second Ward - Jacquelyn E. Johnson, Third Ward - Council Chairwoman Quilla E. Talmadge and Ted. R. Green, Fourth Ward - Sharon Fields, Fifth Ward - Alicia Holman and Lonnie P. Hughes. Shouldn't they, like the Water Commissioners, be asked to resign or be "removed for cause" with new elections called to elect NEW council members in all five wards?
06/14/14 The Mayor has asked four of the five Water Commissioners to resign, according to the article in the Newark Star Ledger today. The four being asked to resign include Roger R. Rucks, President, R. Greg Ward, Vice President, Darryl C. Walls, Secretary, and Khalid Wright, Commissioner. If they don't resign willingly, they will be "removed for cause." I wonder which choice affects any pension plans they may have. I also wonder why Commissioner Michele Antley was spared.
It is the last paragraph of the article that causes concern for me: "On Wednesday (6/11/14), the state's Local Finance Board approved a $3.2 million city bond to plug a deficit in the commission's budget in addition to $1 million the city loaned the semi-autonomous board last year, Taylor said. But he said an additional $10 million to $20 million would be required to repair all the problems."
Maybe this is not important to the very rich, or for those who get money by taxes, but there is a huge difference between ten million and twenty million dollars. We have already been threatened with a tax increase of an average of $455 per property owner, and that was based on a deficit of six million dollars and change (a $3.1 million deficit in the Water Commission's budget, and a 3.2 million dollar city deficit mentioned in his "State of the City Address" that had to have been well known to every one of the city council members who were part of the Bowser administration, and which could only have occurred with their participation in voting to approve the debts and keeping quiet about it in 2013 - Question to self : Does this mean more resignations or "removal for cause" in the near future?)
My concern is this, based on not having received any response from the mayor concerning the rumor I first published on this Web site on May 10, 2014. I suspect this new "crisis" is a "set-up." Mayor Lester Taylor has known about the water commission since January when he started attending their meetings and signing off on their resolutions. If he did any studying at all before he became Mayor, he also knew about the mismanagement, the law suits, and everything that had been made public in February of 2013. There has been a rumor traveling about the city that the Mayor wants to make a "back room deal" with Joe DiVincenzo to sell off the East Orange watershed and wells to Essex County. I'm sure Joe would love to have a golf course to continue the "bread and circuses" routine he has honed to perfection on the South Mountain property of Orange and West Orange. I can see this whole thing as a "set-up" to resolve the made-up crisis of 20 Million Dollars...or is it 10 Million... we're not yet sure. "No good crisis should go to waste," as Rahm Emanuel likes to say. This would be a good time for mayor Lester Taylor to promise the residents and taxpayers of East Orange that he will not sell off our most valued property, the water shed that for years helped balance our budget and was called "the wealth of the city" by all previous mayors.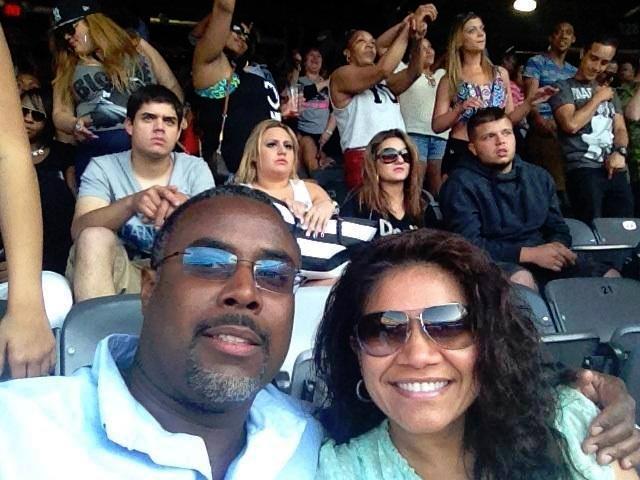 06/01/14 The Mayor enjoys a day off from worrying about how he is going to pay off a six million dollar deficit without raising the funds on the backs of East Orange property owners to the tune of $455 average in higher property taxes this year, and who knows how long that tax increase will continue? He is doing his worrying while attending the MetLife Summer Jam at the MetLife Stadium in East Rutherford, NJ on Sunday, 6/1/14. Incidentally, I got the above photo from the East Orange City Hall Facebook Page. As soon as I commented about how the mayor was spending his time NOT worrying about the deficit and the tax increases, and linked to this page so those who wondered what I was writing about could see for themselves, guess what? That's right, the photo and my comments were deleted. This is what the mayor calls "transparency" and "a culture of accountability and performance." Remember that the next time he makes a flowery speech.
05/12/14 Three City Administrators have resigned recently, including the mayor's appointed city administrator, Stephanie Bush-Basket, as of April 25; Andrew Edelson, the mayor's spokesman and public information officer Friday, May 2; and Public Works Director Michael Johnson, as of Friday, May 9. I'd like to suggest that the positions be terminated and the salaries attached to those position be used to offset the $6 Million in total deficits reported by the mayor in his State of the City Address ($3.2 million from the city administration and $3 million from the Water Commission). I'd like to make a modest proposal that additional terminations of administrative positions begin at once in all departments across the city and including the entire board of Water Commissioners who were obviously incompetent in allowing that deficit to happen on their watch. Reducing the total amount budgeted for salaries and wages for fiscal year 2014 by six million dollars ($60,894,330 - 6,000,000 = $54,894,330) pays off the deficits and erases the need for increasing property taxes, and still leaves enough people who actually know how to run the city and who have been doing the actual work of running the city, providing they continue doing the jobs they were hired to do.
Let's look at this like a business. Suppose you hire someone to be the head of a department in your private business- let's say the department in charge of building widgets, whatever they may be. Suppose you hire a complete nincompoop, for $100,000 per year who has absolutely no experience in making widgets, and, like us, has no idea what a widget is, much less how to make one. So the new department head's first move is to begin hiring other people who do have experience and knowledge of how to make widgets. He hires people who know all about widgets and love making the little things. He promises each person he hires $100,000 per year, and there are six of them because he has created new departments and new offices for each of them, and each one has a secretary at $50,000 per year. All of these highly paid people are doing the exact same job that you hired the first nincompoop to do, making the widgets that he is incapable of making. How long would a private sector business last with that kind of hiring philosophy?
So now we have hired (by election) a mayor who has no experience in running a city and no idea how to run a city. He needs to hire a city administrator who actually has some experience in running a city. Although he is a lawyer and a good speaker (that's how he talked himself into the job), he needs to hire a "spokesman and public information officer" who can speak for him, and if the mayor tells the spokesman to say something that his bosses, the taxpayers, don't like, he can fire the "spokesman" instead of getting fired himself. What? You didn't know that was the reason for having a spokesman? He also hires department heads who sit at desks and order around squads of people who actually do the real work, like filling in potholes (have you seen any being filled in lately?), and so on. Get the picture? So what's the difference between a mayor and a private sector nincompoop? The main difference is that the private sector nincompoop will be fired very quickly, because the company is losing revenue created by the decreased sales of widgets. The mayor gets money simply by raising the budget and demanding it (by law) from the taxpayers to pay for all the people he has hired to do the job that he is incapable of doing. The process for firing the mayor is a long drawn-out process that involves new elections, and he has a thousand voters built into his job that can insure that it probably won't even get that far (remember that bragging in his State of the City Address about "one thousand plus" city employees who all depend on the mayor for their jobs and cushy salaries?)
05/10/14 I'm tracking down a rumor. I don't like rumors because they usually turn out to be untrue, and I want to only publish the truth in the East Orange True News. The rumor is that there is a "back room deal" between Mayor Lester Taylor and Essex County Executive Director Joe DiVincenzo, to sell off the East Orange land containing our water wells and golf course to Essex County.
The wealth of East Orange is its water. From 1905 until 2013, under Mayor Bowser, our water provided East Orange with an annual budget surplus. Now, on April 15th, 2014, we suddenly learn that the East Orange Water Commission (EOWC) mismanaged its fiscal responsibilities and that we now have a deficit of over three million dollars. We also know that in February of 2013, two directors of the EOWC were indicted by the state of New Jersey. What we don't know at this point in time, is what happened to those two directors. Were they ever convicted? Were they ever fired?
To answer that question, I have contacted the Mayor's Office of Constituent Services with a direct question, to which I expect a direct answer in a timely response: "Do Harry L. Mansmann, of Lawrenceville, former executive director of the EOWC, and William Mowell, of Wyckoff, the former assistant executive director and engineer for the EOWC still work in any capacity for the East Orange Water Commission? If not, on what date were they terminated as employees?" - Complaint 261 sent to the Mayor's Office of Constituent Services on 5/10/14. (Follow-Up: 5/13/14 - No Timely Response yet! 5/15/14 - Ditto. 5/17/14 Ditto. 5/30/14 Ditto. 6/5/14 Ditto. 6/11/14 Ditto.)
But there is another question that needs to be asked directly of the mayor. "How and when did you first learn of the three million dollar deficit of the East Orange Water Commission? Do any of the on-line agendas of the EOWC reveal that deficit, and if so, which ones?"
The mayor could also immediately dispel the rumor that has surfaced by publicly stating that he has no intention of selling off any part or parcel of the East Orange land to Essex County or any other public or private entity. (Follow-Up: 5/13/14 - No rumor denial yet! 5/15/14 - Ditto. 5/17/14 Ditto. 5/30/14 Ditto. 6/5/14 Ditto. 6/11/14 Ditto.)
05/09/14 - The Local News Media, namely the East Orange Record newspaper and the on-line Essex News Daily, have reported that "EO mayor's first 'State of the City Address' is well-received." I was unable to leave my critical comments on the Essex News Daily site, something that seems now to be a regular occurrence whenever I have an opinion that goes against the Democratic Party "line." Fortunately, I have my own local media outlet, right here, in the East Orange True News.
I noted that the reporter, Chris Sykes, got his "well-received" headline impression from being included in the City Hall Chambers, where you could hear applause every time the mayor turned a page in his speech, right on cue (check the video below). Sykes only interviewed people from that room, all of whom had been invited by special invitation from the R.S.V.P. list.
Outside City Chambers, crowded into the hallways to sit on folding chairs or to stand, were the ordinary taxpayers who were paying for the event. None of them were interviewed as to what they might have thought about the mayor running a campaign on lowering property taxes, and then, six months into his administration, suddenly announcing an unprecedented raising of taxes to the tune of $455 average per property owner in one year (on top of an announced $65 tax increase from Essex County's Joe DiVincenzo - and who-knows-what surprises yet in store from the State of New Jersey).
The mayor is counting on us to accept his "spin" on how he had taken "difficult but necessary steps" when, back in January, he had suddenly learned that the previous administration had somehow secretly handed him a 3.2 million dollar deficit that had to have been well known to every one of the city council members who were part of the Bowser administration, and which could only have occurred with their participation in voting to approve the debts and keeping quiet about it in 2013. The mayor can't fire elected city council members, but he could at least have pointed out those at fault and how they accomplished this "secret" deficit that only became known when he became mayor. But, no, they are a part of his TEAM EO, which seems to be a team financed by the taxpayers and playing against the taxpayers to force us to pay for their deceptions, then and now.
Add to that the "shocking revelation" that the East Orange Water Commission presented us with a "$3.1 million deficit in the Water Commission's budget due to fiscal mismanagement at the Commission." What is really shocking is that not one of the EOWC's commissioners has been fired over this. Oh, that's right, they are all a part of the mayor's TEAM EO. He has been signing off on their resolutions since January, so I guess that now he is part of the "conspiracy" to make the taxpayers foot the bill for their fiscal mismanagement.
The "difficult but necessary steps" he should have taken immediately on learning of this bad news ought to have included informing the public of the bad news immediately, instead of waiting until he had a chance to put a cheerful "spin" on it with his visions of "change."
Instead of taking the "difficult but necessary step" of getting rid of every public employee who was part of running up this deficit and keeping quiet about it so the taxpayers would not hear about it until they got the bill, he not only kept all 974 employees from 2013, but increased them to 982 for 2014, and in his State of the City Address refers to a "thousand plus city employees." Divide the number of employees by the $60,894,330 budgeted for them in salaries and wages - that's $60,894 per employee per year (with a guaranteed raise each year on into the future). How many taxpayers earn $60,000 per year working in the private sector? Keep in mind that most of the city's public employees earn less than that in order to give the big bosses much more than that, but apparently it's a job with a future and a guarantee against being fired, because not one of them was terminated for either causing or knowing about this $3.2 million deficit and not speaking up.
We have clearly not elected a business-minded mayor who can be trusted to make business decisions for the city. Instead, we have elected a lawyer who operates on spin and deception while calmly smiling at the camera and making pleasant speeches.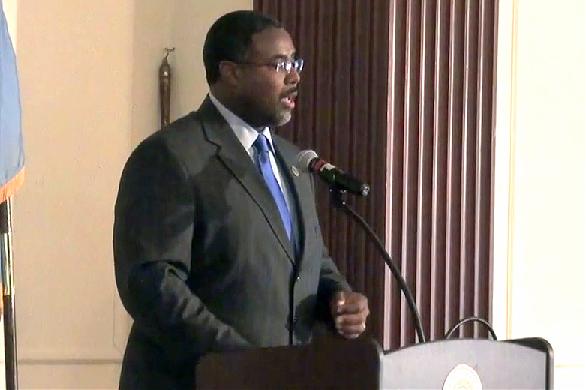 Video released on Vimeo by East Orange Public Information Office 5/7/14
Follow-up: More of the same drivel from Chris Sykes of the East Orange Record/ Essex News Daily was published again on 5/12/14. It sounds like they are all getting ready to hold hands and have a sing-along in praise of the mayor instead of holding him accountable. It is part of the Democratic strategy of "if you keep saying the same thing over and over again for a long enough time, people will start to believe it's true." I'm glad we have the Internet and don't have to rely on Chris Sykes to tell us what we are supposed to be thinking. I hope no one relies on me to tell them what to think when I've gone to all the trouble to link to the original sources so citizens have the freedom to think for themselves and decide what is true and what is not.
05/07/14 The following videos have begun to appear on the city's Web site as of today: Mayor Lester E. Taylor's address to 2014 Summer Youth Employment Kickoff and Mayor Taylor Gives First State of the City Address. In the mayor's address, he is seen reading his speech, so a written transcript should be available "somewhere" because parts of his speech are garbled owing to echoes in the room, feedback in the sound equipment, and audience applause.
However, the mayor's opening words are clear enough to catch him in a deception. He states: "When I took office a few months ago, I made two promises and only two promises. Number one was that my administration would work hard, that we would be transparent, that we would work cooperatively with (garbled). Those are the only two promises that I made."
Not so, Mr. Mayor. I don't know when you made those two promises, if you did. It was never recorded or reported in any news article that I have access to, but I do have a recording of the very first two promises you made as mayor, which you seem to have forgotten:
#1) "I do solemnly swear that I will support the Constitution of the United States and the Constitution of the State of New Jersey, and that I will bear true faith and allegiance to the same and to the Governments established in the United States and in this State, under the authority of the people."
#2) "I further solemnly swear that I will faithfully, impartially, and justly perform the duties of the office of mayor of the city of East Orange according to the best of my abilities. So help me God."
But before you were elected mayor, you also made certain promises publicly, which are recorded and printed up on your own campaign posters and literature. They are listed at the very top of this page, and the promise that was always first and foremost on every list was the promise to "reduce property taxes by cutting government waste and increasing revenue through development."
On April 15th of this year, without any warning, you publicly went back on that promise, and quickly began making a series of excuses for negating that contract. That shows me that you did not work hard on finding a solution, and you certainly did not work transparently, since you gave no hint of what was about to take place.
Instead of releasing a transcript of the mayor's address, the "East Orange Public Information Office" released "talking points" to the Alternative Press, which is linked here.
The mayor is directly quoted as having said: "I have created a culture of accountability and performance in City government where we are focused on results and every employee shares in the responsibility of providing high quality services. Through my Office of Constituent Service and the Quality of Life Task Force we have initiated, staff will focus on the issues that affect residents every day directly at their front door." As the above Accountability Chart has been showing since January First, when the mayor took office, this is clearly not true. The mayor has made only token progress, thanks to the work of others outside of his administration. His office of constituent services, which began by being responsive to residents, has stopped communicating with entirely, based on my own experience with them. The mayor has yet to define what he means by "Quality of Life" so we have no means to judge whether he has had any affect on it or not.
Regarding public safety, the mayor was directly quoted as having said: "East Orange is statistically safe, but public perception of safety and the fear of crime can derail any attempts to bring economic development and improve the quality of life experienced by residents and stakeholders. Community interaction and communication are the keys to equalizing statistics and the feelings of safety." If that is true, then by his recent actions, he is his own worst enemy. He stated on April 15th, according to the Newark Star Ledger, that he had "cleaned up a dumping spot in the city's Third Ward", which photographic evidence shows to be untrue. This is the property that the mayor told WMBC in a television interview, had been cited by "police, fire, health department and property maintenence department" and "cleaned up within two days." When I confronted the Mayor's Office of Constituent Services with this photograph evidence, they stopped all communication with me as a result. It seems what the mayor is really saying in his State of the City Address, is that he intends to talk his way out of all problems instead of actually solving them. As long as we have a "public perception of safety," that's good enough for him to merely be "equalizing statistics and the feelings of safety."
According to the "East Orange Public Information Office", apparently no one attending the State of the City Address made any comments or challenged the mayor to back up his statements with proof. If you look at both the old and new city Facebook pages, you will see that I am the only East Orange resident challenging the mayor to make good on his campaign promises instead of going around the city making appearances for photo opportunities which allow him to pretend to be concerned and pretend to be taking action.

05/05/14 The mayor's State of the City Address was given at city hall to an overflow crowd who sat or stood in the halls watching the mayor's speech on a television monitor. The good news is that if it was televised, it was being recorded and we should soon have access to that recording for those of us who were not able to attend in person. My analysis was that the reason the mayor gave this address only six months into his first term instead of waiting for the traditional twelve months was so that he could "sell" taxpayers (the bosses who pay his salary) on the idea of accepting his $455 average tax increase as well as accepting his big spending projects as being "necessary" for the "quality of our lives." That analysis seems to be correct. If a written transcript of the speech is released, I will link to it here. If the video is released without a written transcript, I will attempt to provide one. If nothing is released and each person has to depend on his own memory of the words spoken, that will be reported here as well.
04/23/14 Summer Youth Employment Kickoff. This can be credited to one of the mayor's Ebony Magazine promises: "To Improve the City's Unemployment Rate," although it is only applicable to East Orange Students ages 14 -18.
04/22/14 - City Budget Posted as Promised by Mayor's Office of Constituent Services. Calling all concerned taxpayers! Form a study group to pour through the budget and find ways to cut spending and reduce taxes since the mayor obviously did not do that on our behalf. On Sheet 2 of the Budget it states: A hearing on the Budget and Tax Resolution will be held at the East Orange City Hall on Monday, May 19, 2014, at 6:30 PM at which time and place objections to said Budget and Tax Resolution for 2014 may be presented by taxpayers or other interested persons. Show up at the meeting on May 19th, not just with objections, but also with real, practical and possible solutions for each objection.
EO Codes to Be Enforced BEFORE Being Posted According to this news article in the Essex News Daily, the mayor has established a code enforcement department and already begun enforcing city codes BEFORE there is even a way for ordinary residents and businesses to be able to find out what those codes are. I have been requesting for a long time that the municipal ordinances, city codes, and agendas of city council be put on line for everyone to be able to access freely and easily. As it now stands, the new code enforcement director and his deputies can issue tickets and summonses based on code violations you didn't even know existed and have no way to look up on your own.
04/19/14 According to the Essex News Daily, reporting on one of the mayor's forums held on March 11th, the mayor said this: "We need to upscale some of our development. We have a lot of leakage — people that live in East Orange, but shop outside of our city." The mayor said the only way to stop this "leakage" was to "bring (in) businesses that you want to shop in." He said his administration plans to do this by revitalizing and redeveloping the Lower Main Street area to transform it into a destination for local shoppers as well as those from surrounding areas. "I'd like to see, when you think of Caribbean food, you think of East Orange," said Taylor. "Like the Newark Ironbound section is known for Portuguese food. We're going to partner with organized labor to make that happen."
"I think that, if we had a section of East Orange that we could do that, it would probably be a good thing, because we do have a lot of Caribbean people here in the city," East Orange City Council President Quilla Talmadge said on April 8.
"I think that would be a good thing. And if he is thinking about doing that around the Main Street area, it would definitely help bring that part of the community back. I think it would be a positive thing."
The two sections I marked in red show why this is going to be a costly venture for the taxpayers of East Orange.
04/16/14 In answer to my request for an on-line budget, the Mayor's Office of Constituent Services promised me that the city budget for Fiscal Year 2014 would be posted on April 22, 2014 on the City Web site. I hope they do a better job of posting it than the East Orange Water Commission did when attempting to post the past agendas and resolutions for January and February of this year. When one clicks on the links, one gets this message : "The resource you are looking for has been removed, had its name changed, or is temporarily unavailable."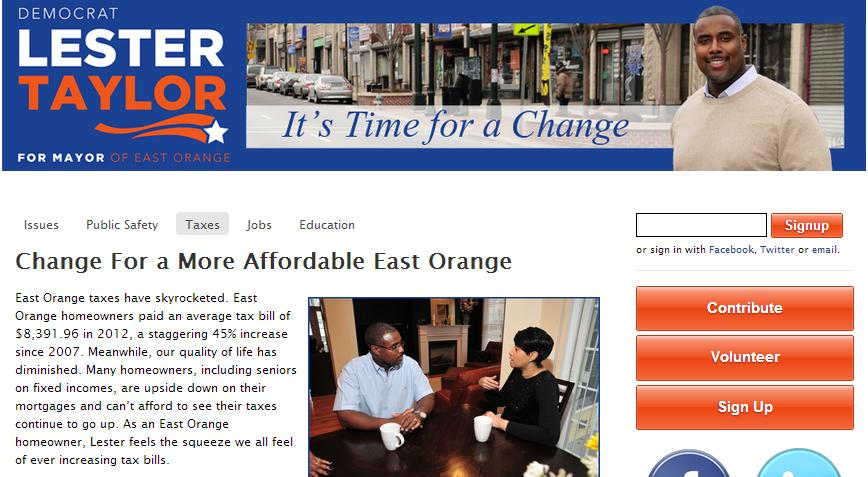 Remember This? This was BEFORE the election and is STILL on Lester Taylor's Campaign Website.
04/15/14 Tax Day ... No Surprise! Mayor Lester Taylor is planning to raise our taxes to pay for all his expansive administrative potitions and "incentives." Read it and weep! Then get ready to fight him every step of the way! If we let him get away with this (it's not a done deal...yet!) we can only expect tax increases to continue next year and the following year, and so on. He has no clue about how to raise city revenue without taking it from those who own property in the city. Talking about not increasing taxes while privately planning to increase taxes in the budget, and taking people's money by the force of government taxation (what I call Lying and Stealing) goes directly against what he said in the Comcast Interview on March 10th: "I think public service is an honor, but I think that it is important that all individuals who work for city government understand and be held to the highest standards of ethical integrity and accountability."
We need Kevin Taylor's help to organize East Orange residents against Lester Taylor's tax increases. Please go to Kevin Taylor's FACEBOOK page and ask him to get active. If he waits until the next mayoral race (2017) it will be too late!
04/04/14 Once again, the Village of South Orange issued a water quality report on the water that it gets from the East Orange Wells. Meanwhile, the East Orange Water Commission has failed to update its web site with news since 2010, and has not updated its agendas and resolutions since Mayor Lester Taylor took office. Currently, the only way East Orange residents are getting reports on water safety is through the regular testing reports coming from our neighbor, South Orange. At the same time, Mayor Lester Taylor is talking about "making this safe community safer." I, for one, would feel safer if he spent some time convincing the Water Commissioners to do their jobs and keep East Orange up-to-date with current information on water safety posted on their own Web site. We know they are capable of changing the Web Site because the president of the EOWC just added a notification that:
The East Orange Water Commission Special Call Meeting for March 27th, 2014 at 5:00 P.M. at 99 South Grove Street, East Orange, N.J. has been CANCELLED. Our next Scheduled Meeting is Tuesday, April 8th, 2014 at 5:00 P.M.

BY ORDER OF ROGER RUCKS PRESIDENT, EAST ORANGE WATER COMMISSION
If he can make that announcement on-line, Roger Rucks can certainly update the agendas and resolutions of previous meetings for 2014, and keep them updated for the remainder of the year.
---
03/24/14 Mayor Lester Taylor is quoted in an interview given to Ebony/ News & Views. Here are the quotations, which we can add to his list of goals not yet addressed:
"Our job is to make this safe community safer."
"We are working to stabilize and reduce taxes, while at the same time we are working on strategic partnerships with organized labor and business to improve the city's unemployment rate which is 45-50 percent higher than the national average."
"We need to create livable wage jobs for our people and use organized labor programs so we can train people and expose them to these career options."
"We need more educational opportunities in a free public education setting in order to prepare our students for college and career. And that doesn't necessarily mean only college because college isn't for everyone."
03/22/14 According to Essex News Daily's staff writer Chris Sykes, the mayor's community forums prove popular. That's easy to write or say, but no evidence of popularity is provided. Instead, we are only told what the mayor said at one particular forum, and not told what questions those in attendance asked, nor has any video of the forums been provided to date.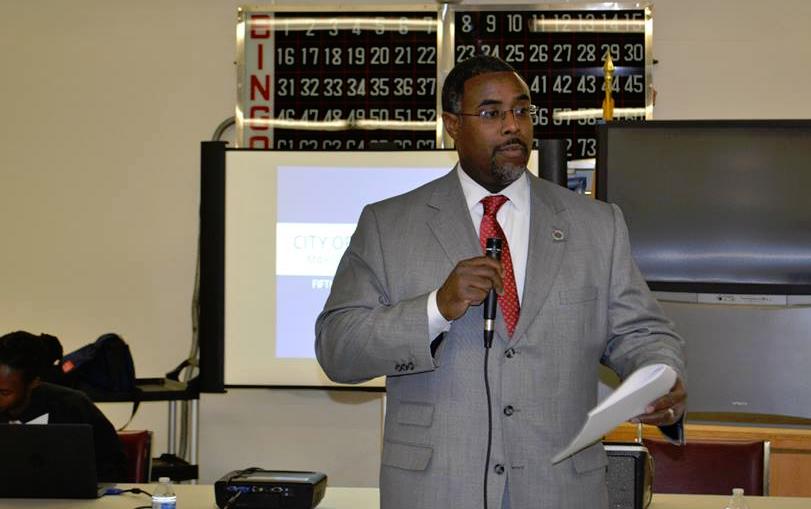 03/19/14 Under one of his photos of the community forum held at Norman Towers on 3/18/14, photographer John Henry wrote: "There is a scripture that says 'above all my brethren, get understanding.' Talking to one another is a good start."

I responded: "There are two definitions of the word 'Forum.' # 1 - A place, meeting, or medium where ideas and views on a particular issue can be exchanged. #2 - A court or tribunal.

"The photos seem to show a tribunal in progress; the person with the microphone stands in front of the room and the people sitting down without microphones get to listen. I certainly hope that is not what is going on at these community forums, but without a video (including audio) posted on-line, those of us unable to come out at night to these forums will never know if ordinary citizens are being allowed to question those who hold the microphones or not, or if there is any exchange of views and ideas as in definition #1. If anyone IS making videos of the forums, so far they have not made them available to the public. I agree that talking to one another is a good start, but that is not what I see in the photos you have taken."
On 03/20/14 I added to the above: The mayor made two campaign promises that he has not yet addressed since he came into office: to "create good jobs for our residents and create a 'better' educational system." Our high schools have TV and Film departments which ought to jump at the chance to teach students how to video record these community forums and put them on-line for Internet users and on the local TV channel 34 (which Comcast users in our community can view but not Dish or Direct TV users). That would address two campaign promises by making better use of the educational system we have already had for years (but rarely used) as well as train the students for future jobs in video, TV and the Internet. I should also note that this would cost the taxpayers nothing to implement immediately.

03/17/14 Yet another photo session with the mayor, this time with the 6th-8th Grade East Orange All Stars Basketball team celebrating their recent championship win. When I get more information on this championship game or the team, I will link to it here. Creating Recreational opportunities for our young people is one of his campaign goals, but I can't give him credit for a photo opportunity unless he did something to create the opportunity for the team. Did he?
03/17/14 - The Village of South Orange, which shares water from the East Orange Artesian Wells through a contract with the East Orange Water Commission (EOWC), has decided to continue this arrangement through 2016, but it is interesting to note that they no longer trust the Commission to test the water for impurities and do the testing themselves. It is also interesting to note that there has been no updates of news on the EOWC Web site since 2010 - before the 2013 State Grand Jury indictments of Harry L. Mansmann, of Lawrenceville, executive director of the EOWC, and William Mowell, of Wyckoff, the assistant executive director and engineer for the EOWC, with conspiracy (2nd degree), multiple counts of official misconduct (2nd degree), pattern of official misconduct (2nd degree), unlawful release of a toxic pollutant (2nd degree), multiple counts of violating the New Jersey Safe Drinking Water Act (3rd degree), violating the New Jersey Water Pollution Control Act (3rd degree), and tampering with public records or information (3rd degree). The recent article in the Essex News Daily simply states, "The two men no longer oversee water testing for the EOWC." Is that it? They weren't fired or fined or imprisoned? The mayor meets with the Water Commission on a regular basis, when he is not busy with photo op sessions or parties. It would be nice to get an update of the status of that indictment from our own East Orange mayor or from the EOWC Web site, rather than have to depend on Essex Daily News from the Village of South Orange.
03/10/14 - Mayor Taylor was interviewed on Comcast Newsmakers. He talks about delivering "high quality" services to constituents, residents and businesses that he serves. He states: "All individuals who work for city government should be held to the highest standards of ethical integrity and accountability." Finally he states, "We want to create jobs in our community." These are all campaign promises listed in the "Stated Campaign Goals NOT YET Addressed" box above. What he does not talk about are any details as to how that will be accomplished and what it will cost us in terms of taxes.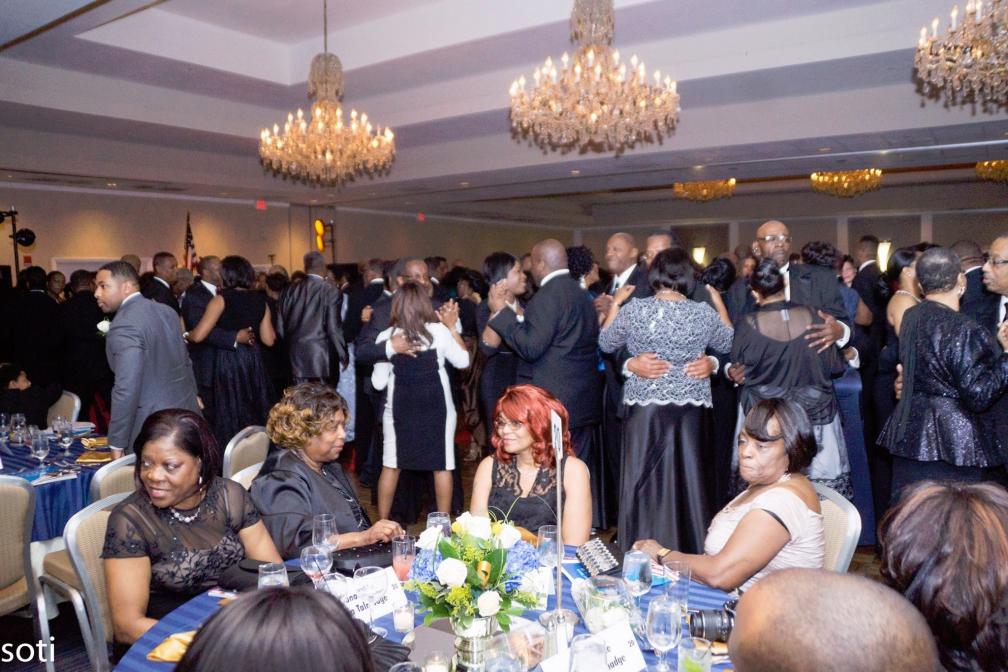 Credit: John Henry - SOTI
03/08/14 It's called the First Annual Mayoral Ball which implies that there are to be others that will follow. Naturally, the mayor of East Orange can't have a ball in East Orange, so this was held in Parsippany at the Sheraton Parsippany Hotel. I don't know who paid the bill for this extravagance, but I suspect taxpayers were among the largest "contributors" without being invited to join all the "dignitaries" who actually showed up. Didn't you get your invitation?
03/03/14 The February 2014 Calendar never did get posted, but the March 2014 Calendar was posted late on the 3rd day of March.
02/27/14 There is one day left for the City Calendar of Events for February 2014 to be posted on the city's Web Site. Not the recreation department's calendar that no one pays attention to because it never changes, but the pdf file calendar that actually USED to list coming events for the month. In the Bowser administration, it was always posted late- 10 to 15 days past the first of the month. This is a new record for lateness. No one at City Hall seems to care.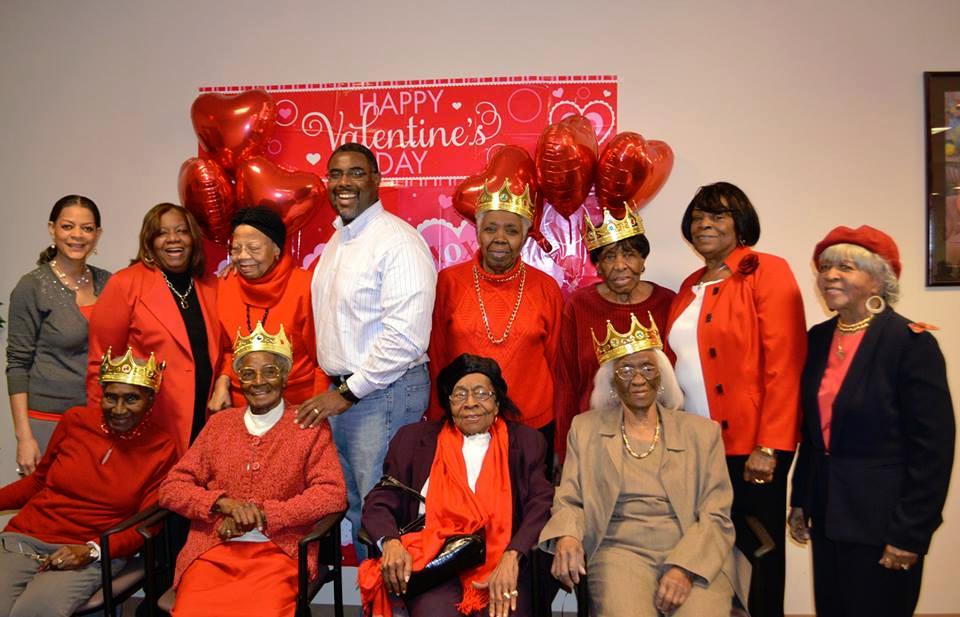 02/14/14 - Mayor Lester Taylor and Councilwomen Quilla Talmadge and Sharon Fields joined seniors in celebrating Valentine's Day at the East Orange Senior Center's Young Hearts Luncheon & Dance. Congratulations to the "Young Hearts" who were honored at the event and thanks to the taxpayers who paid the bill.
02/04/14 - CELEBRATE BLACK HISTORY MONTH -- Visit City Hall this upcoming week, Feb. 3rd - 7th, for a special Black History Month display featuring photographs of East Orange's own African American icons. Mayor Lester E. Taylor, III will provide opening remarks on Monday, February 3rd at 10 AM. The display is hosted by The City of East Orange and the Historical Society of East Orange, Inc.
01/29/14 One of the Mayor's stated goals (CTS Debate on 5/15/13 - Question #6) in Education was: "I look forward to establishing strategic relationships with businesses to establish internship and job opportunities to teach our young people about business plans, about accounting, about how to be an entrepreneur." An Internship Program was held on 1/29/14, presented by the EO Chamber of Commerce and the EO School District. No report of the results or outcome has been made to date. Still, this is positive action on one of his campaign goals.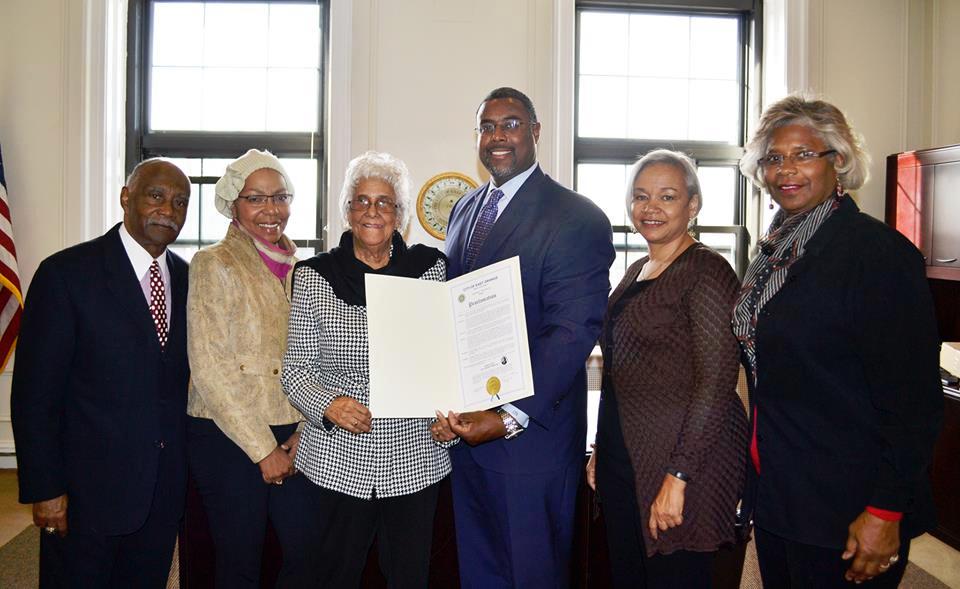 01/28/14 - In honor of the late Joyce Alexander Walker, an East Orange native and the first ever African American to be elected to the Cherry Hill township Council, Mayor Lester E. Taylor, III presented a proclamation announcing January 28th as "Joyce Alexander Walker Day" in the City of East Orange to Walker's mother, Edna Alexander, and friends of the Walker family at City Hall on Tuesday.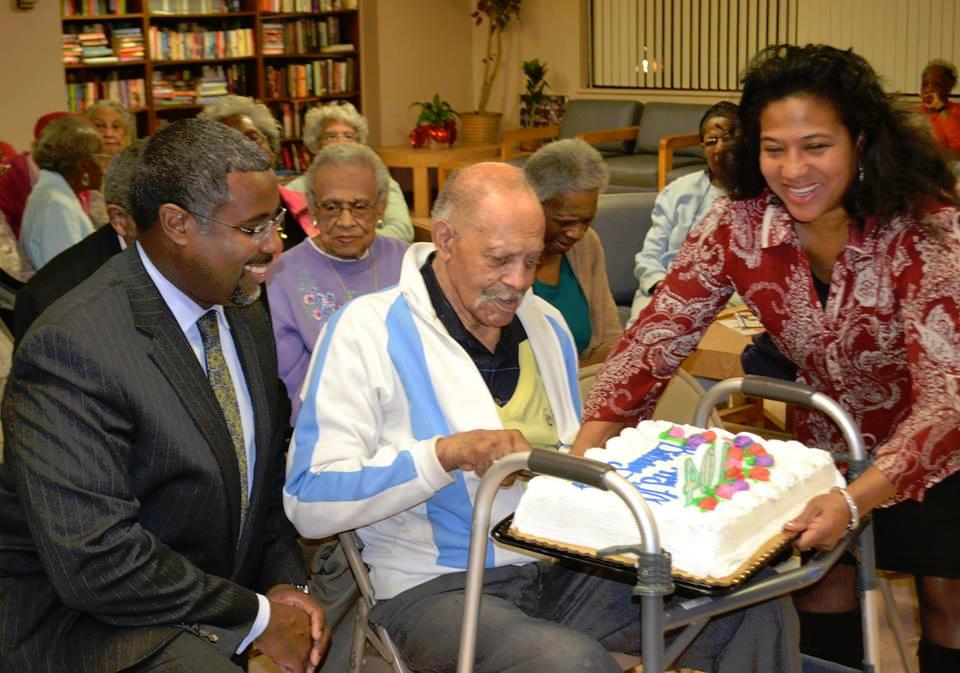 01/15/14 - The City of East Orange wishes a happy 104th birthday to noted resident Jim Clark, a member of the Professional Caddies Association Hall of Fame. Mayor Lester Taylor and Councilwoman Andrea McPhatter joined Clark and other residents for a celebration.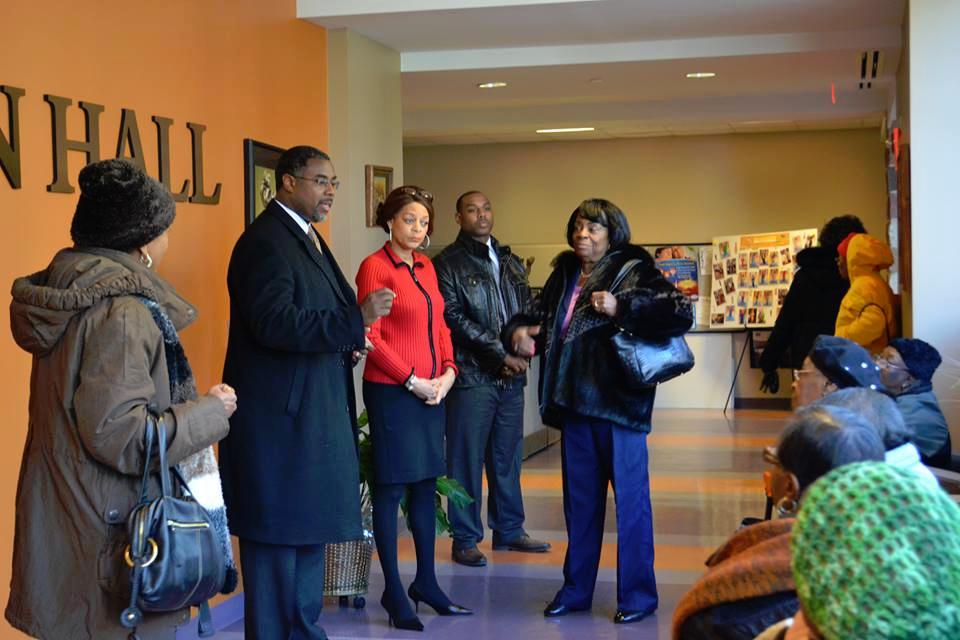 01/08/14 - Mayor Lester Taylor and Council Chairwoman Quilla Talmadge met with seniors at the Senior Center today.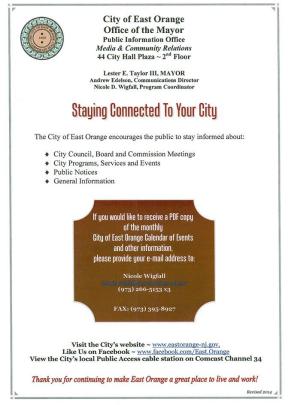 01/06/14 Staying Connected Bulletin. Click HERE or on the above picture to enlarge it.
01/04/14
Dear East Orange residents,

It has been an eventful first few days as your mayor. Wednesday was an exciting day for myself, my family and our city as I was sworn in along with the five Council members elected this November. Thank you to everyone who joined us at the inauguration ceremony.

Not long after the celebration, Mother Nature put our administration to an early test. In the interest of the safety and security of our residents and City employees we felt it was necessary to declare a snow emergency Thursday evening and made the call to close government offices on Friday.

The snow, ice and freezing cold temperatures present several challenges for our city, such as clearing snow from streets and sidewalks, making sure seniors have heat and hot water and keeping everyone informed with timely updates.

I spent yesterday riding along with individuals from the Department of Public Works and Office of Emergency Management. I would like to thank all employees from these departments for doing an excellent job preparing for the storm, clearing our roads and responding to the needs of our families throughout the day. Thank you also to our men and women in the police and fire departments for keeping our city safe at this time.

While this is the first storm of my administration, it will likely not be the last. That is why I want to hear from you. We know that we can always do better. Let us know how we're doing, so that we can improve all that we do during these winter months.

Please leave your thoughts and suggestions in the comments below.

Sincerely,

Mayor Lester E. Taylor, III
Next East Orange Council Elections
November 2015
Time for a clean sweep of the East Orange City Council.

Council Chairwoman Third Ward - Quilla E. Talmadge
Four terms in office, since 1990.

Council Member - Andrea D. McPhatter
Two terms in office, since 2008

Council Member - Jacquelyn E. Johnson
Four terms in office, since 2000

Council Member - Sharon Fields
Two terms in office, since 2005

Council Member - Lonnie Hughes
Two terms in office, since 2007
Contact with corrections or additional information for this page: [email protected]
Death threats are automatically referred to the F.B.I.